eSewa, Nepal's first digital wallet has collaborated with Nepal Insurance Company for making insurance payments online. Now you can finally pay your regular insurance fee through eSewa for one of the forerunning insurance company, Nepal Life Insurance Company.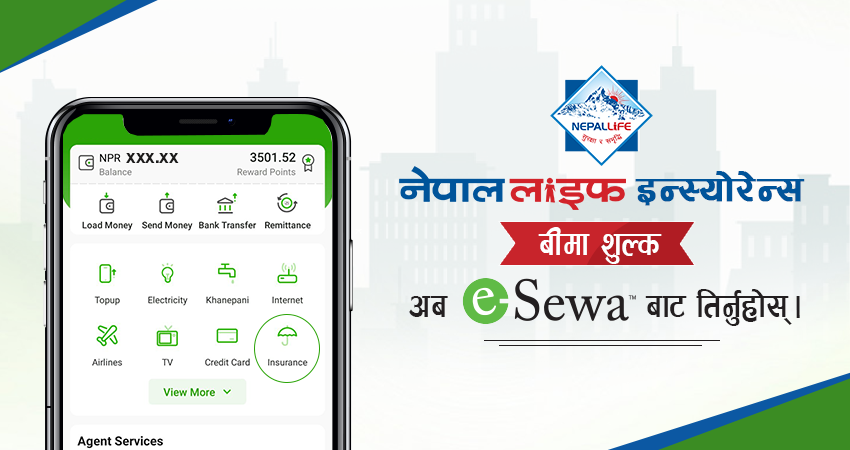 The agreement that allowed policyholders to renew their insurance online was signed between the CEO of eSewa, Subash Sapkota and Vice CEO of Nepal Life Insurance Company, Santosh Prasai. With the agreement, the insured at NLIC can pay their regular insurance fees through eSewa mobile app or the web. Even if the policyholders don't have an eSewa account they can make their payment from any one of the zone points spread all over Nepal. This Service will benefit 27 lakhs insured people at NLIC.
Along with commencement of the service, CEO of eSewa stated that this alliance with the insurance Company is going to ease off policyholder's onus of having to go to counter or the agent to pay the premium fees. Now insured can comfortably pay their premium from their couch at home, he said.
Also Read: Nepal Idol: Vote For Your Favorite Contestant From eSewa
Currently you can pay fees of various Life Insurance and Non-Life Insurance companines via eSewa. Here's the complete list of the insurance compaines associated with eSewa for making payments online.
Life Insurance:
American Life Insurance
Asian Life Insurance
Citizen Life Insurance
Jyoti Life Insurance
Reliable Nepal Life Insurance
Sun Nepal Life Insurance
Non-Life Insurance:
Everest Insurance
Himalayan General Insurance
NECO Insurance
NLG Insurance
Premier Insurance
Prudential Insurance
Sagarmatha Insurance
Siddhartha Insurance
Nepal Insurance Company
So, have you tried paying your insurance fees online from eSewa ? Let us know in the comments below.