Opensignal has today released a comprehensive report detailing the performance of various US fixed broadband internet service providers. The May 2023 US Fixed Broadband Experience Report offers insight into download and upload speeds, consistency, and many other facets of broadband performance across the nation.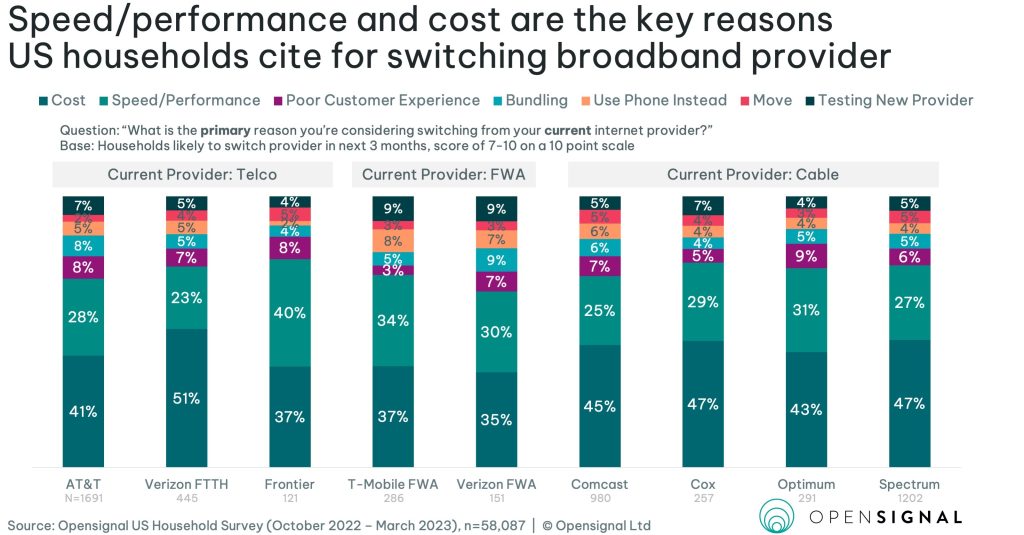 Covering an extensive range of broadband providers, the report includes those serving at least four out of five regions and reaching a minimum of one million homes. Providers covered in the report encompass a broad spectrum, from Incumbent Local Exchange Carriers (telcos) and cable companies to Fixed Wireless Access (FWA) providers, overbuilders, rural co-op initiatives, and the significant low-earth orbit satellite broadband provider, Starlink.
The results showcased Verizon's Fios (FTTH – fiber to the home) as the national winner for fastest average broadband download speed at 157.6 Mbps. AT&T's fiber and Google Fiber followed closely, securing second and third places with speeds of 140.2 and 139.6 Mbps, respectively. Spectrum and Cox also delivered competitive speeds, scoring 137.3 and 131.5 Mbps respectively.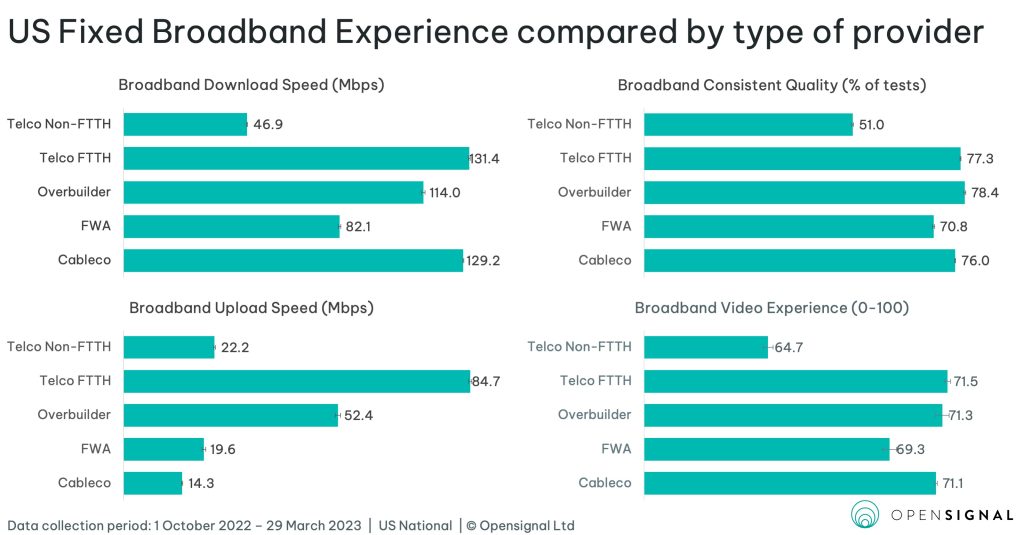 Amongst the middle-ranking providers were Verizon and T-Mobile's 5G Home Internet (FWA) with speeds of 85.3 and 81.2 Mbps. Providers offering non-fiber to the home services, primarily smaller ones, posted the lowest scores.
The average broadband upload speed category saw a slight reshuffling with Google Fiber and AT&T outperforming Verizon. Google Fiber led the way with an impressive 106.9 Mbps, followed by AT&T at 96.3 Mbps and Verizon at 94.3 Mbps.
In terms of consistency, Verizon outshone its competitors, with Frontier and Google securing second and third places. Similarly, for the video experience category, Google narrowly surpassed Verizon by a small margin.
Opensignal's report also features some intriguing head-to-head comparisons, including a close analysis of T-Mobile 5G Home Internet (FWA) versus a selection of traditional providers. Notably, T-Mobile performed well, even surpassing Frontier and CenturyLink's non-fiber offerings across all four categories.
Also Read: Apple launches Logic Pro & Final Cut Pro for iPad; Transforming Mobile Filmmaking, Music Production
To delve into the comprehensive head-to-head comparisons, regional results, and more, the full report by Opensignal is available for review.