OnePlus has dropped the much-awaited OnePlus 8 series after weeks of teasing it. The big news is the launch of the OnePlus 8 Pro which is the first proper flagship phone from OnePlus. The OnePlus 8 is much more like the usual OnePlus release, however. Another striking point from the release of these phones was their prices. The OnePlus 8 Pro is priced up there with the high profile Premiums of Samsung, Apple, and Pixel. Whereas, the OnePlus 8 will cost you $200 less.
So, what upgrades have OnePlus made from the 7 series and is the Pro version worth it? Let's have a quick look at the main highlights from the release.
OnePlus 8 and OnePlus 8 Pro: Specs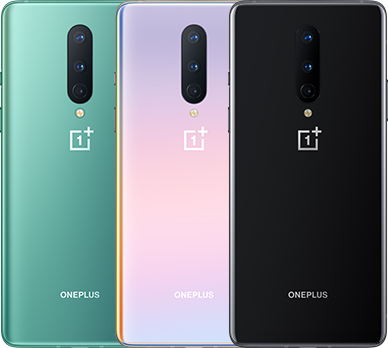 OnePlus 8
OnePlus 8 Pro
DISPLAY
6.55-inch 90Hz Fluid AMOLED
2400×1080 (20:9)
HDR10+
Gorilla Glass 6
6.7-inch 120Hz Fluid AMOLED
3168×1440 (19.8:9)
HDR10+
3D Gorilla Glass
CHIPSET
Snapdragon 865
1 x 2.84GHz A77
3 x 2.42GHz A77
4 x 1.80GHz A55
7nm
Snapdragon 865
1 x 2.84GHz A77
3 x 2.42GHz A77
4 x 1.80GHz A55
7nm
RAM
8GB/12GB LPDDR4X
8GB/12GB LPDDR5
STORAGE
128GB/256GB UFS3.0
128GB/256GB UFS3.0
OPERATING SYSTEM
Android 10
OxygenOS 10
Android 10
OxygenOS 10
REAR CAMERA
48MP, 0.8um
f/1.75, OIS
4K at 60fps 2MP, 1.75um
f/2.4, macro lens 16MP, 1.0um
f/2.2, ultra-wide lens
116° FoV
48MP, 1.12um
f/1.78, OIS
4K at 60fps 8MP, 1.0um
f/2.4, OIS, telephoto
3x hybrid zoom 48MP
f/2.2, wide-angle, 119° FoV 5MP Color Filter
BATTERY
4300mAh
Non-removable
4510mAh
Non-removable
CHARGING
USB-C 3.1
Warp Charge 30T (5V/6A)
USB-C 3.1
Warp Charge 30T (5V/6A)
Warp Charge 30 Wireless (20V/1.5A)
WATER RESISTANCE
IP68 (some models)
IP68
SECURITY
In-display fingerprint (optical)
In-display fingerprint (optical)
OnePlus 8 Pro
Firstly, let's have a look into the OnePlus 8 Pro since it is the one with the most upgrades. Yes, OnePlus has finally made a flagship phone with flagship specs. The phone is available in two variants 8GB/12GB RAM and 128GB/256GB storage.
Camera
The camera which everyone was annoyed has now drastically improved. The OnePlus 8 Pro flaunts a quad rear camera setup which is the first in any OnePlus phone. The Quad camera setup consists of a 48MP main camera with a custom made Sony sensor, a telephoto lens, a 48MP ultrawide camera, and a color filter camera. The camera is now a lot better than the usual OnePlus phones and somewhat similar to Samsung's flagships.
Display and Performance
The other thing which OnePlus hyped about this phone was its display. The phone received the highest ratings from Display mate in several categories. The 6.78' inch AMOLED QHD+ Display complemented with 120 Hz Refresh rate is surely amazing. It is fairly brighter than the OnePlus 7 Pro as well. The Snapdragon 865 with OxygenOs and Haptic Vibration 2.0 makes the phone smooth to use. This ensures that you get the peak performance level which we come to expect from OnePlus phones.
Battery and Other Features
An impressive battery is something else that we expect from OnePlus and this phone doesn't disappoint. The 4,510mAh battery with Warp Charge 30T and now Warp Charge 30 Wireless makes impressive an understatement. You can get the phone from 0%to 60% in 30 minutes with the Warp Charge 30T charging. Also, finally, OnePlus have added the wireless charging feature and even gone on to make a custom wireless charger. This makes wireless charging of the phone a lot faster than normal wireless charging. The phone is 5G enabled which doesn't really mean much though. The Dual Stereo Speakers with Dolby Atmos give you a stunning sound.
Some drawbacks though are the punch-hole selfie camera on the display which is a bit bizarre. The pop-up camera on the 7 series was perfectly fine. Also, the curved edge display is a nuisance due to accidental touches.
OnePlus 8
The OnePlus 8 is a toned-down version of the OnePlus 8 Pro. The specs are a bit compromised than the OnePlus 8 Pro and it cost a $100 less. The specs are pretty similar to the Pro version with it coming in two variants: 8 GB RAM/128 GB Storage and 12GB RAM/256 GB Storage. It also features the Snapdragon 865 with OxygenOS.
The battery capacity is just a bit lower with 4,300mAh but it still has Warp Charge 30T. However, there is no wireless charging available for this device. Coming to the display it flaunts a smaller 6.55-inch Fluid Amoled Full HD+ Display. The refresh rate here is 90Hz max compared to the 120Hz in the Pro version. Though the rear camera is a triple camera setup with a 48MP Primary Sony Camera,16MP Ultra Wide Camera, and 2 MP Macro Lens. It has the same punch-hole selfie camera design as the Pro version. Putting all this into perspective we aren't getting much of an upgrade to the OnePlus 7T, to be honest.
Price and Availability
The phone is expected to be priced somewhere around NPR. 1,22,000 for the 8/128GB variant in Nepal. Whereas, the OnePlus 8 is expected to be priced around NPR. 80,000.
The Pro version will be available in three color variants: Onyx Black, Glacial Green, and Ultramarine Blue. Similarly, the regular version will be available in Onyx Black, Glacial Green, and Interstellar Glow.
Conclusion
The OnePlus 7T had set a benchmark so high for being a superb value phone with premium features at a good price. It was always going to be tough for OnePlus to outdo themselves with the 8 series. Yes, the flagship-level OnePlus 8 Pro looks to be a good phone overall but what people come to expect from OnePlus is a slightly lower-priced phone than the Samsungs and the Iphones with a great package of features. With OnePlus now moving their price range near those phones it is a bit of a put-off.
Nevertheless, the OnePlus 8 Pro is a great phone overall with an improved camera, powerful performance, and stunning battery. It's just that you now have to pay a bit more than what you usually do for OnePlus phones. Similarly, the OnePlus 8 is also a good option but if you have an OnePlus 7T then there's no real reason to make the upgrade.