Have you already renewed your DEMAT and MeroShare accounts? Well, as a capital market investor, one should renew their DEMAT account each year. DEMAT account holds your stock and securities holdings in a digital format. As your depository participant (DP), which could be a broker or a merchant banker mediates to operate your DEMAT account and transactions, you must renew it as annual compensation for this service.

When to renew your DEMAT account?
As per the rule, every investor in the stock market should renew their DEMAT account in each fiscal year. As a result, one must renew their DEMAT account by the end of the month of Asadh in Nepal. For instance, all the DEMAT accounts opened from Shrawan 1, 2078 to Asadh 31, 2079 must be renewed within Asadh 31, 2079. Most people bother to renew the accounts they open at the end of the fiscal year. However, one must renew it even if they open their DEMAT account a day before the end of the fiscal year.
However, it is not compulsory for MeroShare Account
MeroShare account is the online system any investor uses to apply online for the primary market or transfer shares. It is the system supported by CDS and Clearing Limited to enable the investors to apply online for IPOs, FPOs, and right share issues of companies as well as update WACC and do EDIS after selling the shares. While one should renew their DEMAT account within the end of each fiscal year, it is not compulsory for Mero Share. You can renew it whenever you like on an annual basis. For instance, if you get your Mero Share ID on the 21st of Ashwin 2079, then you can renew it on the 20th of Ashwin, 2080.
What happens when you do not renew your DEMAT/ MeroShare account?
As per the regulation by the Securities Board of Nepal (SEBON), any beneficiary of securities should renew their DEMAT account annually. If not so, their account would stay frozen which restricts them to buy or sell the securities. As you renew your DEMAT and MeroShare account, you can see your status "ACTIVE" in the dashboard. Once the renewal amount is due, you'll get to see the " Frozen for Debit" status.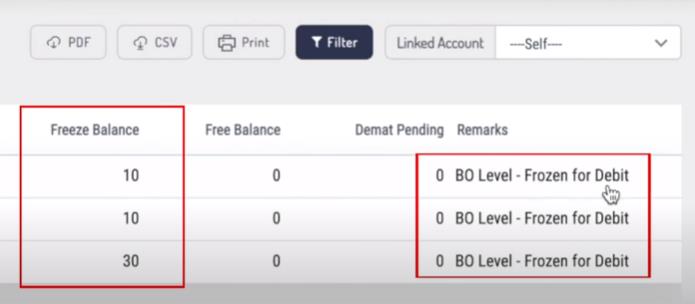 Ways to renew your DEMAT and MeroShare Account
With the improved interoperability between digital payment systems, capital market transactions are way easier than before. The recent updates in the payment systems like digital wallets, mobile banking, and PSOs have enabled users to opt for digital methods of payment. Since the end of the fiscal year, 2078/79 is approaching, this article might help you to choose any method that works for you to renew your account.
We would always like to encourage your electronic or digital transactions. However, things might not work for all of us. One could physically visit their broker or merchant banker through which they go their DEMAT number and MeroShare ID if they do not have access to any digital payment systems.
Also Read: Here's A Complete Guide to Online Stock Trading During Lockdown
Getting ahead with the time, the majority of people have adapted to the online renewal process. So, here are 5 ways to renew your DEMAT and MeroShare account online.
#1: Renew Directly Through MeroShare Portal
CDSC has been upgrading its service to the users for a convenient investing journey. As a result, it has already launched the mobile version of MeroShare last year. So now, MeroShare is available in both web and mobile app versions. You can directly renew your DEMAT and MeroShare account through this portal in these simple steps
Login to your MeroShare ID at http://meroshare.cdsc.com.np or your mobile app.
Click on "MeroShare Profile" on the top right corner of the Dashboard.
Then click on the "Renew Account" tab.
Now select which of the renewal option is suitable for you among these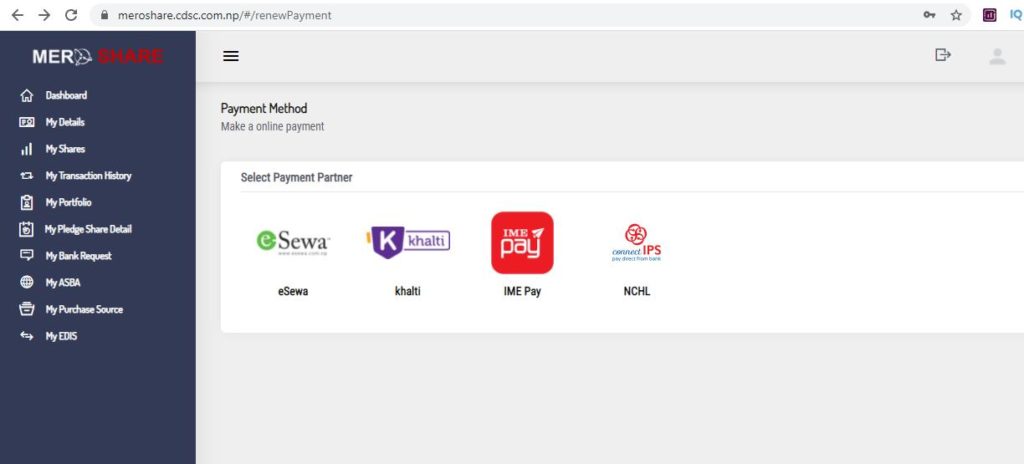 5. After you select any one among given digital wallets or connectIPS, it will redirect you to the payment systems you selected.
6. Now enter the details on the directed payment systems and proceed for payment.
#2 Visit the Website of your Merchant Bank
As you know, there are two ways to get your DEMAT and MeroShare accounts in Nepal. Either you get it from the broker or through the merchant bank (a subsidiary of the bank that holds your account). So, if you have opened your DEMAT account from a subsidiary capital of a bank, you can renew it from their website.
For example, if you have a DEMAT from Global IME Capital, then you can visit their website and renew your account.
Step 1: Go to the website of your depository participant.
Note: A depository participant is the firm or a company which provides you with a DEMAT and MeroShare account. It is a member of central depository which holds each and every securities accounts of the investors all over the country. In Nepal, the central depository is CDS and Clearing Limited while the depository participants are either broker houses or merchant banks. And we, the investors are beneficiaries. Hence, DEMAT account number is often called BOID number.
Step 2: Search for the "Renew DEMAT" or similar options there.
Step 3: Click on that option and enter your details. Here's an example of the renewal tab of Global IME Capital.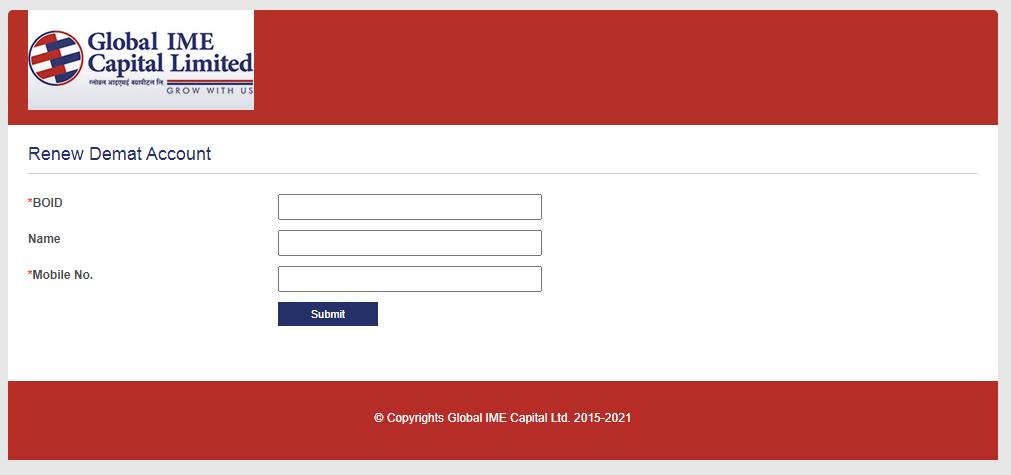 Step 4: After you enter the details and click on "Submit", it would direct your information to the mobile banking system of the respective apps.
#3 Pay via digital wallets
There are 18 digital wallets operating in Nepal. However, all of them might not provide DEMAT renewal options. Some wallets like eSewa, Khalti, and IME Pay have directly linked their renewal services to the MeroShare portal. They show up in the renewal options in MeroShare.
However, you can log in to your digital wallet and go to the Capital Market/Finance options in the menu and proceed with the payment. For example, eSewa provides a direct "MeroShare and DEMAT" renew option on the home screen. Similarly, IME Pay and Khalti also have these options. You can select your depository participant and then fill in the details to proceed with payment. It is that simple!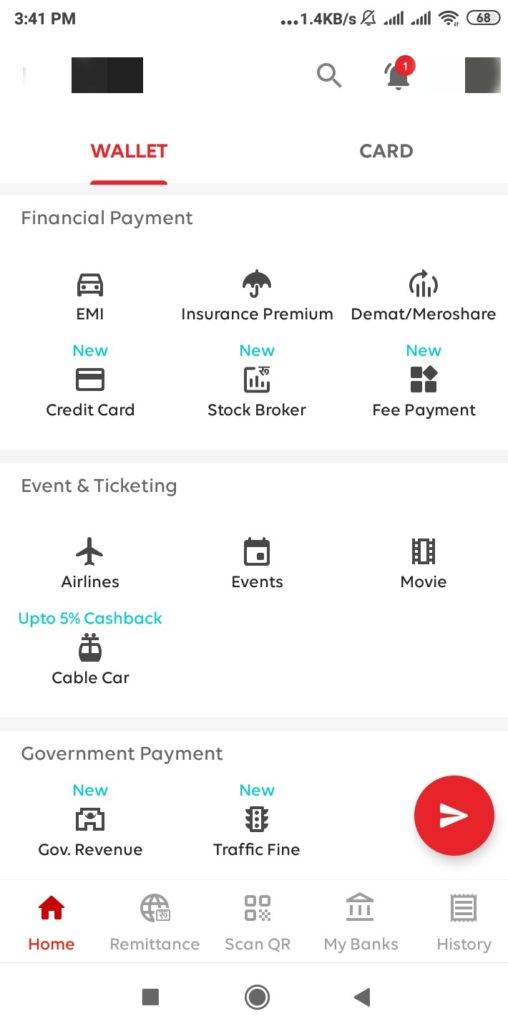 Also read: eSewa Offers DEMAT Renewal Services Directly through MeroShare
#4 Mobile Banking/ Internet Banking Options
The fourth way to renew your DEMAT or Mero Share account is through your mobile banking/ internet banking service. If you use your mobile banking services, then this method could be suitable for you.
You just need to log in to your mobile banking application. Many banks have their own option regarding this renewal service. However, most of them fall under the "Capital" or Financial Markets" option for payment. You can choose any of these or similar options to proceed. Then you'll get to see the list of depository participants. Click on your broker or capital, fill in the details and confirm your payment.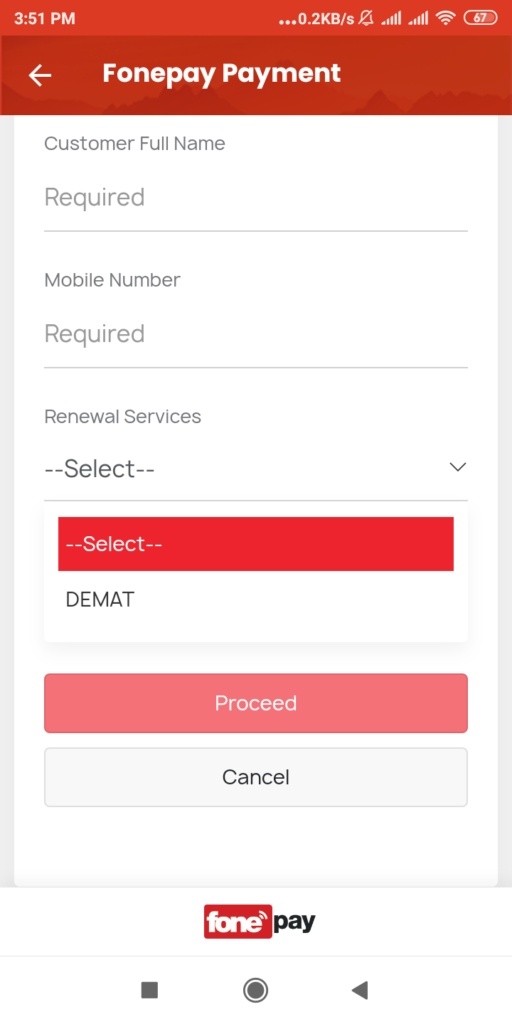 #5 Pay via connectIPS
connectIPS is more popular among the stock investors and traders to pay their purchase amount to the brokers. In addition to that, it is gaining traction with DEMAT renewal services as well. As it is a payment service operator that can allow you to link your bank account and pay directly from them. It means you can directly pay through your bank without loading the amount in connectIPS.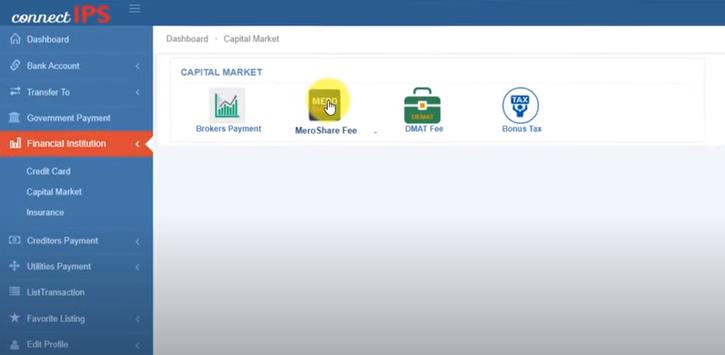 For DEMAT/ MeroShare renewal too, connectIPS has been adding more and more banks. You should make sure that your bank account is linked with connectIPS. If it is live, then you can follow these steps:
Login to connectIPS
Go to the Financial Institutions option and then click on "Capital Market"
Then click on MeroShare Fee for MeroShare renewal and DEMAT Fee for DEMAT account renewal.
Then enter your details like account name, BOID, DP provider, and amount.
It costs NRs 100 and Rs 50 to renew your DEMAT account and Mero Share account respectively.
Click on transfer and then enter your OTP to complete the process.
These are the 5 ways available to renew the DEMAT and MeroShare accounts through online platforms. I have mentioned these options because some platforms do not have every option available. For example, Sunrise Smart Mobile Banking system does not have an option for DEMAT renewal of an account on Secured Securities. Hence, you should make sure if your depository participant is live in your mobile banking system, digital wallets, connectIPS, or not.
Personally, I prefer number 1 because it allows you to choose the payment option through your MeroShare account. Hence, it is feasible for everyone. However, if you only have a DMAT account but not MeroShare ID, you can pay for it through other mediums. Hence, I suggest you to get your MeroShare ID as soon as possible because it is high time we went #digital. Why stay in line to apply for security openings while you can do it online?
As the month of Ashadh is about to end, make sure you renew your DEMAT and MeroShare account to prevent paying late fees. And you may share it with your friends or family to let them know about it.
Also read: NIC Asia MoBank Upgrades to Omnichannel App: Moving Towards The Super Banking App