 CDS and Clearing Limited (CDSC) has finally made a long-awaited decision. It has now upgraded Mero Share such that the investors can reset their passwords on their own. CSDC has released a notice regarding this new provision in Mero Share. Now, you can reset your Mero Share password on your own in case you forget it.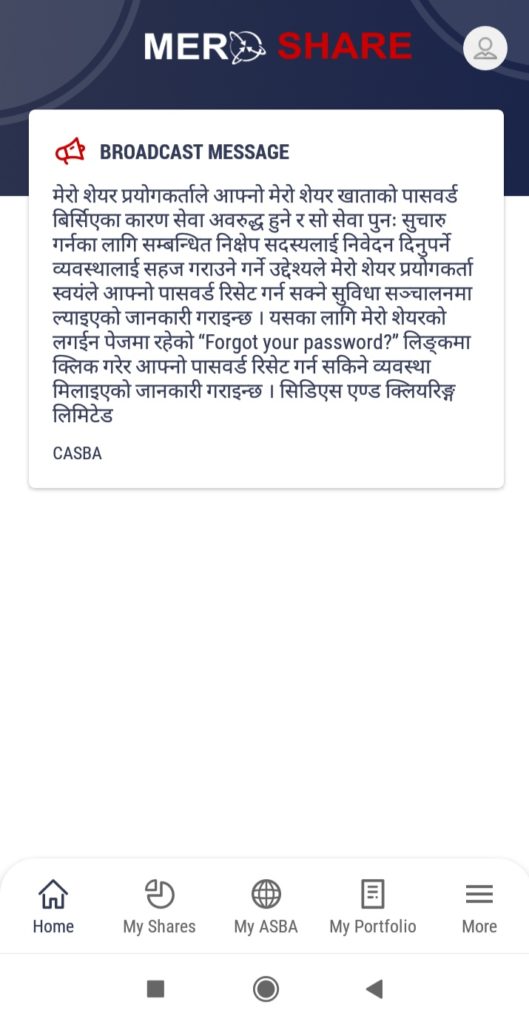 Previously, one had to contact their depository participants (broker or merchant banks) to reset the password. The DPs used to reset their password and one had to change that afterward. The users could attempt 99 additional times to enter their password in the case of wrong entries, which was really hectic. With this facility, now there is no need to contact your DP and request to change the password. As you can do it on your own, you can stay carefree whenever you forget the password of your Mero Share account.
How to reset your Mero Share password?
You can see a new update on the log-in page of Mero Share now. There you'll find the "Forgot Your Password" option through which you can proceed.
Click on "Forgot Your Password" below the Login tab.
Then, a dialogue box will open where you should enter your DP, username, email address, and date of birth.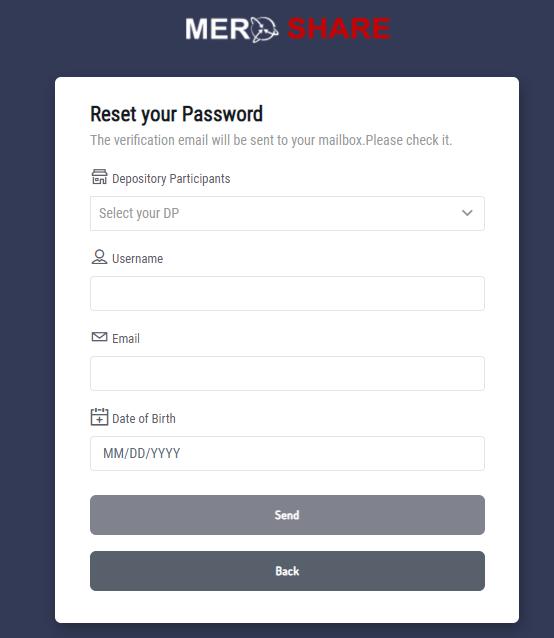 Click on send and you'll receive an email from CDSC.
Go to your inbox and click on the link which directs you to change your password.
Enter a new password and confirm it.
Then log in to your Mero Share account with new password.
In this way, you can now change your password or reset it without having to contact your DP.
What is a DP?
A DP refers to depository participants. DPs are the members of CDS and Clearing Limited which provide you with a DEMAT account and Mero Share facilities. It can be either a broker or a merchant bank. You need to enter your DP's name each time during Mero Share login. Moreover, DP has the responsibility to hold the securities like shares, debentures, mutual funds, etc. on behalf of the customers/ beneficiaries. Additionally, they can either dematerialize or rematerialize the securities at the request of their customers.
About Mero Share
Also read: 5 Ways to Renew Your DEMAT and MeroShare Account Online
Mero Share is an online portal provided by CDSC to investors in the capital market. They can use its mobile app or web version for many capital market-related activities like:
Applying for the primary market (IPOs, FPOs, Right Shares)
Transfer of shares
Daily portfolio update
WACC calculation and update
DEMAT and Mero Share renewal
View the share transaction information
Enter the bank account or make a request to change it
Mero Share is the only legitimate online portal that allows investors to buy the shares in the primary market and transfer the shares after selling them. Otherwise, investors need to visit their banks to apply for the IPOs, right shares, FPOs, or debenture issues and fill up the application form. Since most of the facilities are getting digital, the number of Mero Share users among the investors is also increasing rapidly. According to CDSC, this number reached 2,851,714 at the end of the fiscal year 2077/78 (and is still growing). Similarly, the number of DEMAT account holders has crossed 37 lakhs by this July.