The ability to recognise trends in trading data is critical to a trader's success, especially for those who trade frequently. Knowing the most up-to-date facts can assist you to avoid making emotional or reflexive judgments. It's simple to make better-educated judgments when you have the data from your stock analysis software. A technical analysis system can produce buy and sell indications as well as assist in the discovery of fresh trading opportunities. So, here are the features provided by Share Sansar Pro and Mero Lagani to their users:
Share Sansar Pro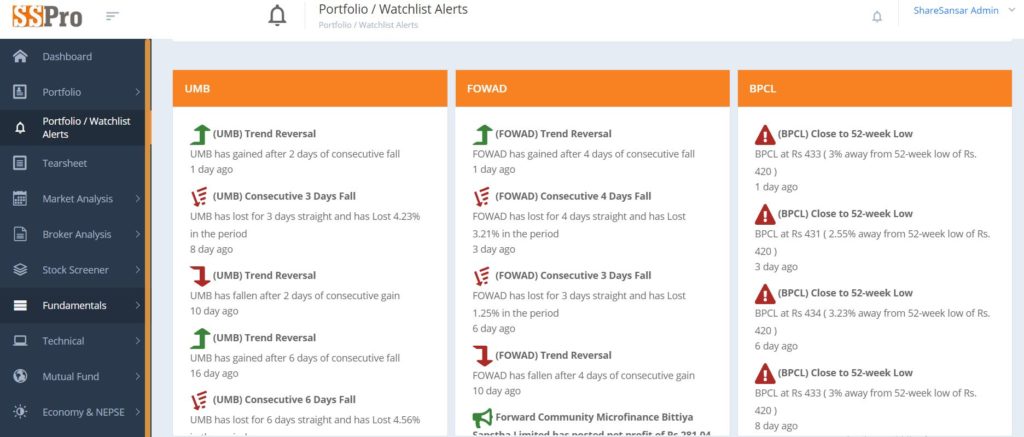 ShareSansar.com is a comprehensive financial online platform that provides users with financial news and information, analysis, corporate news, interviews, and exclusive stories about publicly traded firms and the general economy, allowing them to make the best financial decisions possible. Share Sansar is operated by IMS Investment Management Services Pvt. Ltd. (IMS) which offers stock market training and develops financial software for both individual and institutional clients.
Features of Share Sansar Pro
Free Built-in Portfolio Tracker
Investment Worth Calculator
In-depth Mutual Fund Analysis & Buy/Sell/Hold info
Broker Analytics & Buy/Sell/Holdings info
Live Charts with Charting Software
Price
| | |
| --- | --- |
| Share Sansar Pro | Rs. 3500 for 1 year |
MeroLagani
Merolagani offers a Portfolio tracker tailored to Nepalese requirements. It allows you to keep track of all of your investments and keep track of your profits and losses. Merolagani.com offers real-time stock quotes, as well as news, announcements, annual and quarterly reports, and analysis, as well as portfolio management tools. Asterisk Technology Pvt. Ltd. created and runs Merolagani. Asterisk Technology is an IT firm that focuses on developing systems for Nepal's capital market. Since September 2011, the company has been in operation.
Services Provided by MeroLagani
Data Analytics
Portfolio
Technical Data
Podcast
Online Trading Training
Pricings
| Service | Price |
| --- | --- |
| Data Analytics | Rs. 3500 for 12 months, Rs 2000 for 6 months and Rs. 400 for 1 month |
| Portfolio | Rs. 500 for 6 Months, Rs. 1000 for 1 Year |
| Technical Data | Rs. 250 for 1 Month, Rs. 2500 fo 1 Year |
| Podcast | Rs. 20 for weekly renewal, Rs. 100 for 1 Month, Rs. 500 for 1 Year |
| Basic Share Training 1 Month | Rs. 150 |
| Advance Technical Analysis 1 Month | Rs. 2500 |
Mega Offers
Package
Includes
Package Price
Monthly Package
Data Analytics 1 Month
Merolagani Newsletter, Online Stock Training Advance Technical Analysis
Rs. 3,100
Six-Months Package
Data Analytics 6 Month, Portfolio 6 Months, Merolagani Newsletter 6 Months
Rs. 1,000
Yearly Package
Podcast 1 Year, Portfolio 1 Year, Merolagani Newsletter 1 Year, Data Analytics 1 Year
Rs. 9,700
Also Read: 5 Best Stock Market Apps to Keep You Updated
Whether you're a newbie, a day trader, or a long-term investor, stock analysis software won't suddenly propel you to the top, but it will provide you with the information you need to get there. Adapting to market swings is a skill that can be learned. Backtesting allows you to use past data to execute strategies.