 The thing that has spread equally as covid-pandemic in Nepal is, obviously, the craze of the stock market these days. It is a point to be noted that the time lockdown had started, in March 2020, NEPSE index was around 1300 points.
After the lockdown was lifted, it has skyrocketed to mark above 2600 points to the highest record ever. The highest closing of NEPSE till date was 2640.34 points on February 21 2021 and the highest trading volume in the history of NEPSE was Rs 10.61 billions on February 8, 2021.
This huge inclination in both index and volume has been triggered by various catalysts, being the decline in interest rate, the major one. When investors find a better alternative for current and capital gains in the stock market than others, how could they afford to let go of it? Other causes account to the increase in number of DEMAT account holders, resulting to oversubscribed application in IPOs, increment of online trading investors (as a response to social distancing protocol applied before), and ease in trading online through Trading Management System (TMS).
However, many people find themselves bewildered about how to invest or trade in the stock market. Starting from applying for Initial Public Offerings (IPOs), most of the investors begin their journey of the stock market. However, when being unable to keep track of proper knowledge about the market and news, they miss out much more opportunities. Hence, Techsathi has listed 5 Best Stock Market Apps in Nepal to keep you updated about IPOs and Stock market in overall.
5 Best Stock Market Apps in Nepal to Keep You Updated
Sharesansar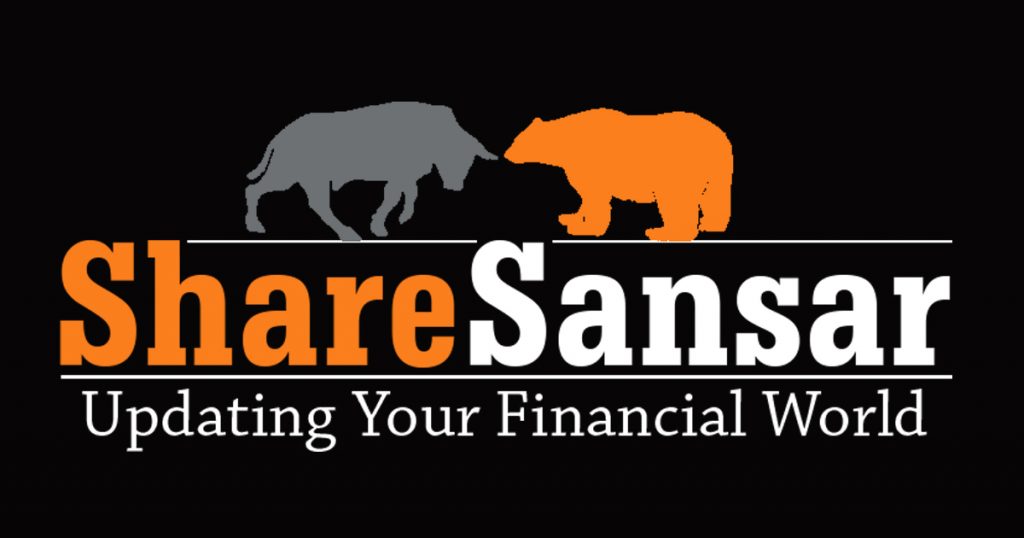 Sharesansar is one of the most popular platforms for stock market related news, analysis and tools. It has a wide array of options where you can get adequate updated information regarding the overall capital market. You can search for the companies listed in NEPSE, their financial data, upcoming IPOs, and many tools for trading as well. Sharesansar claims to be the #1 financial portal in the country with its updated market related news, analysis of the companies, and economy, tools for trading like SSPro.
Major features of this app are:
Overall capital market related news
Virtual trading platform named "Share Kheladi" with real time data
Informative contents and analysis
Portfolio tracking system
Tools like share calculator, IPO result checker
Mero Lagani

As the name suggests, this application is for the capital market investors in Nepal. Like Sharesansar, it also provides daily updated information about the capital market, companies and happenings of the overall economy. Along with that, what distinguishes it to others is that it has its own portfolio managing system where you can log in and purchase the services like:
Data analytics
Subscribing to newsletter
Portfolio tracking
Metastock for technical analysis
SMS Alerts and so on.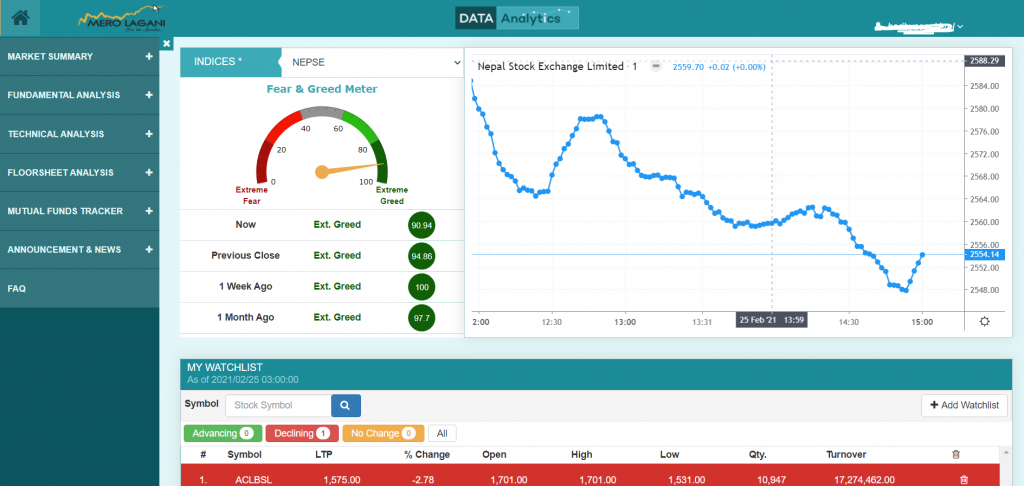 Nepal Share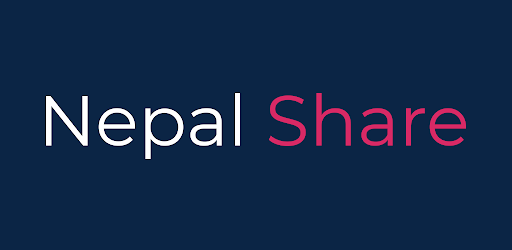 Another app for IPO updates and other information is Nepal Share. This app is mostly popular for its free portfolio tracking service. One can simply drag their information of stock holdings from meroshare or enter it manually and it shows daily change in your portfolio amount. Similarly, the major facilities it provides are:
Daily real- time market information
Portfolio tracker
Stocks alert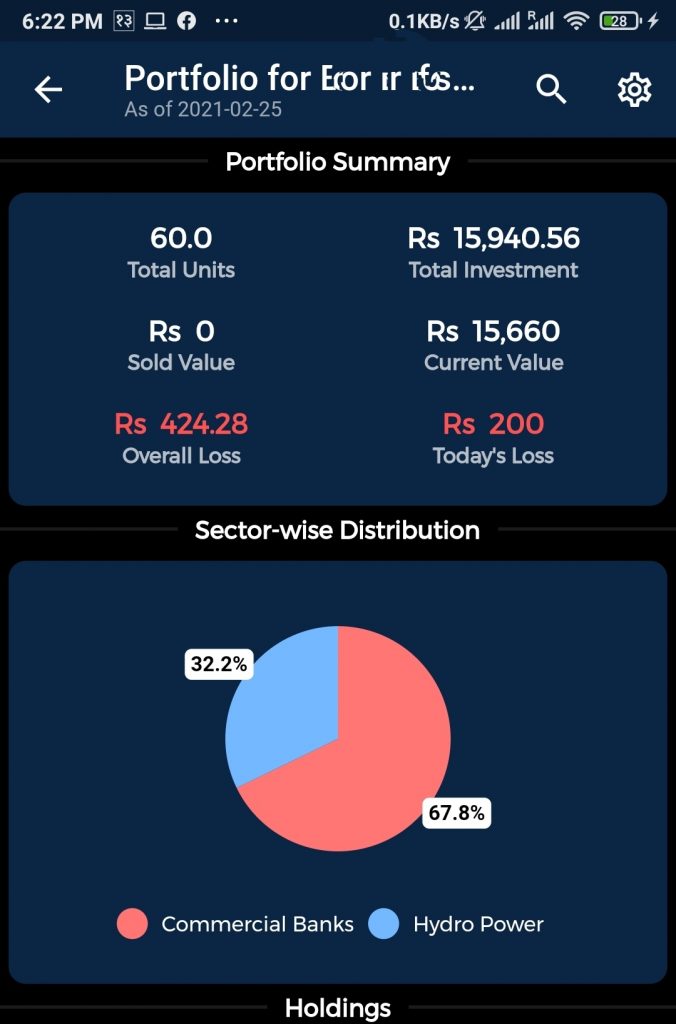 The best thing about this app is that you get updated information about your portfolio as per daily market price. However, it lacks a backup and restore option for the portfolio. This app stands out among others with its special feature named "Stock Alert" where you can get notified about the prices of your selected scrips whether it goes up or down through updated notification on your phone.
Also Read: Everything You Need to know About the Nepali Share Market
Nepali Paisa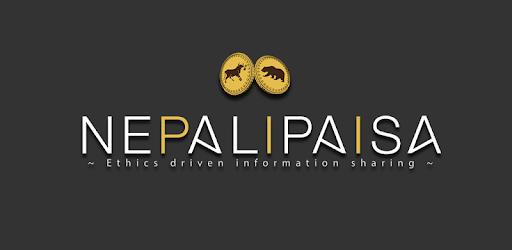 Nepali Paisa has grown itself as one of the most used and trusted financial portals and a mobile app for keeping updates of the stock market. Like others, it also works on providing live market screening, IPO/ FPO result, market information and Share calculator. This app is developed by SourceCode Pvt. Ltd. The main features are:
Weekly technical, fundamental and in-depth analysis of stocks
Stock calculator
Live market price data
Updates on IPO/ FPO, right shares, bonus shares information about companies
NEPSE App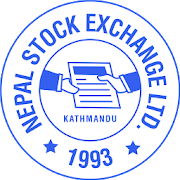 This is the official app by Nepal Stock Exchange. NEPSE app is mostly used for detailed information of overall market, economy and regulatory body like Security Board of Nepal (SEBON). It provides overall information on the stock market regarding live market update, floor sheet, historical prices, turnover information, market indices, market depth. This app has its own education platform in the beta version. There you can get adequate information of the capital market mechanism and the regulatory bodies. It also directly links out to the free video tutorial on various aspects of investing. Its web version is the first portal to display stock related information from Nepal Stock Exchange. The major features are:
Live and accurate data of the market
Weekly, monthly and annual reports of listed companies
Important announcements about capital market and its events
Updated data on market summary
Accurate historical data of listed companies
Conclusion: Best Stock Market Apps
Choosing the best app can be a riddle for many since each of these apps mentioned above have their own distinguishing features and application purpose. However, keeping at least one of these apps in your phone can let you surf for prompt information about the market wherever you are. As a matter of fact, people gathering to broker houses for live screening has been reduced after their indulgence in these easy-to-use apps in their own pockets.
Which one of them do you like the most? Or are there any others that we missed to mention? Drop your comments so that it would inform other investors as well.