Today, mobile apps are no longer just ordinary communication devices like they used to be. The applications of mobile phones are ever-increasing with the tremendous improvement in mobile technology. The usability of mobile phones has reached up a point where we cannot imagine our daily lives anymore without them. Such popularity has become possible only due to the availability of different categories of mobile apps. Now, let us look at the most popular and top apps worldwide in 2021.
1. Top in Downloads
In terms of download, TikTok comes as the most downloaded mobile app in the first quarter of 2021. It is closely followed by Facebook and Instagram at second and third positions. Both Facebook and Instagram have climbed one step to previous years in downloads. Similarly, Telegram which has ascended 4 steps ahead comes in the fourth position in downloads. The fifth position of Top downloads is occupied by WhatsApp messenger which has downgraded by 3 steps than the previous year. Recently, WhatsApp faced huge outrage due to the change in its privacy policy which must have led to its decline.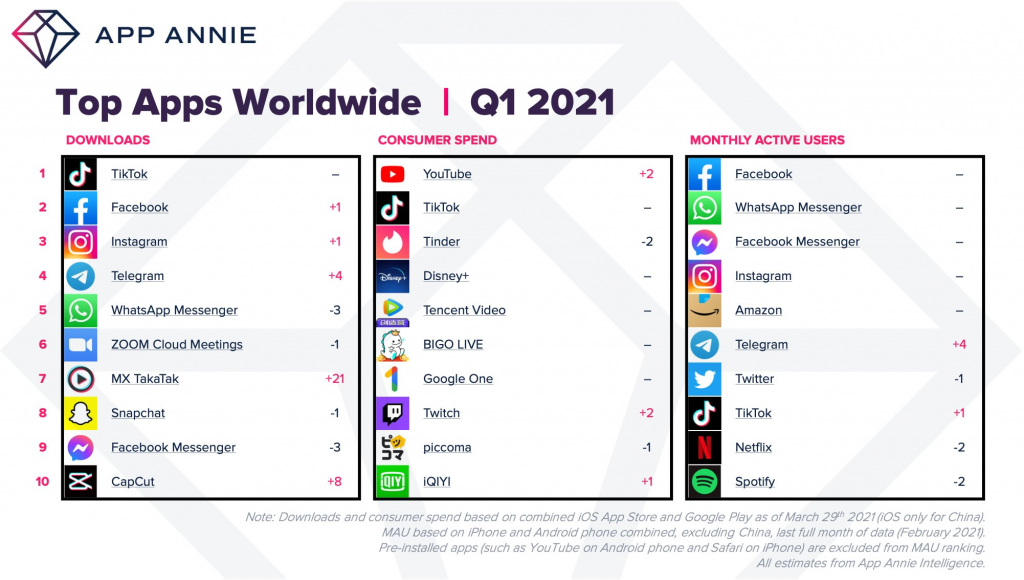 Furthermore, the Zoom app whose popularity soared during the pandemic has stayed in the sixth position. Surprisingly, MX TakaTak has made it into the list of top downloads this year. Besides this, Snapchat and Facebook Messenger take the seventh and eighth positions on the list. Capcut app also made it into the list by occupying the tenth position.
2. Top In Consumer Spend
Despite the ongoing pandemic, consumer spending on mobile apps has hit a new record in the first quarter of this year. According to the new report from App Annie, consumers in Q1 2021 spent $32 billion on apps across both iOS and Google Play Store. This number is up by 40% in comparison to the Q1 of the previous year. This year Youtube holds the top position in terms of consumer spending which is followed by Tiktok and Tinder. In the same way, iQIyI and Twitch have also made it in the list. From the data, we can see that the top positions in consumer spending are fairly consistent to 2020.
Also Read: The 5 Worst Apps for Privacy Concerns
3. Top in Monthly Active Users
Talking about monthly active users, among the top apps worldwide in 2021, Facebook holds the first position. WhatsApp, Messenger, Instagram, and Amazon have retained the same position as last year for most active users. This data clearly shows that Facebook and Facebook-owned companies have dominated the market. Likewise, Telegram has risen by 4 steps to occupy the sixth position. Followed by Twitter, TikTok and Netflix come as eighth and ninth position as top active users. Finally, the popular music streaming app, Spotify has the tenth most active user base in the world.