 Nobody knows you better than your phone. Even the best of your friends would not know as much as your personal device. From your location to your favorite restaurant, it knows all there is to know about you. That's why it is of utmost importance to know the applications that you have been using or plan to use. As a user, you should never compromise your privacy rights when you use an application. While not all applications misuse your private data, there are certainly some that use your data for their benefits. Now, let's take a look at some of the dubious applications that carry risks for you. In this post, I present the five worst apps for your privacy concerns:
1. TikTok
TikTok is a popular video-sharing social media platform. With 689 monthly active users, it permits its users to create short videos with music, filters, and some other features. Some people find the TikTok videos funny while some find them cringy. However, one cannot deny that it is one of the fastest-growing social media platforms in the world.
Recently this app has become a subject of controversy and concern due to its privacy policy. TikTok was found to be collecting various information from its users. Time and again we also hear about the banishment of this application in several countries like India, the USA, Pakistan, and so on. It was confirmed in 2020 that attackers could access TikTok accounts through SMS. If that was not enough, the same year, many organizations like Wells Fargo advised its employees to remove TikTok over privacy concerns. TikTok has access to your:
Phone Microphone
Camera
Contacts
Location Services
Clipboard
Social Network Contacts
Your Personal Information such as name, age, etc.
2. Weather Apps
You might think it is plausible to access your location for any weather application. Some of the popular weather applications are AccuWeather, WeatherBug, and The Weather Channel App. In fact, such apps cannot tell accurate weather conditions if the location is not always on. So you think there is no harm in giving it your location access and you give it. But what you do not acknowledge is that it tracks your location 24/7 and sells these data to advertisers. These sold data are used for location-based advertising and other purposes. Therefore, Weather apps can be one of the worst apps for your privacy concerns because it knows everything from where you work, where you live to where you eat.
3. Mobile Multiplayer Games like Words with Friends
Who does not like playing games with friends once in a while? Especially multiplayer games become so much fun due to interaction and player engagement. However, it was found that games like Words with Friends collect an obscene amount of personal data. Such games accumulate all kinds of personal data such as first and last name, username, birthday, email, contact, Facebook ID, location, and basically every public info they can collect. There is no guarantee that your data will be handled properly. Imagine what could happen if it is leaked or sold to the highest bidder. So, be safe next time you want to have some fun with random games.
4. GO Locker
We all wish to protect our data from prying eyes. To hide the photos, videos, or other contents, most of us opt to install a third-party App Locker for our device. We think we become safe after doing this. But what happens when the apps that are supposed to protect you instead violate you? Most of us do not recognize the harm you can have from such security locker apps. Being a security locker app, Go Locker requires several permissions and needs to know a lot about our phones. Besides this, Go Locker links up with third-party application stores, which means that even non-secure stores can access our details through this app. Hence, such security lock apps can be one of the worst apps that violate your privacy.
5. Camera 360 Ultimate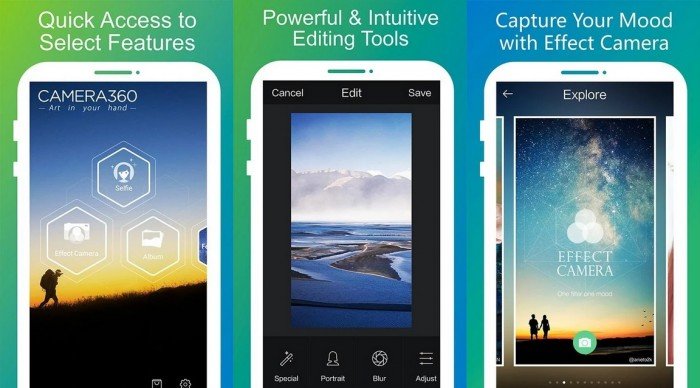 Android's default camera is not enough for many of us. In order to take exquisite photos, we require third-party camera applications like Camera 360. Camera 360 Ultimate enables us to add more camera modes, insert pretty filters, facial recognition, and much-needed touch-up in our photos. Although it does not show any ad, this app requires several permissions to run; even the permissions it does not actually need. I cannot contemplate why a camera app would require the ability to turn off the phone's WiFi? This app also has a built-in Chinese search engine Baidu library. It asks for just about every type of permission. In essence, this app is one of the worst apps for your privacy as it wants full control of your device and claims it is necessary for the app's functionality.
How to Be Safe:
Stop giving unnecessary permissions to the applications even if it asks for permission. For instance, a calculator app definitely does not need access to your location.
Update the apps you use regularly and delete the ones you do not use at all.
Before installing any application, make sure you check out its rating and reviews.
Using a VPN. Be aware here as even a shady VPN app could be stealing your private data which makes it even more dangerous.
Check the privacy policy for the application to understand how the company collects your data or what they do with it.