This content is intended for people of age 21 and above. Please drink responsibly.
For something that's supposed to make your event, celebration, occasion more fun or relaxing, shopping for alcohol isn't precisely easy. Although you go into a liquor store knowing what kind of alcohol you're looking for, there are innumerable varieties to consider. And, after you make your purchase, you have to keep those glass bottles safe and secure all the way back to your place. Fortunately, online delivery services make the hassle of buying alcohol fairly easier. You won't have to figure out how to drag six bottles of wine home or make a crazy dash to the stock just 15 minutes before your happy hour starts. Here are the best online liquor stores in Nepal, that allows you to buy liquor online and provides liquor delivery services to your home.
Cheers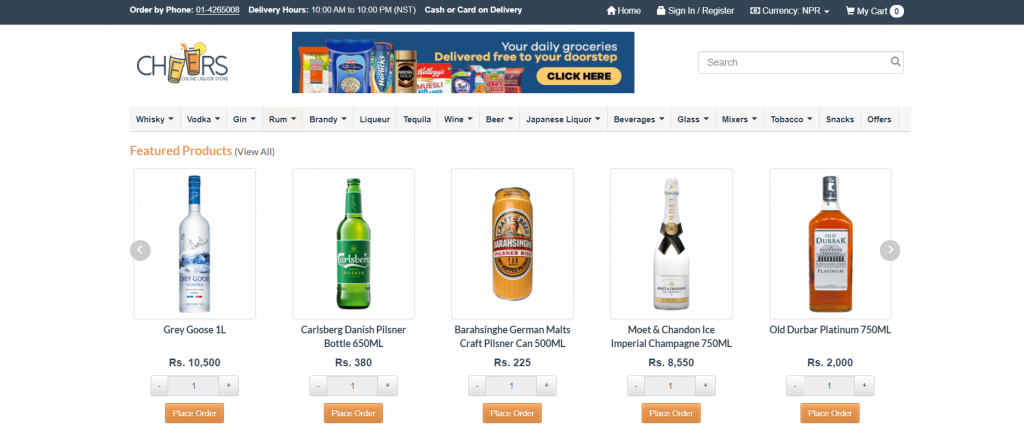 One of the largest and renowned online liquor stores in Nepal is Cheers. They have a wide range of domestic and foreign liquors, beverages, cigarettes, and mixers to offer. The best part is it has you covered for all your special events since they are open 365 days a year. The delivery hours are from 10 AM to 10 PM. They provide free delivery, with distance coverage up to 6KM outside Ring Road.
Liquor world has exciting offers and discounts for its customers. Currently, they have, buy 6 cans/ bottles of Tuborg beer and get one headset for free, one summer hat free with three bottles of Somersby and many more. They have a separate category just for offers, how amazing is that? The company accepts multiple payment options including cash on delivery, fonepay, connect IPS, card on delivery, E-sewa and NPR online payment. If your friend flew abroad with a pending party, here's the good news for you they accept international Visa, credit card, Master card as well.
Contact Details: (you can order via phone or Viber or website)
Address: Kamaladi, Kathmandu
Email: [email protected]
Phone: 01-4265008
Viber: 9804265008
Liquors Nepal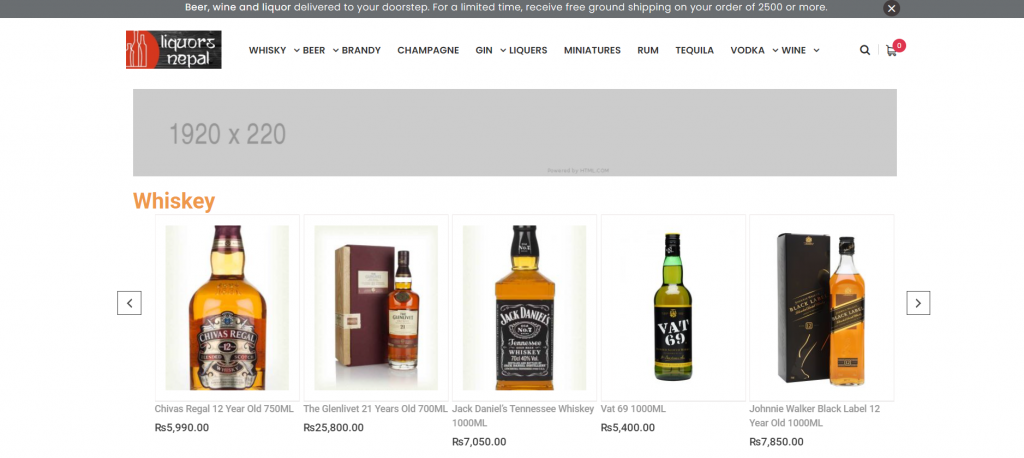 Liquors Nepal is a rising online liquor provider, which offers you only the best range of Premium, Regular, Single Malt, Blend and Rare Whisky, along with a great selection of liquors in Nepal. An absolute best point for all your gin, vodka, wine rum and tequila buying. For Fanatics throughout Nepal, they deliver premium liquor and related accessories on your doorstep.
Their easy search bar feature is very convenient to use. You can also sort by default, popularity, average rating, latest, price: low to high and price: high to low. They also have an option to filter the price range of the product as per the user's preference. A brief description is given for each item and furthermore, customers can rate and review the products as well. After selecting the item simply add it to the cart, apply for a coupon code if you have one and proceed to checkout. Fill in the billing details and place the order.
Contact Details
Address: Gongabu, Kathmandu
Email: [email protected]
Phone: 01-4265008
Viber: 9804265008
OKdam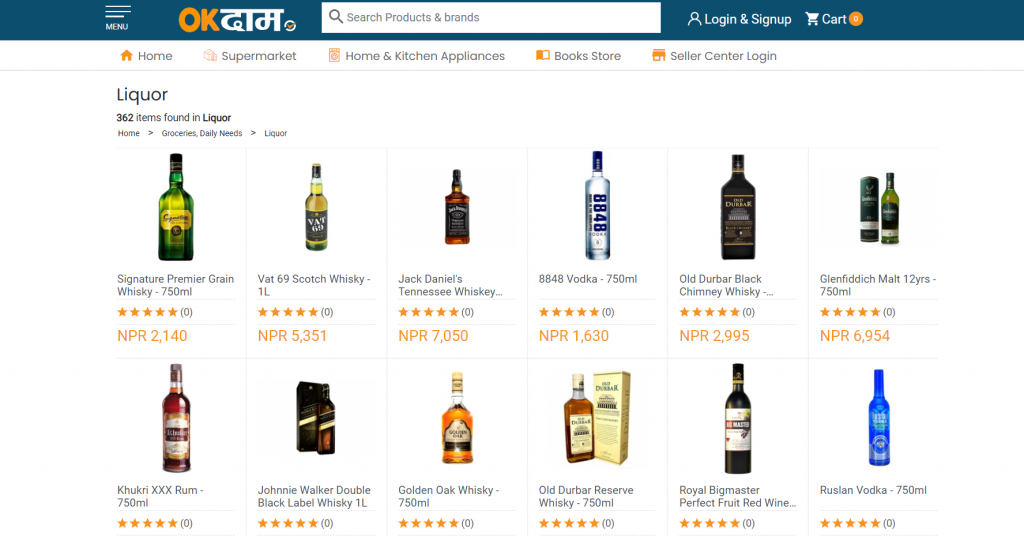 Buy Liquor Online at Best Price in Kathmandu, from OKdam. Purchase Wine and liquor beverages in Nepal's very finest online shopping store. You can check the price and select the beverage of your choice and place an order online. They offer a broad variety of wines, champagne and beverages in an assortment of gift basket styles. Wine baskets are an astonishing and contemporary gift for wine enthusiasts. Okdam prepares overwhelming gifts and personalized business gifts for their most precious customers. There is always something in their stock to match every kind of taste.
Okdam brings a broad choice of unique foreign liquors, beverages, cigarettes, and mixers for an appropriate price. They deliver the product safely to your doorstep. Okdam is an online liquor store that conveys proficient quality beer, wine, vodka, whisky, liquor, tequila, gin, rum, wine and whiskey. In addition, they also serve liquor beverages to cafes and restaurants in bulk who need to restock their bar. The company offers a same-day delivery service inside Kathmandu valley. For the Payment method, they accept cash on delivery, a card on delivery, Khalti, fonepay, e-sewa, international visa card and master card as well.
Contact Details
Address: Banasthali, Kathmandu, Nepal
9801322220 (Viber)
9840401105 (NTC Support)
+977 1 5139590 (7AM to 7PM Support)
Liquor world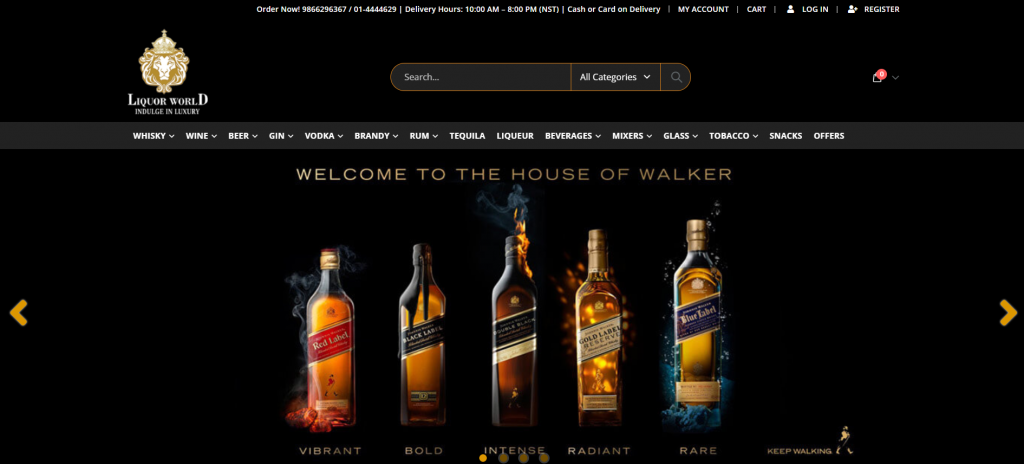 Liquor world, incorporated in December 2013 is another dedicated liquor store in Nepal. They have an extensive selection of domestic and foreign liquors, cigarettes, beverages, and mixers to offer. They have both wholesale and retail service. You can remember them for huge parties too. They promise to deliver all the alcoholic beverages required for big parties or any special events. They open 365 days at your service. The delivery hours are from 10 AM to 8 PM.
Their website also offers a chatbot feature for customer service. You can search for the product you desire under several categories that include Beer, Beverages, Brandy, Gin, Liqueur, Mixers, Offers, Rum, Snacks, Tequila, Tobacco, Vodka, Whisky, Wine. With the purchase of more than Rs 1500, they provide free delivery inside ring road of Kathmandu. If your purchase is less than Rs 1500 and outside ring road of Kathmandu they charge an extra amount of Rs 150. For payment gateways, they accept cash on delivery, card on delivery, fone pay, visa card and American express.
Contact Details
Address: Uttardhoka, Lazimpat
Phone: +977 986-6296367, 01 4444629
Email:

[email protected]
Also Read: The 10 Best Online Shopping Sites in Nepal
Did you know that you could buy liquor online? Have you shopped from these online liquor stores before? Well, if you weren't aware of their online delivery services before will you be shopping in future? If you do, let us know how your experience was. We hope this article was helpful to you.
Note: This is not an sponsored content and we do not promote drinking alcohol.
Don't Miss