Online shopping platform has a great potential in Nepal. One of the most intriguing factors about online shopping is that it eases the need to wait for a prolonged time in big queues, or roam around multiple stores in search of a product. While shopping online, people can view the price prior and make comparisons between the two items or stores before purchasing. That's why people are fascinated by online shopping these days. Currently, there are hundreds of online shopping sites in Nepal. With the introduction of more e-commerce sites in the country, the online shopping industry has come a long way. However, this has created confusion among the consumers on choosing the best shopping sites for their daily online shopping experience. Now, to facilitate making an informed decision for our readers, we are going to take a look at the best online shopping sites prevailing in Nepal.
1. SastoDeal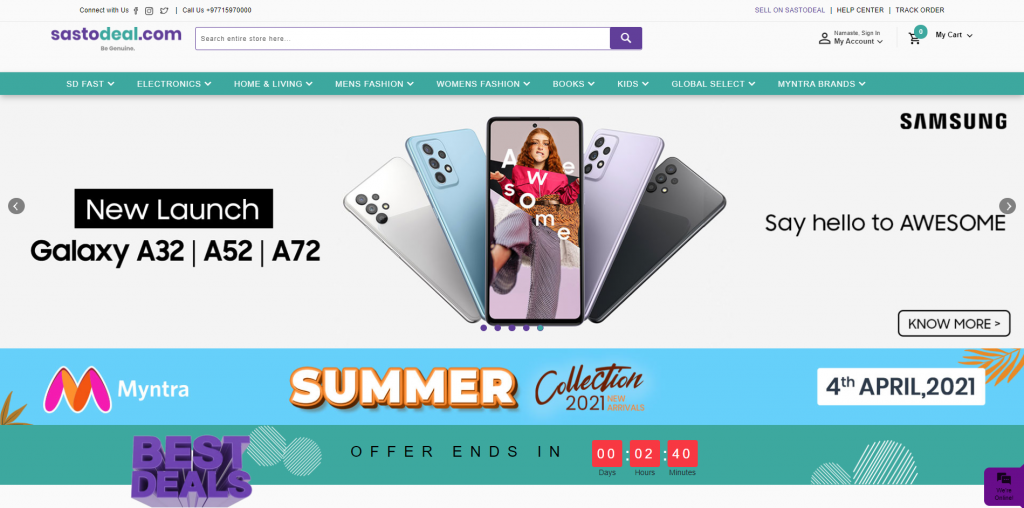 SastoDeal has been providing an online shopping service for quite some time now. The journey of this platform started in 2011 and it has progressed a lot since then. They have a wide array of products to offer from women, men, kids apparel, accessories, footwear to products like home appliances, gadgets, electronics, and many more. As the name indicates, Sastodeal provides many cheaper deals in a regular manner. This e-commerce site is all set out to provide the ultimate shopping experience to its customers.
2. Daraz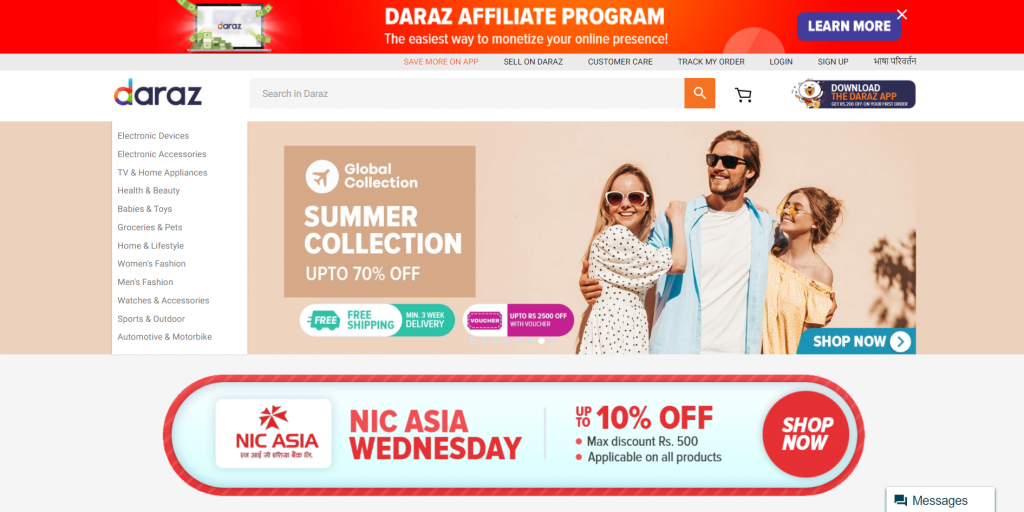 Daraz is one of the best online shopping sites currently operating in Nepal. In terms of the availability, quality of products, and customer service, it is undoubtedly the number one e-commerce site. Daraz is a multivendor platform with 5,000+ sellers registered on it. In fact, anyone can easily register as a seller and work with Daraz. Initially, it was registered in Nepal under the name of Kaymu which became tremendously famous in just some time. As the tech giant, Alibaba acquired the Daraz platform in 2018, they now practice Annual 11.11 single-day sales, 12.12 sales here in Nepal as well. They have a wide category of products to offer including fashion, and beauty products, jewelry accessories, electronics, furniture, and many more.
3. SmartDoko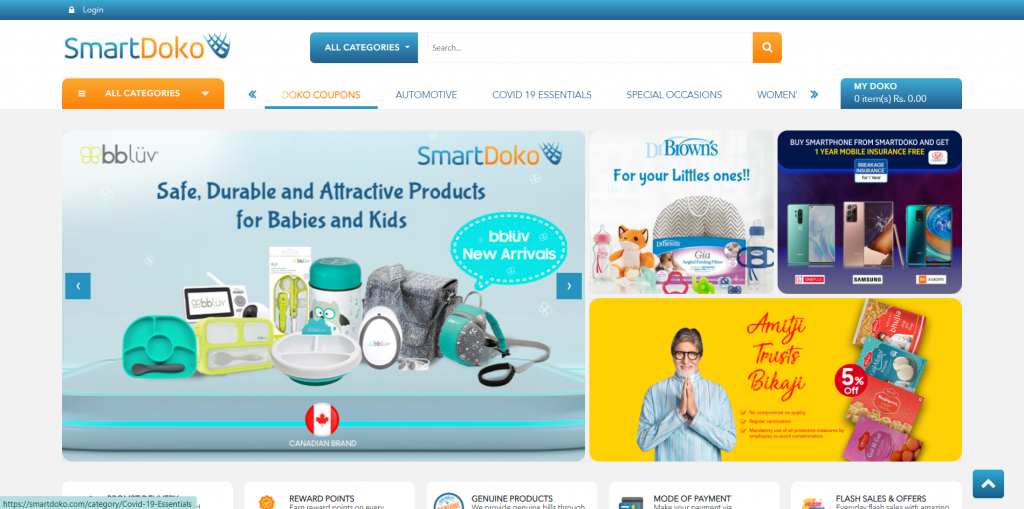 SmartDoko is a new player in the e-commerce industry of Nepal. The platform is in the state and has been evolving significantly. The approaches opted by SmartDoko are to provide quick delivery, an extensive assortment of products, unbeatable prices, reward points, a high level of responsiveness, cohesive marketing communication, and strong distribution networks. One can shop through the website as well as a mobile app which is available for both Android and iOS users. If you want to get a genuine shopping experience online, SmartDoko can be a great option for you.
4. Gyapu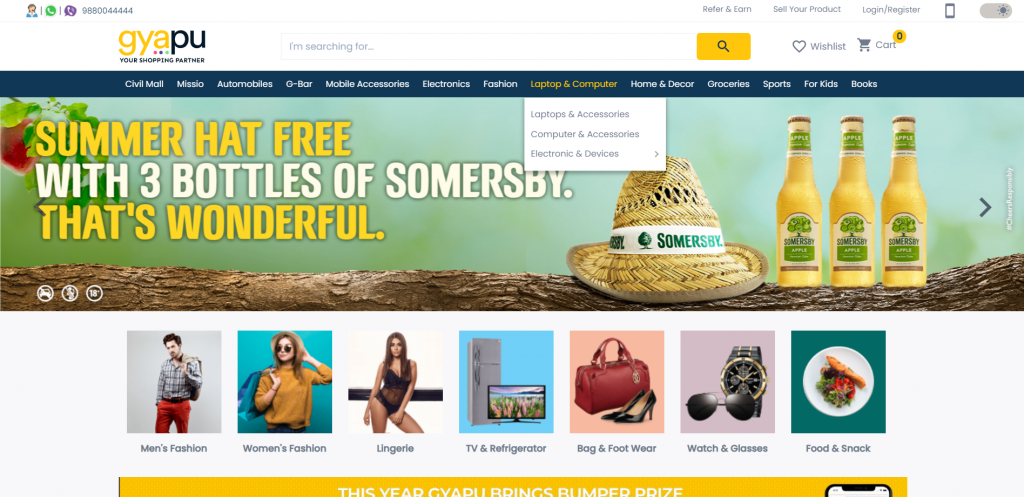 Besides Sastodeal and Daraz, Gyapu is one of the rising online shopping portal in Nepal. Recently, Gyapu has started "refer and win" offer in which users can win vouchers by referring the app to others. What makes this site different is that it has a feature called "Gyapu wallet". Once you register to their platform, Gyapu.com, you will receive Rs.100 to your Gyapu Wallet. These Gyapu rewards can later be redeeemed to purchase different products from their platform. Furthermore, if you are a seller and wish to sell your items in their platform, you have to register first. At the time, Gyapu is not charging any commission fee from its sellers. In this way, Gyapu pledges to disintermediate the monopoly of mediators and existing e-commerce industrial trends.
5. Thulo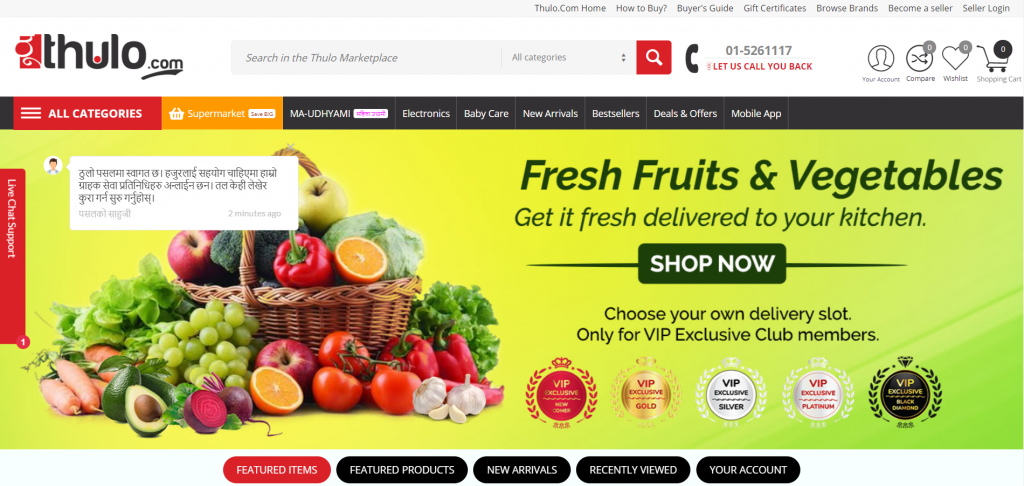 Thulo.com is a shopping app developed internally by the Thulo group in Nepal. Previously this company was named as Nepbay which later rebranded into Thulo.com. It consists of 50,000 products and over 2,500 brands. When your shopping reach a total of Rs 10,000 or more, you are eligible to join Thulo VIP exclusive club which comes with different perks and discounts. In the same way, this ecommerce website makes same day delivery through its own delivery partner ThuExpress. This same day delivery service is one of the unique feature present in Thulo.com. Apart from these unique features, this online shopping portal possess all other common features of e-commerce website.
6. Mukundo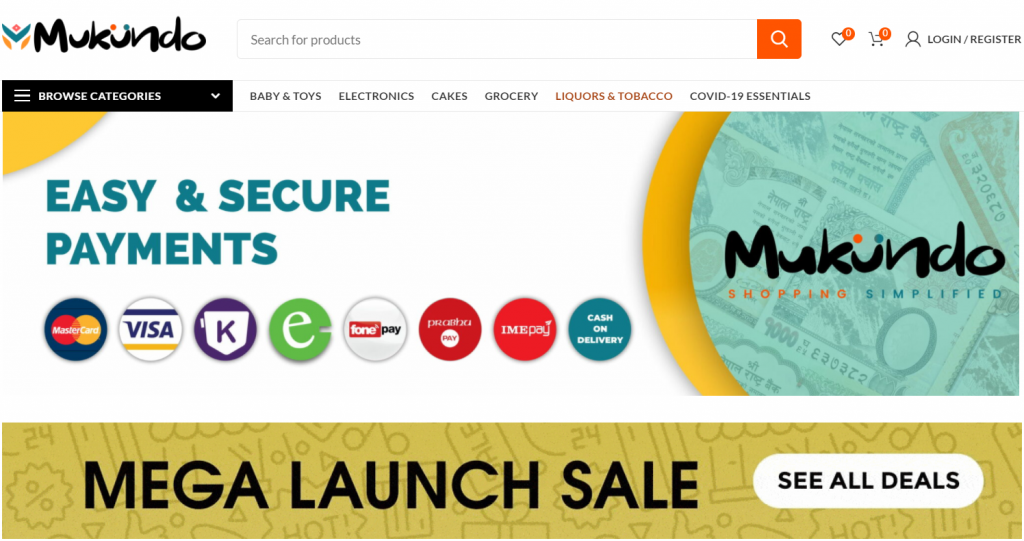 Mukundo is another prominent online shopping platform which operates under MBSYS Group Nepal Pvt. Ltd. It is currently providing 100 rupees sign up bonus to new users. After that, additional 50 rupees can be earned per user by referring to friends and family. Mukundo online shopping has enabled payment for orders using eSewa, khalti, prabu pay, IME pay, Mastercard and VISA cards. The unique feature of Mukundo is that it lets the customers checkout their orders without creating an account. In other words, new users can easily purchase desired items as a guest user. However, creating an account gives you additional features and you can even get Mukundo offers and gifts.
7. Socheko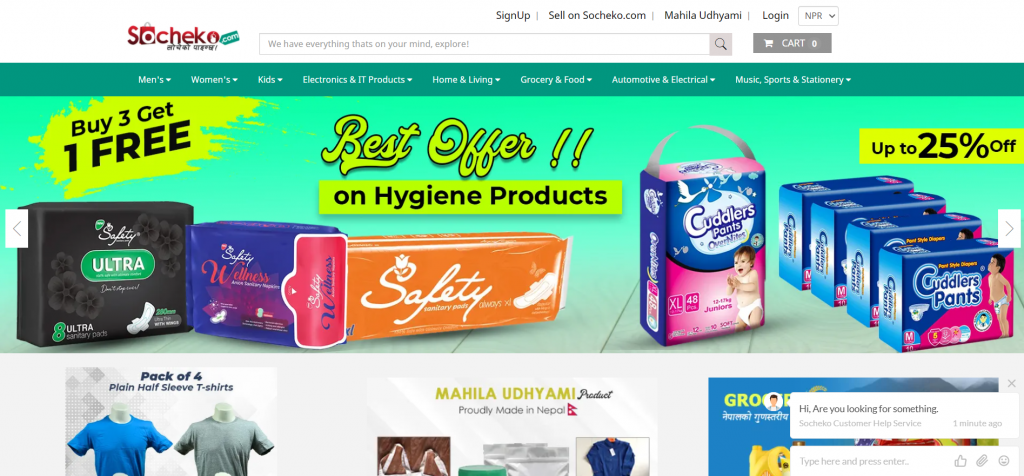 One of the leading, quick and reliable sites for online shopping in Nepal, Socheko.com offers the widest assortment of 10,000+ products across 500 different categories. They sell the products from national, international and even local brands. Running since 2018, this ecommerce site has an aggregate of ten thousands registered customers who are happy with the company's service. The company is mostly concerned with providing the best after-sales service in ecommerce industry. Similarly, their site is managed by a team of professionals who are deeply passionate in improving the way people purchase their products. Hence, if you are willing to try their service, you can easily access their eCommerce website on web browsers like Google Chrome, Opera mini, Brave, and Mozilla Firefox.
8. OkDam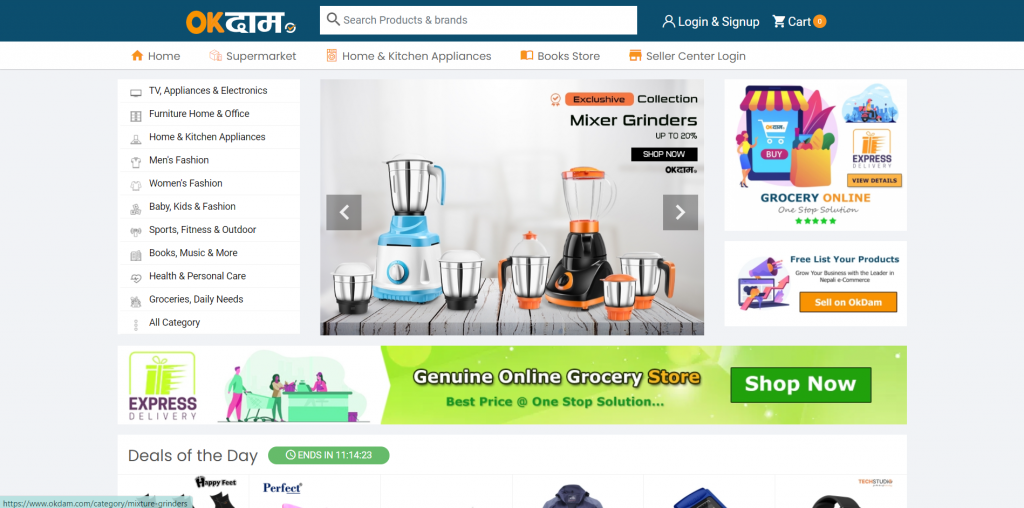 As the name suggests, OkDam company believes they are providing the most competitive price on all the available products on their website. In addition to providing quality products at an affordable price, it also provides customers access to everything ranging from Mobile, Electronic, Fashion clothes, Home appliances, and Kitchen appliances to organic coffee, green tea products, and much more. Besides this, OkDam makes it easier for canny entrepreneurs to feature their products on their multi-vendor website. The company also advertises itself as the most trusted best online shopping service in Nepal. But the downside of the OkDam is that buyers with low requirement is not entertained because they sell the product in bulk. The key feature of OkDam is that it helps its seller get a large number of clients at zero advertising cost.
9. Mero Kirana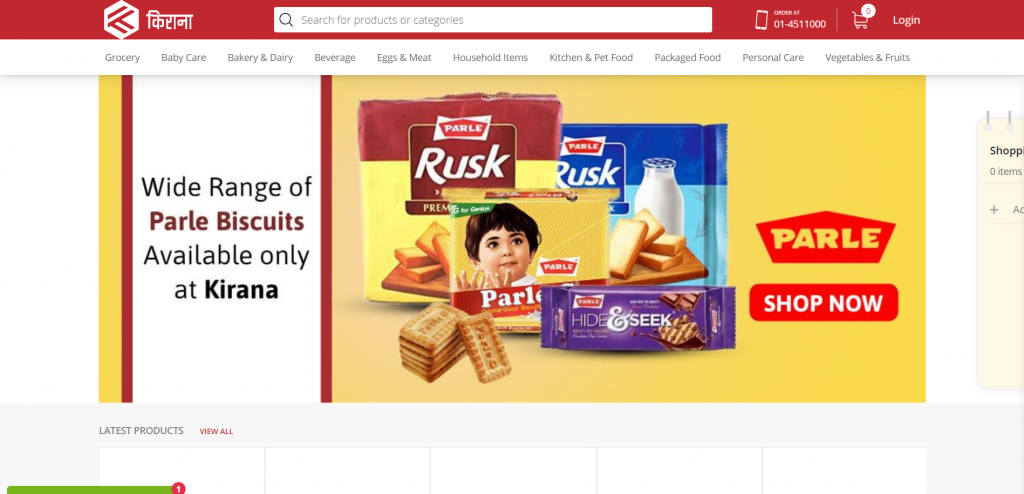 Unlike the above-mentioned websites, Mero Kirana specializes in selling grocery and food-related items to its customers. Some of the categories of grocery items that can be bought from Kirana are bakery, dairy, egg & meat, canned food, and packaged food. Mero Kirana is set out to make your life easier by providing daily essentials and accessories at your doorstep.
10. Gajabko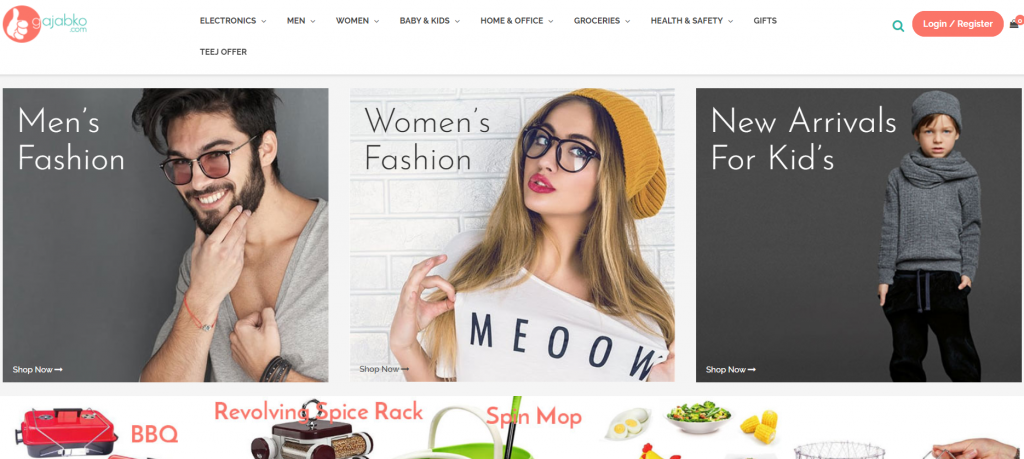 Gajabko is an online shopping site that offers the wide range of products by which the customers can enjoy a hassle free purchase of products. It one of the newest ecommerce site in Nepal. What makes Gajabko different from other online shopping services is that it provides 24/7 customer service and Trust Pay Service. Another factor that makes this company is unique is that it provides free shipping on all products when purchase is made of over Rs 3000. Therefore, if you are an avid online shopper, you should give a try on this emerging ecommerce site once in a while.
Conclusion
The world is going mobile. Nowadays we have mobility solutions for practically all industries. Applications have made a deep space in the personal and professional lives of people. Starting from eCommerce to fulfilling daily utilities and personal care, there's an app or a web portal for everything. Most of the online shopping services mentioned above have both web and mobile applications now. We hope these online shopping platforms will ease your shopping experience in just a couple of taps. Happy Shopping!