Mero Karobar is a Digital khata (record keeping) for Nepali merchants. Users can now swiftly monitor their personal as well as professional 'khata' directly from the Mero Karobar app. This app assists people in keeping track of their credit and transactions recorded daily. It helps by administering the credit, executing your customer transactions quickly, and makes the cash flow system work smoother. This app is in the ownership of Byte Care Technology which is an IT solution company specializing in web and mobile app development.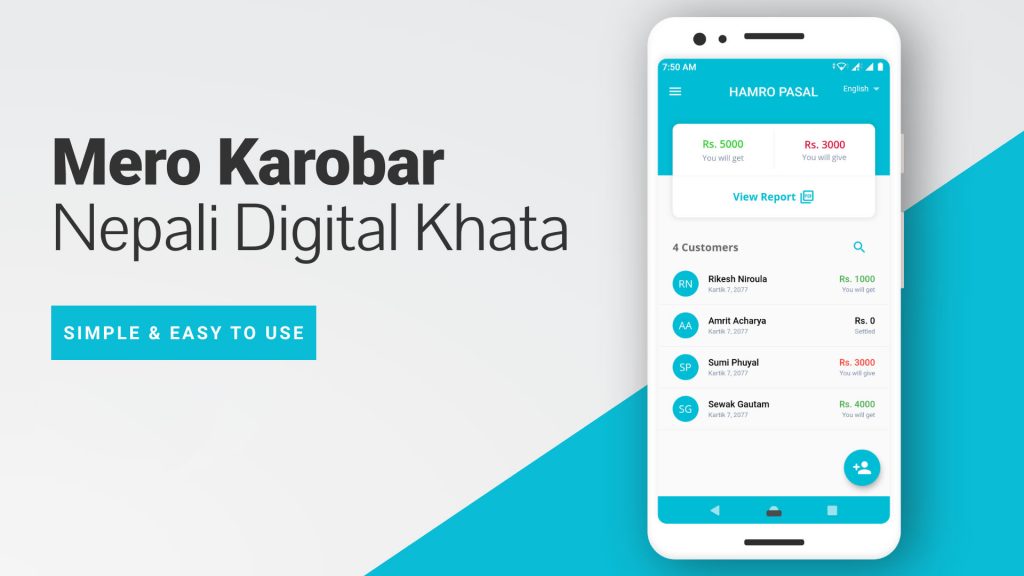 Mero Karobar App: Features and Usage
Users can create their personal digital khata with this app and keep track of their financial activities and business. Mero Karobar app is well suited for diverse types of businesses.
There are many cool features and peculiarities in this app. It has the provision of viewing and downloading customer reports, previewing net balance, checking previous transaction details, a reminder feature which notifies to collect money faster, ability to automatically backup your data and it can be utilized both offline and online.
This app solves the difficulty created by traditional paper khata and makes the process of monitoring your khata convenient and faster. Its modest yet well-designed UI and UX makes it more desirable and easy to operate.
Also, Read || Moru Digital Wallet and features
This app is bilingual, it can be used in both English and Nepali language mode. It fully safeguards and ensures the security of its users while providing them great services.
The need for this app appeared to the developer when his father was having trouble locating the name of a customer in their shop khata and the idea of creating an app that can have an impact on the way transactions (len-den) are addressed made the vision of this app into a reality that we now know of. 
Download the App:
Mero Karobar app is an innovative and authentic app. Have you used this app? If yes, feel free to share your perspective with us.