Doctor Live Twenty Four Pvt. Ltd has launched an innovative tele-medicine mobile application "doctorlive24" in play store and app store to connect patients and doctors each other at anytime from anywhere. A large numbers of doctors of vast specialization can be visible online and patients can choose their specialist from online pool seeing doctor's profile and service. "This is the innovation of Nepal, we all should be proud of this innovation, shall take benefit of this unique app, it is our health partner at the time of medical emergency", says Ms. Neesha Gurung, GCM of Doctor Live Twenty Four.
Ms. Neesha Gurung adds, "This is the first type of mobile application in Nepal and probably in the World with feature of seeing the large number of certified doctors online and instantly connecting to them at real time".
Why doctorlive24 ?
It is evident that all the individuals in Nepal do not have access to health facilities easily and during the time of emergency even in urban areas, patients have to suffer to avail health services. The healthcare procedure is complex. Another problem with people is taking medication from community pharmacy without prescription which leads them more prone to their health risk. Through this app, patients can receive digital prescription after consultation with the doctor.
1. Real time Video Consultation
Patients can make Video Consultation at real time and get digital prescription through the doctorlive24 app. It offers an option to the patients to order medicine or Lab Test by sending digital prescription to Doctorlive24 team. Once patients order for medicine and lab test, team doctorlive24 will confirm it and provide these service at home or office of the patient. Patients can also directly upload other historical report or prescription from the 'Upload' section and send for ordering medicine or lab test or can share the report to their doctors before consultation. Patient can store their report and digital prescription for future follow up and consultation.
2. 24/7 Online Connection
With the app, doctors can go online 24/7 and connect with their patients. When patients request for instant online consultation selecting their profile, they will get notification about it and allow them for consultation. Doctors can also generate digital prescription to their patients after consultation with their valid signature. They can also store records of patients and prescription details in dashboard and update their services and important credentials for better knowledge.
3. Routine test for patients
Patients can choose and order their routine test of chronic and acute diseases from 'Lab Test' section. This features also allows to book for rare tests which are not available in Nepal. They can also choose different healthcare packages at reasonable prices. For the reliable test report, doctorlive24 has tied up with the best pathology lab partner of the country. Patients can also choose and order popular and quality brands of personal care items. For online payment gateway, doctorlive has partnered with Nabil Bank, esewa and khalti. Patients can take benefit of 5% cash back while making their payment with esewa and Khalti.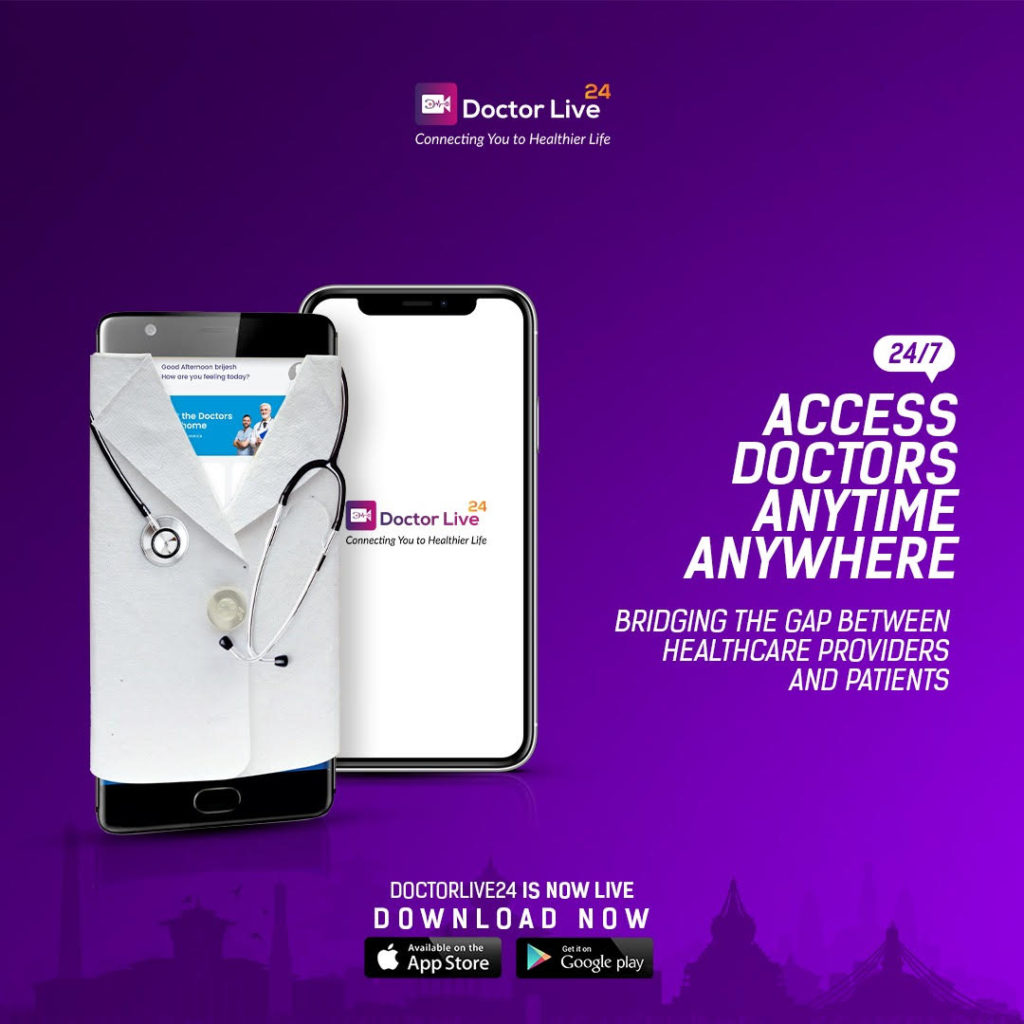 Along with these benefits, doctorlive24 has introduced FREE Online Consultation to patients with symptoms of Covid-19, covid positive and post-covid patients during this pandemic as social responsibility. The company has also managed to serve PCR Test at Home at Rs. 2299 with 5% cash back benefit.
Doctorslive24 is an innovative platform in Nepali healthcare domain. The app will surely be helpful for a lot of people by easing their access to healthcare. We wish the team all the best for the upcoming days.