 The time is tough for all of us. Covid-19 is wreaking havoc in our lives one way or another. 2020 has been the harshest year most of us have ever faced. And 2021 is not any better. In such a trying time, it is common to feel overwhelmed, stressful and anxious. If you are having such feelings, it is necessary to seek help through any means available. Among many other apps, COVID Coach is one of those apps that helps you build resilience, manage stress, and increase your well-being during this crisis. Read on to learn more about Covid Coach.
About Covid Coach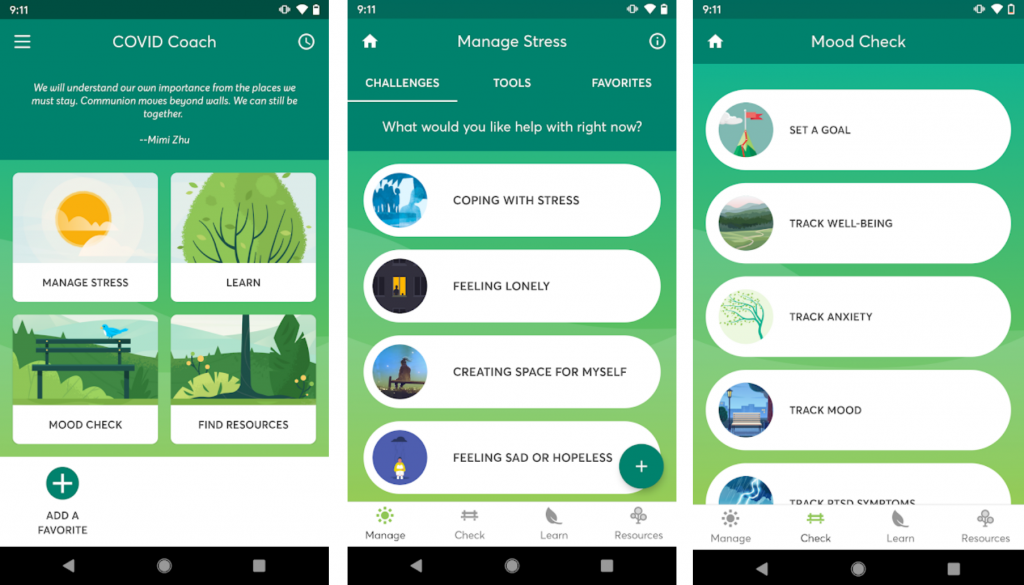 COVID Coach is a tool for reflection, guided meditations, and other wellness activities created by the U.S. Department of Veterans Affairs (VA). The app is free, secure, and helps connect you to important resources for coping and adapting during the COVID-19 pandemic. Customized tools are available to help users cope with stress, stay well, stay safe, stay healthy, stay connected, and navigate parenting, caregiving, and working from home while socially distancing, quarantined, or sheltered in place. In the app, the suggestions and resources target COVID-related challenges but are relevant for handling stress at any time. This app does not require any login or account creation while using.
"COVID Coach is an app that's designed to help people cope with stress related to the pandemic. This app is not a treatment replacement app. This is designed to be something that anyone in the general public with a smartphone can use, you know, to help whenever they might need it, for a few minutes during the day, once a week." – Beth Jaworski, Health Science Specialist at VA
Application Interface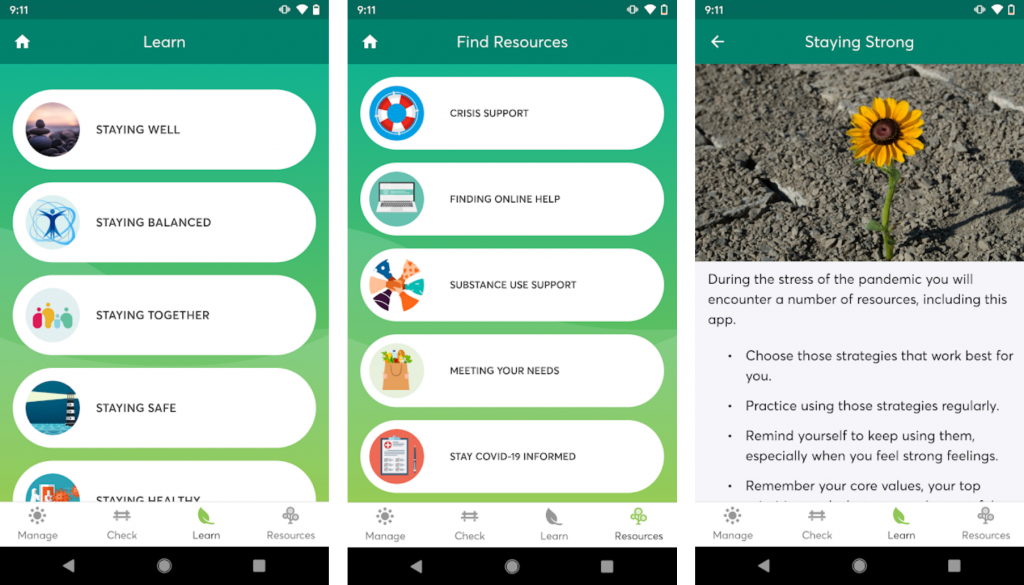 COVID Coach's interface is divided into four sections: Manage Stress, Mood Check, Learn and Find Resources. Tap and swipe through them to find what interests you and create a list of favorites. You can browse Manage Stress by challenge or by a tool. Challenges include handling anger and irritability, navigating relationships, feeling lonely, and others. Similarly, Tools include guided meditations as well as inspiring quotes, ideas for indoor activities, and sleep tools. Learn has information about staying physically safe and emotionally sound during the pandemic. Mood Check has guides for setting goals, tracking well-being, and more. In the same way, Find Resources includes links to local and national COVID-19 information as well as links for substance abuse, crisis support including suicide prevention hotlines, and services to help with financial needs.
App Details
Devices: Android, iPhone, iPad
Skills: Emotional Development – Developing resilience, handling stress, identifying emotions, self-awareness
Health and Fitness: Mental Health
Price: Free
Pricing Structure: Free
Release Date: May 6, 2020
Category: Health and Fitness
Size: 82 MB
Installs: 10,000+
Publisher: US Department of Veterans Affairs (VA)
Current Version: 1.6
Minimum software requirements: iOS 11.0 or later; Android 4.4 and up
Latest Update: February 16, 2021
Conclusion
The world as we know it has changed and we are living in unprecedented and uncertain times. As the mental health impacts of the pandemic continue to widen and increase, digital health resources, such as apps like COVID Coach, offer a scalable way to provide evidence-informed tools and resources. It is applaudable that an app like Covid Coach is freely available for our use in such a difficult time. Therefore, let's make sure we stay mentally healthy during a pandemic by utilizing Covid Coach to the fullest.