Tootle is a ride-sharing service through which you can move from one place to another with ease and convenience. Tootle is the first ride-sharing platform from Nepal and it was also obviously one of those startups that had the biggest impact on Nepal's entrepreneurship ecosystem in recent years. So for this month's edition of 'App of the Month', we cover the story of Tootle.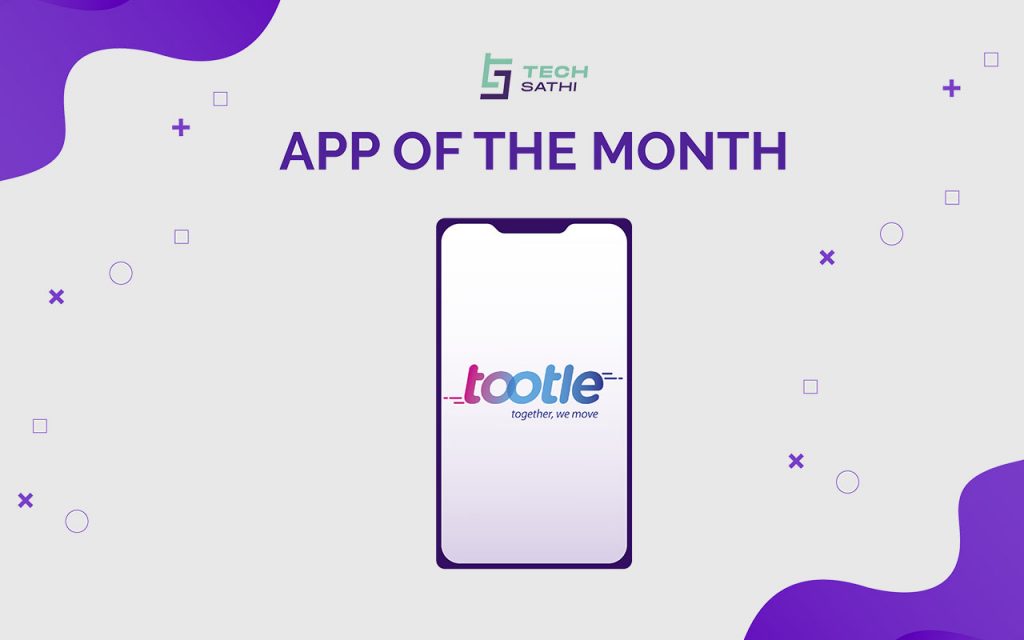 Tootle: How it all started?
Well, to begin with, Tootle wasn't the ride-sharing service it is today from the very start. In the early experimentation stages back in 2016, the team had been experimenting with different models and first developed a prototype called 'Sabaikosajha' which would track Sajha buses in the valley. However, this didn't really work out and due to some issues, the plan was dropped. You can say the idea of Tootle was inspired by similar business models in other parts of the world like Uber, Lyft, etc. However, these kinds of services were completely new to the scene of Nepal.
Tootle was formed with a motive to create an infrastructure for normal people to enjoy their 'Freedom of Mobility'. You had to either use public vehicles which can be problematic due to issues of the route, traffic, and privacy. Another option was to use cabs but they also weren't easily available and were pretty expensive. There was an observation made that every day numerous motorcycles were seen on streets without any pillions. That was when the idea struck to utilize that extra seat to the benefit of the rider as well as anyone willing to travel along. Also, this would mean less number of vehicles in the streets and ease of moving around.
So, for people to be able to easily go from one place to another fast, reliably and at a low-cost Tootle was formed. After putting a lot of work into making the product and testing it thoroughly Tootle was good to go. Initially, the thought was to name it CabIO (digital cabs) but later someone from the team randomly came up with the name Tootle which literally means 'a pleasurable ride'.
Putting Idea into Action and Early Challenges
Although companies like Uber were already shining in other parts of the world with similar models, the concept of ride-sharing was completely new to the public of Nepal. Therefore, rather than taking Tootle from a business perspective right from the start, the aim was to make people understand that Tootle is here for easing their mobility. The team recalls that one of the biggest problems they faced in their early days was the resistance from people to change and try something new.
The socio-cultural values of our country and the mindset of people isn't shaped in a way that sharing a ride with a stranger is termed okay. The issues of safety, trusting a completely new service, social dilemmas, etc were highly prevalent in the early days. So, as difficult as it was to get customers, the same difficulty was faced in convincing people to join Tootle as riders. But slowly people started adapting to this newly formed service and started realizing that it can be highly beneficial for both riders and customers. The service started growing and although some people might not yet have completely adapted to this idea, it has become normal and one of the most used services.
Currently, there are about 30,000 tootle partners registered (both bikes and cabs). They have a total of around 19 team members who look after the company's IT, Operations, Marketing, and Partner Management, Finance, and other processes.
How does it work?
Using the Tootle app is pretty easy. They have recently launched their new app with a smooth and user-friendly UI. Just about anyone can easily book a ride through the Tootle app by following some simple steps.
To get started, you just need to download the app, log in with your mobile number and you're good to go. After that, you need to select the location you want to reach and the point you want to get picked up from. Then, you'll be shown the total cost of your travel, you can choose to either travel by motorcycle or by cab as per your need. Once you click on 'Let's Tootle', the app will search for riders near your pickup location. After a while, you'll be shown a rider who has accepted your ride request and you can either contact the rider yourself or the rider will contact you. Getting a ride is as simple as that nowadays. Just with a few clicks you can get picked up from your doorsteps and go wherever you want at a reasonable price. You can either pay the rider by cash or pay digitally through Tootle balance which you can top-up using Khalti.
The services of Tootle are currently limited to inside Kathmandu Valley only. However, it has plans to expand to other cities in the near future. Tootle used to operate its services 24/7 before the coronavirus pandemic but now due to the circumstances, it has been providing its services from 6 am-9 pm currently. If you're someone who doesn't like traveling in public vehicles and doesn't like the nuisance of finding cabs and bargaining as well, then Tootle is the perfect solution for you. You don't need to go out searching for a cab or a public vehicle, bargain with the rider, get into packed buses, etc. You can now move with ease with the help of Tootle.
The Covid-19 Impact
As you all know the coronavirus pandemic came in like a storm and has life has never been the same since. It has had a major impact on the day-to-day lives of the people as well as businesses. Many businesses have struggled to cope with this sudden pandemic and some have been forced to shut down as well. Talking about Tootle in this aspect, they have also suffered a lot as concerns regarding safety about ridesharing with unknown people is expectedly high due to the communicability of the virus.
The number of people using the service has also gone down by big numbers from an average of 6000-7000 rides per day to 1000-1500 rides per day post corona. This is also due to them having changed to a new system and launched a new app. Furthermore, people are now working from home, educational institutions are shut down and people don't go out as often which has plummeted the demand for the service. However, Tootle has been continuously working on making the service safe for its users and partners amidst these concerns. Proper sanitization and use of masks have been made compulsory for riders and users as well as they are working on embedding some safety features in the app itself in the near future. Also, considering the economic impact caused by the pandemic, Tootle is not taking any commission from its partners (Tootle Riders).
What the Future holds for Tootle?
As mentioned earlier, Tootle was established with a motive to create an infrastructure for normal people to enjoy their 'Freedom of Mobility'. They aim to create a sustainable ecosystem and help their riders as well as the lives of their users not only through mobility but also through other verticals. They have always been working on improving as a company and also as a brand. Tootle is currently only available inside Kathmandu Valley but the process of expansion to other cities is already in the works and will be done as soon as possible as per the team. However, the Covid-19 situation has been halting their progress regarding expansion to other cities.
Furthermore, they are also studying the possibilities of adding other services so watch out for that as well. Tootle previously only had motorcycle ride-sharing services and only recently did they add the cab sharing services to their portfolio. Maybe we will see Tootle Accessories, Tootle Food, or something completely new in the near future.
So, have you been using the services of Tootle? If yes how has your experience been with their service? Has Tootle made traveling easier and more convenient for you? What would you like to see from them in the future? Let us know in the comments below.