Nepal Clearing House Limited-NCHL is a company running under the leadership of Nepal Rastra Bank. Besides this, commercial and development banks, finance companies, and SCT are also behind it. In general, NCHL is a financial institution to facilitate clearance/exchange of payments, securities, and more, also working through the app, connectIPS.
NCHL masters in the game of introducing exclusive and exciting offers, timely. With this regard, something special is going to happen this year too. For the very first time, NCHL is providing people with an opportunity to win a brand new 43-inch LG Smart TV. This offer comes under the newly introduced NCHL connectIPS TikTok challenge. Isn't it great?
Moving further, let's learn about the schemes of this challenge.
Connect IPS TikTok Challenge:
Connect IPS TikTok Challenge is a challenge to make competitive, quality and relatable TikTok on the soundtrack provided by NCHL. To participate,
This concludes your connectIPS TikTok challenge. After this, wait for the results to be published. For this, notice might be published soon on the facebook page.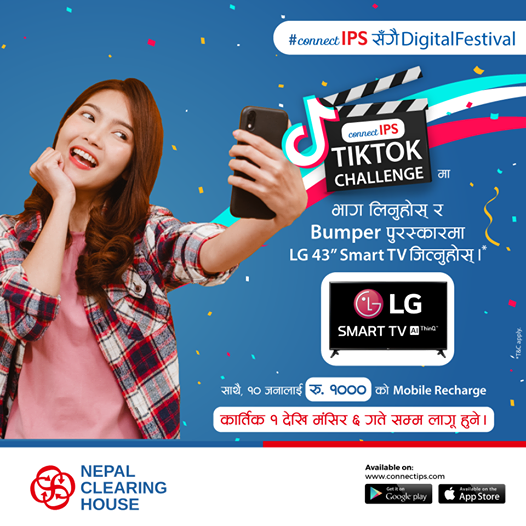 Rewards for the winners:
This challenge comes with an exciting surprise i.e., an eye catching 43-inch LG Smart TV as reward. Additionally, 10 lucky winners will also get mobile recharge worth NRs.1,000 each.
Also, Read || 7 Things you Need to Know About Digital Payment in Nepal
Validity:
This challenge started from Kartik 1, 2077. This means that the challenge is still ongoing. And the challenge is known to remain valid till Mangshir 6, 2077.
Time is running out. So, make your initiation soon. We wish you a good luck. May the best win!