Xiaomi is on a rollercoaster ride. After sweeping through the Indian market, the Chinese smartphone manufacturer made history by becoming the best-selling smartphone brand globally. For the first time ever, Xiaomi has become the best-selling smartphone manufacturer in the month of June. Xiaomi has surpassed Samsung to become the number one brand globally.
The Chinese smartphone manufacturer achieved the feat for the first time in the race between global smartphone brands. In June 2021, Xiaomi surpassed giant companies such as Samsung, Apple, and Huawei to achieve such a historic milestone. Considering Xiaomi was only established in 2010, the company has seen a meteoric. It has been giving tough competition for giant smartphone manufacturers who are dominating the smartphone scene for decades. The continuous innovation paired with strategic expansion and diversification of products has been the catalyst in Xiaomi's astonishing growth that has catapulted it to the top spot.
Xiaomi's records in June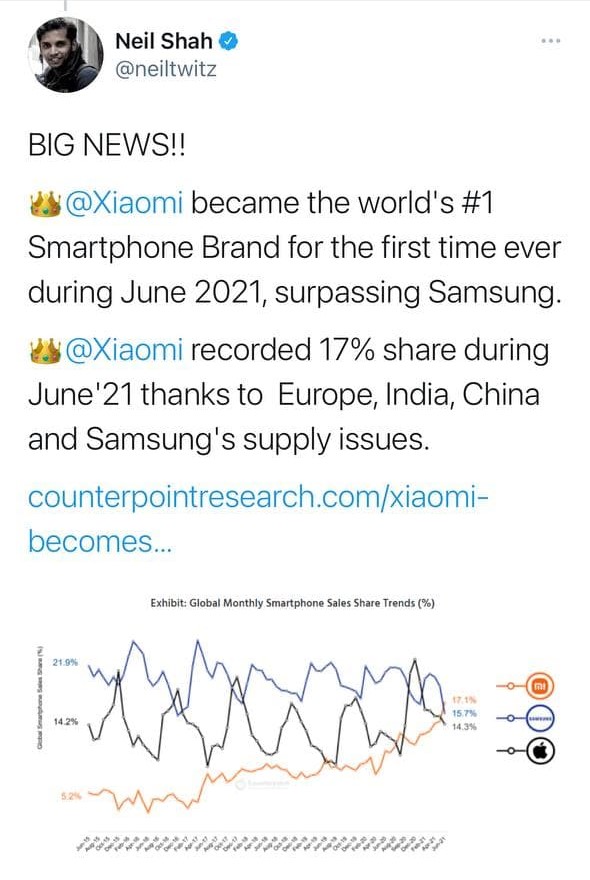 According to a monthly market report released by Counterpoint, Xiaomi's business grew by 26 percent in June. The company ranked number one with a 17.1 percent market share.  Samsung is second with 15.7 percent market share and Apple is third with 14.3 percent market share. According to the report, in the second quarter of 2021, Xiaomi was second only to Samsung in terms of business. According to the report, Xiaomi has sold about 800 million smartphones since its inception in 2011. Likewise, with the decline in Huawei smartphone sales, Xiaomi has expanded its market. Experts believe that, it is one of the major reasons that has contributed in making Xiaomi the number one brand.
Xiaomi's strategy of providing powerful processors, memory, and display at a much lower cost than its competitors has proven to be successful right from the start. In addition to this  Xiaomi combined its brand leverage to carry out social marketing and phones started to sell through word of mouth. became the key to its success. Currently, sales of Xiaomi's budget offerings are skyrocketing due to the immense value it provides.