 WorldLink Communications Ltd, Nepal's largest internet service provider has reached half a million households in the country. The oldest privately owned ISP has truly achieved a milestone. We are also aware of the fact that Nepal only has about 27 million people. That means about 16% of Nepali population has a broadband connection from WorldLink.
Worldlink was founded in 1995 as a simple e-mail service provider. Worldlink received a license from the Ministry of Information and Communications to operate as an ISP and initiated dial-up internet service in 1997 two years later. Over the years, it has traversed a difficult path to become the largest and most trusted internet service provider in the country. The company has been at the forefront to adopt the latest fidelity standards each time. It has continuously experimented with technology like VSAT, Wireless technology, Cable Internet, and then gradually to FTTH to provide world-class and seamless internet in Nepal. Worldlink set out a difficult journey right from the start. Some of its early challenges were; the lack of technical regulations in the country, unawareness of the authorities as well as the growing Nepalese bureaucracy.
Worldlink – one of the top ISPs in Nepal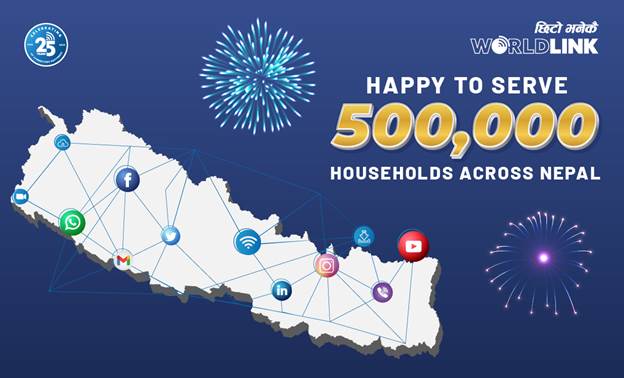 With a vision to connect everyone, everywhere Worldlink inched steadily towards its goal. It has been focusing on customer growth and expanding over the country. The privately-owned internet service provider is serving even the most difficult and remote areas like Karnali, Phokshundo lake and with the same spirit of connecting Nepal continuously. Over the years, Worldlink has expanded its services to provide voice communication and IPTV as well. Currently, the company has a total of 11,500 wifi hotspots at different locations for internet users.
Today is a proud moment for the entire WorldLink family as we become a large family of 500000 households. This has only happened because of the unrelenting support of our customers who have extended their understanding, support, and trust to us in difficult and trying times and stayed with us. Their faith, their appreciation had been the only fuel that propelled us to move forward from one goal post to another and thus has come so far.

Dileep Agrawal
CEO, WorldLink Communications
The third-largest telecom company in Nepal has achieved a milestone of half a million internet subscribers on 1st July 2021. The same year it is celebrating its silver jubilee. In these 25 years, WorldLink is not only limited itself to retail internet service. It facilitates Enterprise Solutions, is the largest IPTV provider, and approximately carries 43% of the total internet bandwidth consumed in Nepal. The company has regularly been one of the highest taxpayers. Likewise, it is also the largest employer in the IT sector in the country.