After a year of immense hard work and dedication, twin brothers Lov and Kush have successfully invented a tea vending machine called the "Tea-Scan". They completed the project last Sunday and formally unveiled the project on Tuesday. "Tea-scan" is the first-ever vending machine developed in Nepal and also the first software in the entire world that uses a QR code scanning system to vend tea.

While every Nepali student dreams of earning money while studying not many get the opportunity of holding a "white-collar" job. According to the brothers, after witnessing tea stalls at many places like bus parks, markets and government organizations they came up with the idea of developing a tea vending machine. The main motive was to reduce manual work and help students make a living. The tea stalls opened their eyes to how many students give up on their dreams and suffered just to make a living. As specified by them, the motive of inventing this machine is to connect students with easy income generation.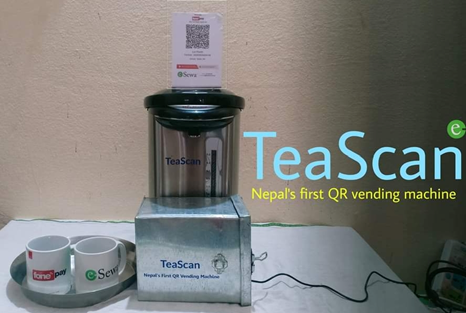 How to Operate "Tea-scan" the Vending Machine?
"Tea-scan" does not need any extra effort but do make sure that you have a power socket with an electric supply.
Firstly, put all the required materials for making tea into the machine.
Plug in the machine to an electric socket. Switch on the power and
The machine will then make the tea by itself. In a few minutes, you can have a hot cup of tea in your hands.
Do remember to refill the machine with the ingredients as well.
According to Luv, the most important point is that "it can be operated in a small space, and there is no need to open a shutter and pay expensive rent for trading tea".
How to Enjoy a Cup of Tea from "Tea-scan"?
If you are tired of waiting in lines then do not worry, getting a warm cup of tea is no longer a difficulty. With these simple steps, you can now enjoy your tea without much headache.
A QR code is kept outside the machine for scanning which, a customer has to pay the required amount and place a cup below the nozzle.
Payment can be made through eSewa, fone pay along with certain mobile banking apps.
As soon as the payment is ensured, the machine will automatically pour tea into the cup until the cup is filled.
The capacity of this machine is 5 litres and can be operated using electricity.
Apart from making tea selling easier, Tea-scan also keeps the tea warm for 6-7 hours.
Luv and Kush played with cash, coins and computer for payments but they eventually ended up using digital payment services as it has become so much easier to scan QR codes. Developing the software for the QR code scanning took the brothers about 6 months.
How much can a person earn through Tea-scan?
Tea-scan can help Nepali students a lot and fulfil their dream of earning while working. The brothers stated that an ordinary person can earn something along the line of Rs. 60,000 per month with no hard work at all. According to Luv, the current price of this machine is only Rs. 30,000, which means one can effortlessly earn twice the investment within a month. This will also help fill up the economical gap present in our society.
They specified that one machine has been built successfully and the other one is in progress. Anyone who wishes to buy the machine can contact Luv and Kush directly.
About the Twins
Luv and Kush are originally from Butwal and are residing in Malika municipality, Ward No. 7 of Gulmi District. Luv is currently studying sound engineering at Oscar Engineering College, Kathmandu while Kush is planning to go abroad for further studies. They studied +2 in Tilottam College, Butwal and are only 18 years old.
This is not the first time they have exhibited their innovative mind. They have also invented a Nepali-speaking robot named 'Mars' and also a nurse robot named 'Go Corona Robot' that can be used in the isolation wards. They handed over the 'Go Corona Robot' to the Ministry of Social Development.
They plan to promote materials required for robotics commercially in Nepal. "The content we are looking for is rarely found in the Nepali market," he said, "which we have to order from Amazon or similar international sites."
In order to help young minds like these to succeed, the government needs to support them. "If the nation supports the invention of the robot, then we are ready to take it forward commercially. We want to do something new for the nation." Luv said.
Also Read: 'Jeevee' Nepal's Leading Health, Beauty and Babycare E-commerce Gets A Rebrand