If you are asked to choose the top research based YouTube channels in Nepal, which one comes first in your mind? Are you struggling to name them? Let us help you out.
With the non-stop distractions of YouTube notifications in these days, it is really difficult to choose the best ones to follow. The internet is mounted with contents everywhere and there are a just a handful of channels in the YouTube which provide you unbiased contents.
Nepal has an increasing number of YouTube content creators and many of them are also able to get the Silver and Gold play button from YouTube. It is doing great in the entertainment industry including music and movies. Similarly, live game streaming videos also are gaining the traction in YouTube.
To name a few, there are some most popular categories of YouTube contents in Nepal:
Music
Movies
Gaming
News Media
Reaction Videos
Comedies
Research and Facts Based Videos
Motivational contents
Lifestyle
Rest, we leave it up to you. Here, we are talking about number 7- Research and Facts Based Videos in YouTube. While there are uncountable content creators in the entertainment field like music, movies, comedies, lifestyle, only few of the content creators are in the research and case study based niche.
Top Research Based YouTube Channels in Nepal
Let us clear out the disclaimer first. This article is not about the main stream media houses who have all the team and resources that can dig out the facts and figures with just a tiny effort and bring it to their viewers.
This article is about those individual content creators who have started their journey from one corner of their room, with any resource available to them. And, they are working hard to collect the genuine facts and figures with their research skills to provide the stories to the viewers in the YouTube.
In this research based YouTube content niche, we have listed top 3 content creators that are frequently posting the videos in YouTube and gaining views day by day:
#Random Nepali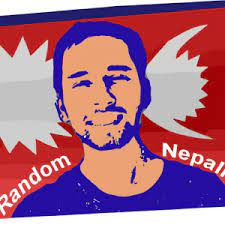 Random Nepali is the YouTube channel run by a young Lawyer Rastra Bimochan Timalsena, who is also an influencer. He is more active in social media like TikTok and YouTube for his facts based contents regarding the legal policies of Nepal, case studies and important events in the history.
His YouTube Channel has 233K subscribers and he has 18.3K followers on TikTok. His contents are random as his name but they all have one thing in common- they all are fact based. He sometimes makes doodle videos out of his content and sometimes appears himself in the screen.
As a law practitioner, he uses his skills and knowledge to educate people based on the facts and research. He creates videos in facts and research based contents revolving around crime and murder cases, punishment provisions in the legal polices.
He has been publishing his videos in YouTube since 7 years. His earlier views used to be light and funny that centered around Nepali trends and Nepali people. Later on, he used his expertise of law and crime studies in his videos. The views counts of the videos in Random Nepali channel range from 10K in minimum to even 1 million.
#InDepth Story

Among the booming YouTube channels in research based content, InDepth Story is inextricable to the list. Just 2 days ago, it has crossed 15k subscribers in YouTube and now, it has 16.2K subscribers at the time of writing this article.
Out of its 88 videos, almost all of them are based on the case studies. Its videos are popular for the unique storytelling skills of its presenter that rise up the curiosity in the viewers to know more about the certain topic.
The recent case study of Tootle, Sagar Dhakal, Dhurmus Suntali and others are the top viewed ones of this channel.
You might be wondering who the person is behind this growing channel. Sudip Bhai Subedi is the content creator at In-Depth Story. He is a well trained public speaker who was also the Convener at Enunciators Hub. He has been making videos since 2 years and his research based contents are getting popular these says.
#The Nepali Comment

Gaining 62.3K subscribers with 19 videos seems like a difficult milestone but The Nepali Comment channel has proved it wrong. The channel was started in March 26, 2020 by a young content creator Dipesh. A writer by passion, Dipesh has shared his own story at the stage of The StoryYellers 3 years ago. Through this, we can clearly see he worked upon his story telling skill and poured it out through his videos in The Nepali Comment channel.
His topics are fact based and they can give you goosebumps too (in some cases). His videos on the topics like The Illegal Sand Mining, Nepal's fraud billionaire, the rise and fall of Mayos, Finance Minster Janardhan Sharma, etc. have gained much views and appreciation.
Other Mentions
Besides them, there are other content creators like Why So Offended by Binayak Kuikel. He makes videos once in while but they are worth watching. With 135K subscribers and 100 videos, this channel presents the contents in a unique way.
Will these top content creators surpass the main stream media?
While the main stream media is tangled with general topics to touch every aspects of the the citizen's life, these research based YouTube Channels have been targeting the niche market. Their videos revolve around random topics but every one of them raise curiosity with entertainment. So, we can say they fall under infotainment category.
The essence of media houses is to provide contents that carry either one or all of these three traits-
Informative
Educating
Entertaining
And the mass wants all of these at once. Hence, the young content creators in this niche are successful in gaining traction in the YouTube as their contents blend all of these three traits. On the other hand, the entertainment channels in YouTube have mushroomed in Nepal, but they just reach to a hype and later on disappear as they get lost with the topics.
There are other individual content creators who are doing amazing with their YouTube contents in various niches like Technology. As these content creators carry out the process from concept creation to video production, editing and marketing in their own, they can not compete with the mainstream media in terms of visual quality and authority very soon. But the effort they are putting in themselves in every possible way to make genuine contents is praiseworthy.
The research based channels are just a few in Nepal (we might have failed to mention others too). If you know any other, please let us know. Do you watch their videos? What suggestions do you have for them tp improve further?
Also read: Online Phishing has Increased in Nepal; Here's How to Prevent Yourself from Getting Scammed