With the vision of empowering women, NMB Bank announces women-led and women-only branches in all 7 Provinces of Nepal. It has appointed women branch managers in all 6 branches in 7 provinces.
The announcement was made in an interactive program where women from different areas who are actively working towards women empowerment shared their experiences. A panel discussion on women's leadership also took place, which was moderated by Former Miss Nepal and a popular presenter Sugarika KC.
The panelists in this discussion were:
Ambica Shrestha, President of Dwarika's Hotels and Resorts
Bhawani Rana, Former President of FNCCI
Charu Chadda, Editor of Business 360, WOW Magazine
Pranisha Shrestha, Head of Brand and Marketing at NMB Bank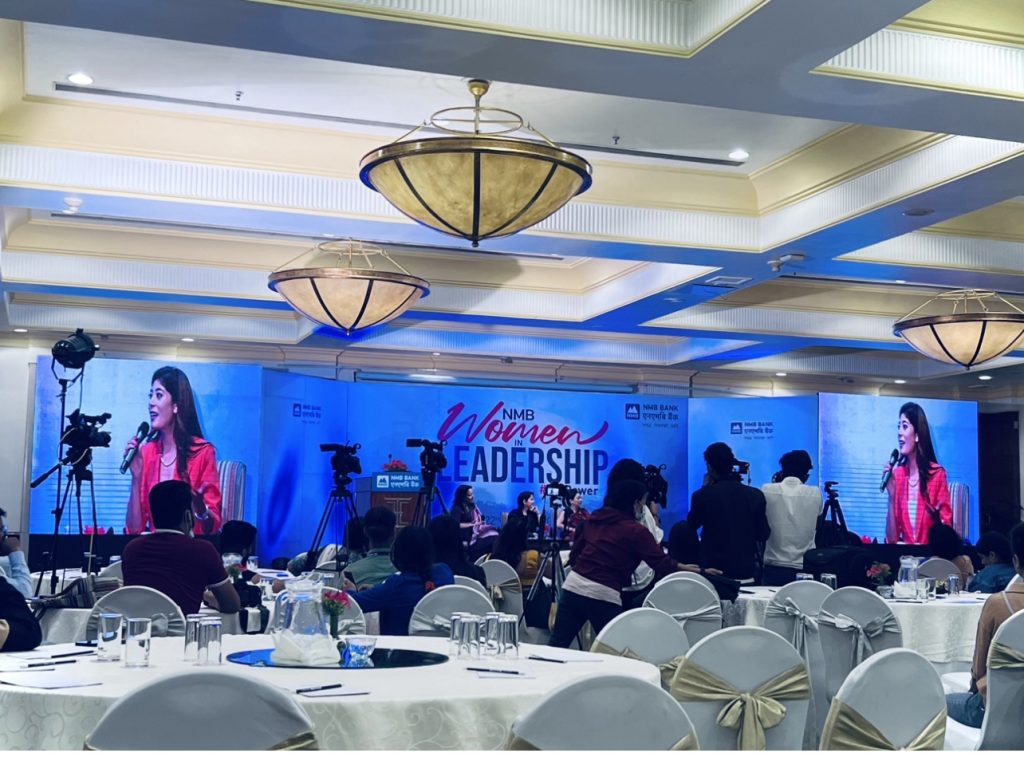 NMB Bank's Women-Led and Women-Only Branches Come into Operation in all 7 Provinces
Gender equality and women empowerment is one of the goals in achieving a sustainable future. The Sustainable Development Goals (SDG 5) carry the goal to Achieve gender equality and empower all women and girls.
NMB Bank has been repeatedly advocating sustainability and green energy investments along with support to SMEs through SME financing. With 51.04% of women accounting for the total population of the nation, the Bank believes empowering women to succeed as entrepreneurs and leaders would craft the makings of a truly sustainable Nepal.
Hence, it has taken an effort to make a difference by appointing women to the top managerial position in its 6 branches of 7 provinces.
NMB Bank's all-women-led branches are:
| | | |
| --- | --- | --- |
| Provinces | Branch | Branch Manager |
| Province 1 | Tankisinuwari | Sovita Panta |
| Madhesh Pradesh | Mohattari | Malika Thakur |
| Bagmati Pradesh | Balkhu | Praphula Manandhar |
| Gandaki Pradesh | Chauthe | Khim Kumari Gurung |
| Lumbini Pradesh | Bhalwari | Sita Bhusal |
| Sudurpaschim Pradesh | Dhangadhi | Nanda Kumari Bhandari |
However, the Karnali province has only 3 branches as of now and thus they will be soon adding this province to the list after opening additional other branches.
Regarding this announcement, the bank's CEO Sunil KC shared,
Recently too, NMB Bank announced its partnership with IFC to promote SME financing in Nepal with a repeat loan of USD 25 million.
NMB Bank is also the winner of the prestigious Bank of the Year Asia 2021 by 'The Banker Magazine' of The Financial Times, London. The bank has also been awarded Bank of the Year in 2017, 2018, 2020 & 2021. NMB Bank is currently providing its services through 201 branches, 138 ATMs, and 11 extension counters.
It is amazing to see the established companies and organizations in Nepal taking the lead in women empowerment. Along with NMB Bank, Ncell is also one of those companies to introduce gender inclusiveness in its company. It has started an all-female-managed Ncell center in Maharajgunj, Kathmandu to support women empowerment, gender parity, and vibrant communities. We hope these efforts will soon be carried out by other corporates and entities too that will make a space for women to play along with their full capacity and showcase their strengths. This will collectively bolster team spirit among the staff and bring smoothness in the delivery of services to their customers.
Also read: Rakuten Viber Enters Fintech With Viber Pay, Plans to Become a Super App; Ofir Eyal