SmartDoko has been acknowledged as the highest-rated Nepali e-commerce app. SmartDoko is an online shopping destination that offers a wide range of products to facilitate customers with hassle-free purchases of merchandise in one single click. It is a subsidiary of IMS Group, which is a consortium company based in Nepal.
Smart Doko:
It emphasizes quality products and fast delivery to provide customers the best shopping experience. The reward points system initiated by them is the first and only of its kind in the Nepali e-commerce industry. Earning Reward points acts as a bonus to the shopping experience on the site and allows individuals to earn points for performing certain actions they take while shopping. It also provides customers with a variety of offers, easy payment, and return options, discount coupons, and a sophisticated, safe platform for the customers and the vendors to shop and sell from the comfort of their homes.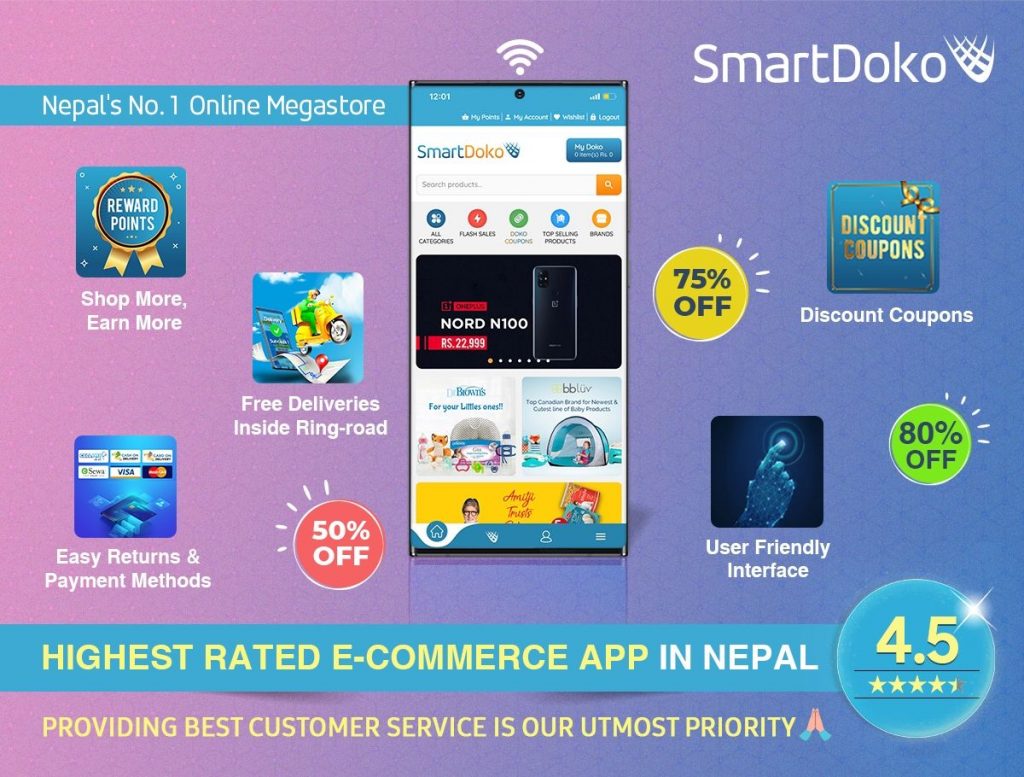 Apart from offering genuine products they also believe in prioritizing customer service, this is probably the reason why SmartDoko can indulge its customers.
Ayush Shrestha, head of marketing at IMS Group expressed his gratitude towards their valued customers and well-wishers for their continuous love and support and for making them the highest rated app.
Being acknowledged as a Highest Rated Nepali E-Commerce app is a big achievement to SmartDoko and its family since this rating will be affecting SmartDoko's success and visibility in several ways. The rating an app receives on an app store determines its position on the search results and chart rankings. Good ratings indicate that an app provides benefits to its users and will also affect its chances of being featured while convincing new users to download the app. This will also increase an app's rank and lead it towards success by boosting its organic growth.
We would like to congratulate SmartDoko and its entire family for achieving this milestone.