Nepal Telecom has introduced a new offer targeting FTTH service customers in which Nepal Telecom will provide 300 MB data per day on their mobile. Existing FTTH service customers who have subscribed to a plan of more than 20 Mbps are eligible for this offer. The 300 MB data which they are provided in their mobile phones can be used in 2G,3G or even in 4G networks.
How to Subscribe Nepal Telecom FTTH offer:
Visit NTC office or nearby counter
Provide your mobile number for the registration
Dial *1416# on the phone and provide your FTTH iD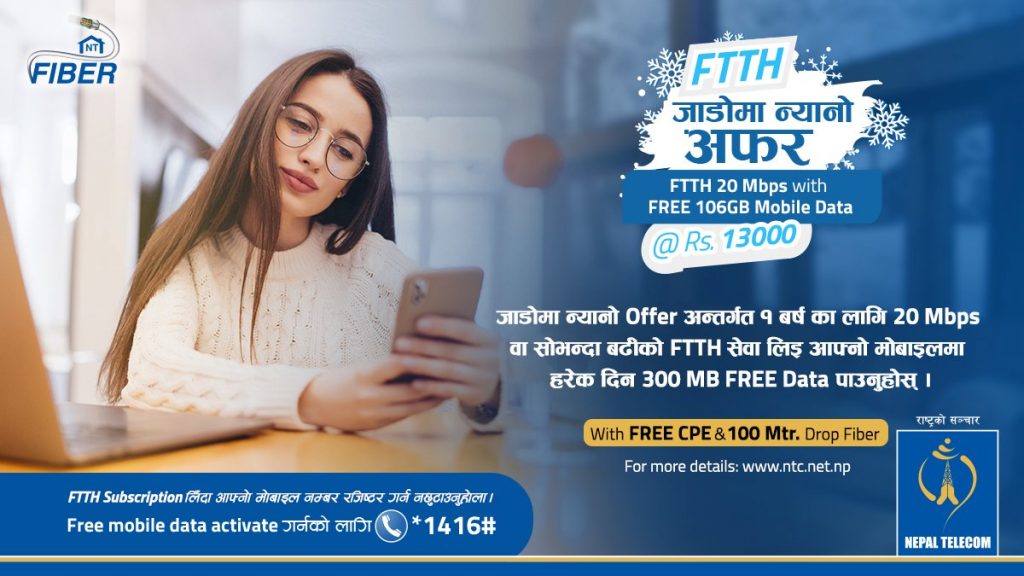 At just NPR. 13000/ year you'll get 20 Mbps NTC internet along with Mobile data of 300MB per day which will typically cost more than Rs 10,000, CPE of Rs 2825 and also the 100-meter fiber cable which usually costs Rs 1000. Nepal Telecom is actively testing out the IPTV feature to provide alongside the regular internet connectivity for a couple of months. As per the NTC official, Nepal telecom's own IPTV will launch in the coming months.
Also Read: Now Make eSewa Payments from Viber: How will it change the Digital Payment Scenario?
Customers who subscribe to an annual package of 20 Mbps or higher speed with FTTH (Fiber to the Home) line are eligible for this "जाडोमा न्यानो अफर" offer. Similarly, upgrading the package to an annual package of 20 Mbps or higher speed can also capitalize on the offer . Other than this customers who are willing to renew the package for one year will also be able to enjoy the offer. The offer is not limited only to the home internet users as institutional and corporate subscribers are also able to utilize the service. The service can be activated once and only in a single NTC SIM but it is not limited to previous FTTH registered SIM card.