 Motorola finally made a comeback in Nepal after more than a year with two smartphone launches via Daraz 12.12 campaign. Among the two, Motorola G9 Play is a promising contender in the under 20k segment in Nepal going head-to-head with everyone's favorite right now i.e., Poco M2. After more than a month of usage, I can finally help you decide between the two in today's honest review.
Motorola G9 Play Price in Nepal:
NPR. 19,990 (4GB + 128GB)
Specifications
Motorola Moto G9 Play
Build
Glass front, Plastic back and frame, Water-repellent coating
Display
IPS LCD, 6.5 inches, 720×1600 pixels, 20:9, ~269ppi, 200g
SoC (chipset)
Octa-Core Qualcomm Snapdragon 662 (11nm) CPU
Adreno 610 GPU
RAM
4GB
Storage
128GB+ Hybrid slot micro-SD card
Battery and Charging
5000 mAh battery
20W USB-Type C fast charging
Rear Camera
Triple – 48MP f/1.7 PDAF main + 2MP f/2.4 depth + 2MP f/2.4 macro
1080p@30/60fps
Front Camera
8MP f/2.2, 1080p@30fps
Operating System
Android 10
Security
Rear physical fingerprint scanner
Sensors
Proximity, Accelerometer, Gyro
Other Features
Hybrid-Dual SIM, Dual-band Wi-Fi, Bluetooth 5.0, FM radio, NFC, GPS, 3.5mm jack
Colors
Forest Green, Sapphire Blue, Spring Pink
Motorola G9 Play Review
Build and Design
As expected of an entry-level smartphone, the entire build is plastic here. But I must admit the phone feels sturdier and better built when compared to Poco M2. Unlike Poco M2 though, the back is a huge fingerprint magnet here. So, I recommend you use the somewhat decent back cover provided in the box. With a 20:9 aspect ratio, the phone is tall and weighs 200 grams. Despite seeming heavy on paper, the good weight distribution complimented by the curved edges result a good grip on hand. There is no IP certification but the design does repel minor splashes of water.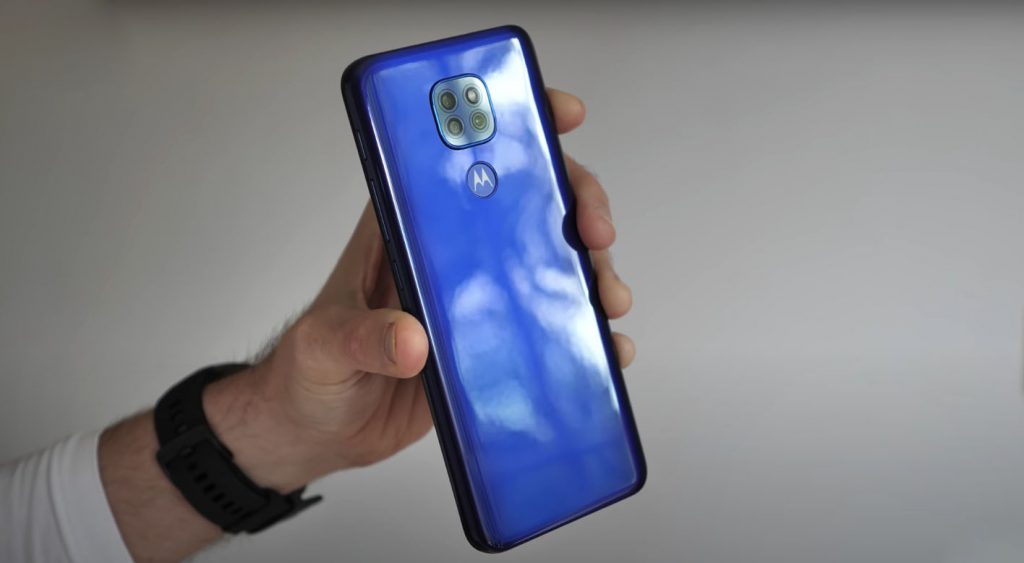 The rear camera module doesn't result any wobble and there's that signature classic Motorola logo on the rear circular physical fingerprint sensor which adds a little charm to this phone. The scanner is fast and responsive and you can set up to swipe down on it to pull up the notification panel.
Talking about sides, there are power, volume and dedicated Google Assistant buttons on the right. Sadly, the assistant button cannot be customized at all. Left side has the SIM tray, top side has a 3.5mm headphone jack and the bottom side has the USB Type C port and speaker grill.
Overall, the build quality is indeed better than Poco M2 and if I have to nit-pick the only downside for me was the harder to reach assistant button placement.
Display
The big 6.5-inch IPS LCD screen with minimum bezels except for the slightly bigger chin is attractive but the 720p resolution just spoils the mood. The lack of sharpness isn't noticeable during normal usage but is bad when viewing videos especially on YouTube. DRM info app shows Wide vine L1 and HDR support which was totally unexpected. Brightness is decent but you will certainly wish for more under direct sunlight. For content viewing and browsing the web, colors and contrast are perfectly fine with deeper blacks which I didn't expect on an IPS LCD screen. Adjusting colors in the settings doesn't make much of a difference. Also, pixel response time is slow and can be noticed during scrolling which is kind of expected for a 60Hz refresh rate screen.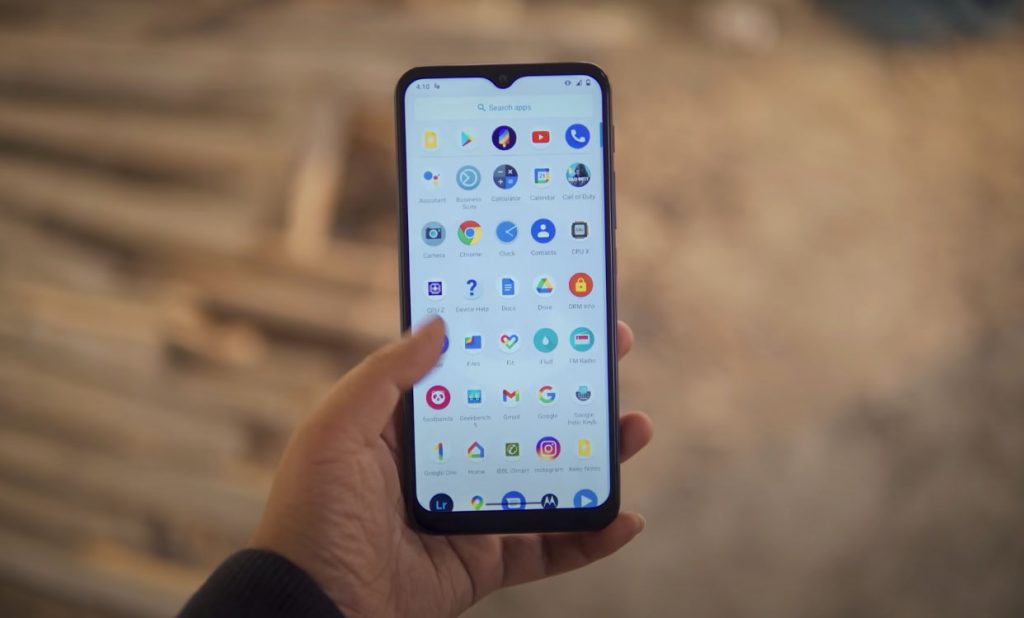 In the display settings, I found two useful features of the Moto G9 Play. First one is 'Peek Display' which is an always-on-display like feature that is activated when you bump your phone a little. You can then proceed to view notifications, reply to messages and even open certain apps without unlocking your phone using the rear fingerprint scanner. Thus, it comes in handy when the phone is placed on a table and you don't want to lift it. Another feature is called 'Attentive Display' which prevents dimming or sleeping of the phone screen as long as you are looking at it. It helps a lot when you are indecisive at times and just keep staring into the abyss of your phone.
Performance and Software
Snapdragon 662 despite being a worthy upgrade over Motorola G8 Play's processor, Poco M2's Helio G80 definitely outshines it by a fair margin. With 4GB RAM and 128GB storage, I didn't face any problems with multitasking when using non-heavy apps. There's an Adaptive Performance mode in the Settings that is said to improve RAM efficiency and such but I didn't find much difference with it.
Gaming
In the gaming side, Call of Duty could go up to Very High graphics and High frame rate which is greater than that of Poco M2. Yes, I didn't expect this at all. PUBG mobile on the other hand maxes out at Smooth & High or Balanced & Medium settings. However, during actual gaming, Moto G9 Play lags now and then and you are forced to lower the settings whereas Poco M2 doesn't have such issues. But again, Moto G9 Play heats a lot less than Poco M2 though cooling is equally great on both devices. There's also a feature called 'Moto Game time' which helps improve your gaming experience by screening and blocking calls & messages, taking easy screenshots and much more.
UI
Since my primary device for the past few years has been running on stock Android, Moto G9 Play made me feel right at home. With security patches every month, this phone is sure to receive the Android 11 update as well. During my usage, I was running November's security patch and I didn't face any bugs or issues with the UI. Let me know in the comments if you did. The UI has a handful of Style customizations which lets you choose between various icon shapes and colors.
Gestures
Now let us talk about Motorola's signature move i.e., its Gestures. Moto G9 Play doesn't disappoint in this regard as I totally enjoyed all the gestures like twist phone to open camera, karate chop to trigger flashlight, flip phone for DND mode, swipe to split screen and finally the handiest of them all for me was using Volume keys to change between tracks.
Camera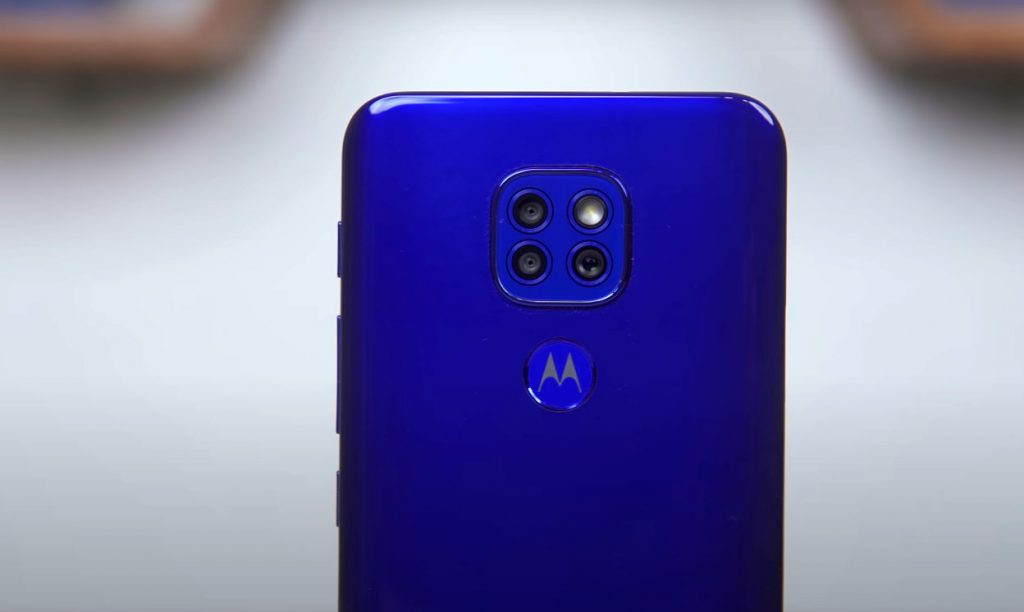 Specs and App
The rear square camera module is quite simple and houses 3 sensors along with the LED flash. The 3 sensors include a 48MP main, 2 MP depth and 2MP macro sensor. The 8MP selfie sensor lies in the display notch.
Out of all the budget devices I have used, I liked the default camera app of this smartphone the most. Everything is easily accessible with notes about everything when you use it for the first time. So, I am more than eager to give you a quick tour of the camera app before we talk about the sample pictures.
Daytime Pictures
I have clicked all the pictures with HDR and Scene optimization on since they improved the quality of the pictures during my testing. Starting with the main sensor's pixel binned images, they have enough details, exposure, great dynamic range, contrast but seem slightly under saturated even with HDR on. As you can see in the cropped images, 48MP mode doesn't improve the details that much but the file size is obviously 3 times larger. The sensor struggles quite a bit against direct sunlight. The sun doesn't seem natural enough even when it is in focus. Since there is no ultrawide sensor here so you will have to try something with the Panorama mode if you can.
Portraits have natural background blur and color reproduction but the contrast is boosted and some smoothening can be noticed in the texture of both my face and jacket. The edge detection is also soft and not sharp enough as seen in my hair.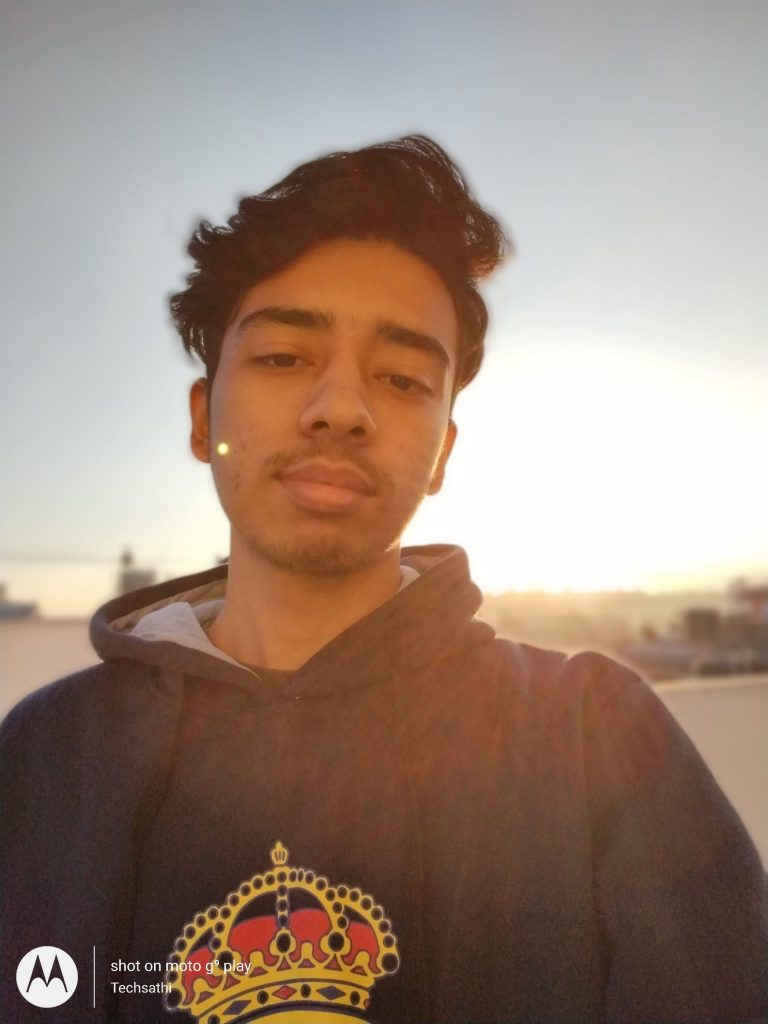 Selfies are okay in good lighting but the details are mediocre as expected from an 8MP sensor. Selfie portraits have similar software processing as that of the rear ones. Against sunlight, the 8MP sensor retains decent details instead of completely blowing out the background as seen in Poco M2.
Macro sensor has fixed focus and it is kind of challenging to nail the sharpness. When you do nail it, the shots are good enough for a 2MP sensor with software processing similar to the main sensor.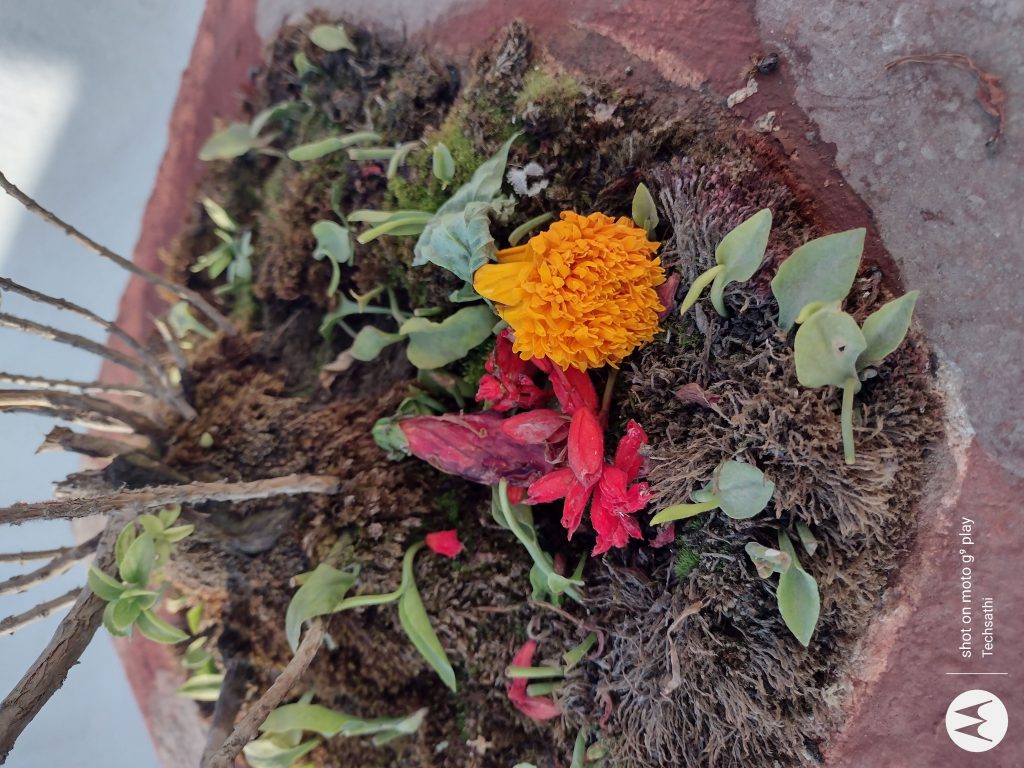 Video
In the video department, both the main sensor and selfie sensor can shoot 1080p@30fps videos. Main sensor can also do 1080p@60fps. The video has similar look as that of the pictures from these sensors. I compared it with the samples I took with Poco M2 and I found the video quality to be much better here. But that's not all. What blew my mind was the video stabilization of the rear sensor. As you can see in this running sample, I have never seen any other entry-level smartphone perform this good in stabilization. There was no jitter even when fast panning the video side to side. Hats off to Motorola for this.
Oh! Did I forget to mention that the macro sensor can also shoot videos though the resolution and frame rate is unknown. I recommend using the main sensor for close up shots as the clarity is much better and the auto focus is very quick and responsive while the macro sensor struggles a lot.
The frame rate for slow motion video hasn't been specified by the company but this is how good it looks if enough lighting is there. If I have to guess, I think it is 720@240fps but I may be wrong.
Night-time Pictures
Night Selfie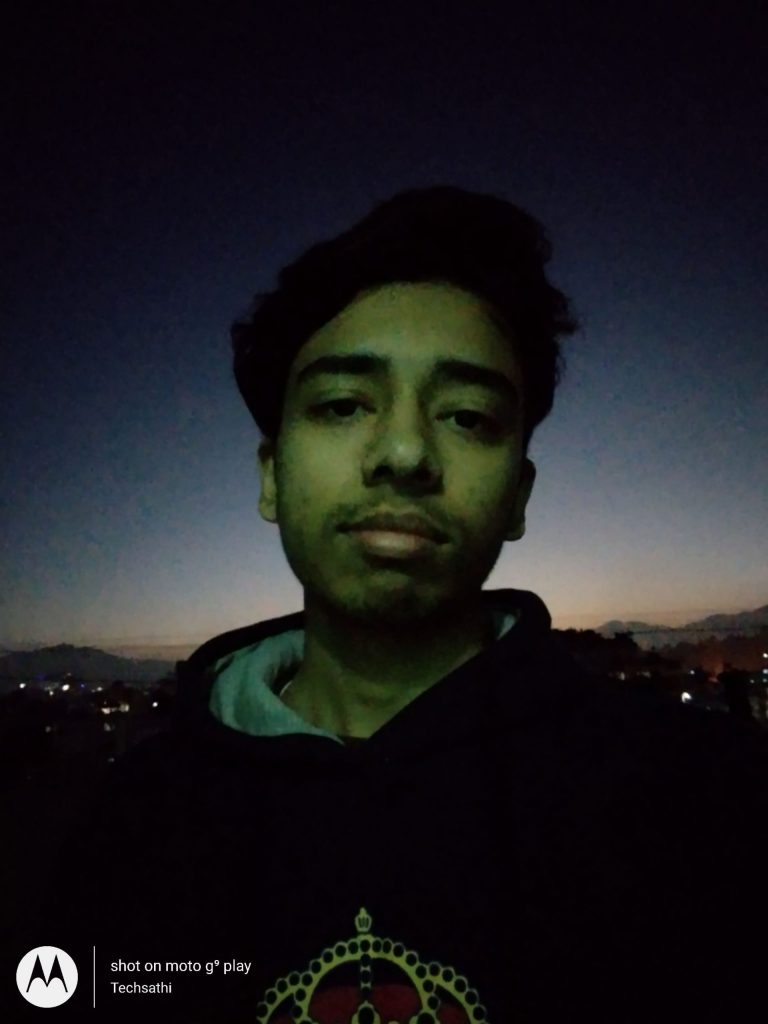 Unlike its direct competitor Poco M2, there is a dedicated Night Mode here. Normal nighttime pictures are quite similar on both phones but HDR improves the exposure on Moto G9 Play a lot in some instances. When you use night time, you can see miles of difference in exposure, dynamic range, contrast and details. Noise isn't visible on long distance shots but the softness and grains can easily be noticed when taking closeup night time shots like this. Also, I don't recommend taking night time videos are they are all grainy and smudgy.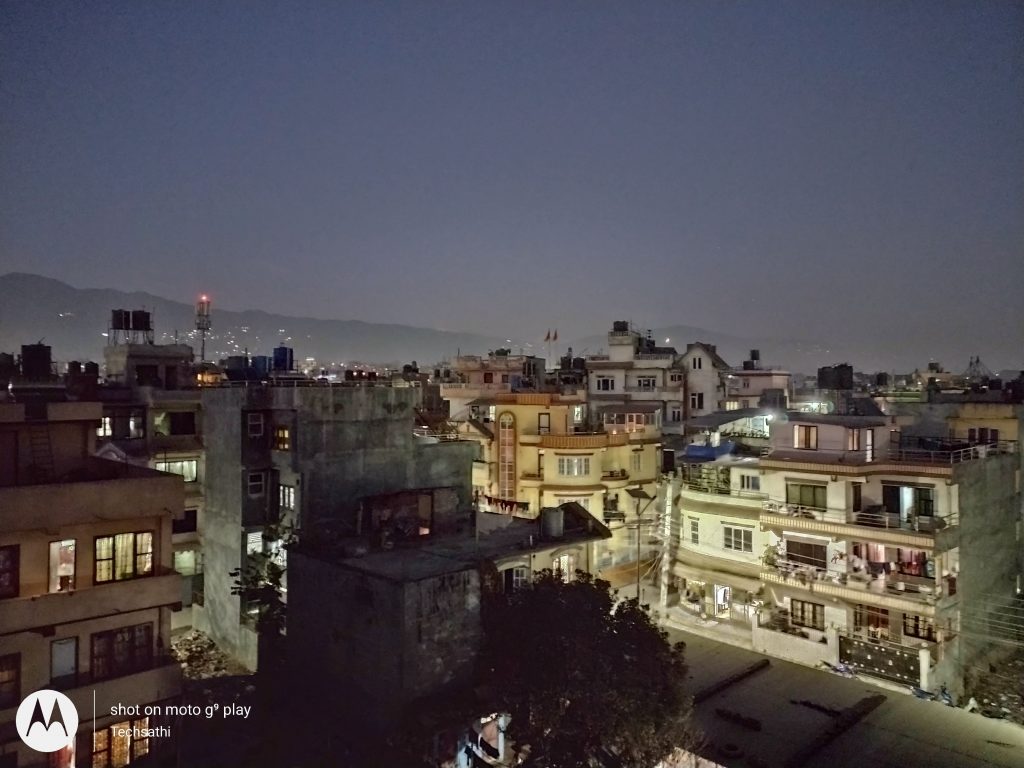 Other Camera Modes
There are a lot of interesting modes to try out in the default camera app like Spot Color which focuses on one color in the picture while making the rest B&W. The color accuracy is a hit or miss though. Cutout mode tries to cut the subject and remove the background but the edges are messed up and it's better to use a secondary app for it. Similarly, Cinema graph mode lets you only move a certain portion of a video while keeping the rest still. It may help you create unique GIFs if you are creative unlike me ha-ha. There is no separate Pro Mode and you have to toggle the Manual settings in the default camera mode. It works the same as any other Pro mode after toggle.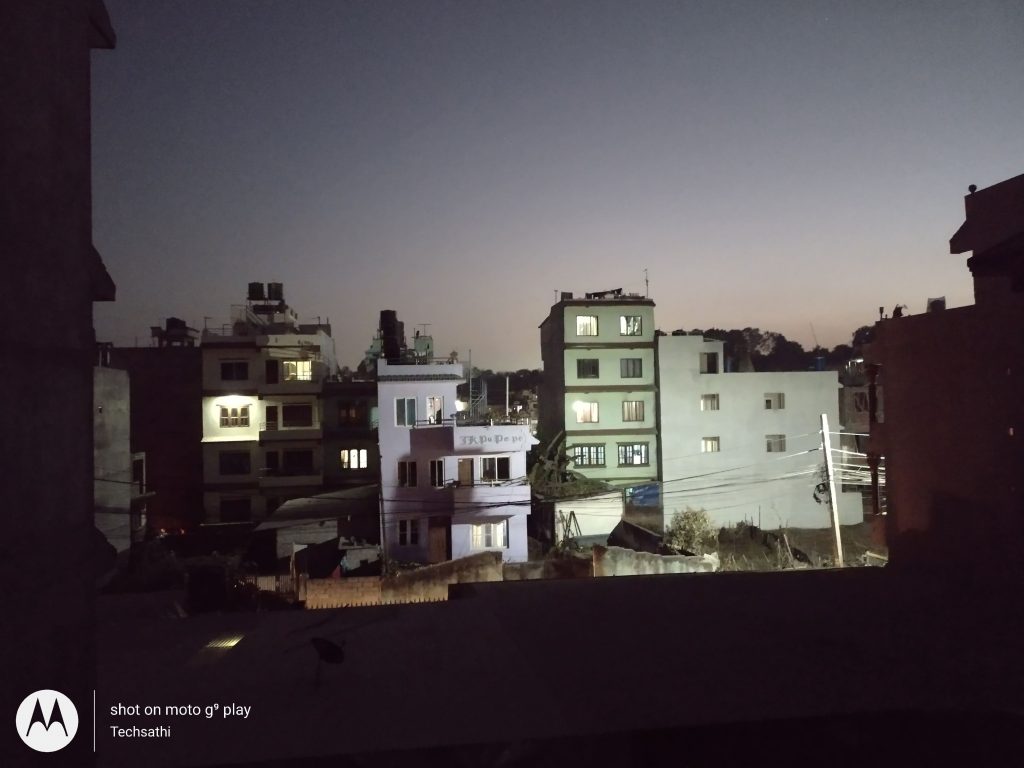 Camera Conclusion
Overall, I think this phone would have been great if that macro sensor was replaced by an auto focus ultra-wide sensor that could do macro as well. Even without it, this phone has great photo quality and without doubt the best video quality in this price segment.
Connectivity and Sound
The phone has dual-band Wi-Fi 6, Bluetooth 5.0, GPS and FM radio. The variant launched in Nepal doesn't have NFC. The sensors include accelerometer, gyro and proximity. There is a hybrid dual-SIM slot and yes, it is limited to 4G. The micro-SD card of up to 256GB is supported.
Moving on, we have the single downward firing speaker with enough loudness, no distortion and mediocre sound quality as expected in this price range. Oh, the earphones provided in the box is also decent and has a control button to play/pause music, skip track and answer/reject calls.
Battery
One of the best-selling points of this smartphone is obviously its battery life. The massive 5000mAh battery paired with stock Android's optimization and 720p display easily lasted me for nearly two days of normal usage. Well, the claim made by the company surely held up. It was also impressive to see nearly 15 hours of screen time even on Wi-Fi. For charging, the 20W fast charger provided in the box can be used but only 15W is supported making the phone take around 2 and a half hours to go from 0 to 100 percentage.
Moto G9 Play Review: Final Verdict
In the end, let us set aside the cons of this device first. This phone is not for you if you want a Full HD+ resolution, best processor and an ultra-wide camera. Poco M2 is the way to go. But, where Moto G9 Play excels in is that sweet software experience and great camera quality. Personally, since I am not into any mobile gaming, I would have chosen the Moto G9 Play. Let me know which you would choose and why? I will see you next time.