 Worldlink, one of the largest internet service providers of Nepal has recently introduced a new promotional offer, Worldlink Tahalka Offer with unlimited internet and NetTV at a minimum cost of NPR. 799. The offer is primarily targeted at the small and sized Nepali families who just want internet and tv at a cheaper rate. The speed of the connection will be 10 Mbps and the NETTV will be of the standard plan. Let's look at the features, availability, and pricing of the Worldlink Tahalka Offer.
Worldlink Tahalka Offer: Overview
Worldlink Tahalka Offer is one of the cheapest internet plans in Nepal. At the minimum payment of 799 per month, users will be able to enjoy 10 Mbps uninterrupted internet along with additional benefits of IPTV service i.e NetTV. The plan is only available on annual basis, unlike Worldlink's other plans which are available on a monthly, quarterly yearly, or half-yearly basis. Meaning that initially, you will have to pay the amount of 9,5,88 for the package, the above-mentioned pricing is pre-tax and you will have to pay the tax along with the pre-installation charge for both internet and NetTV.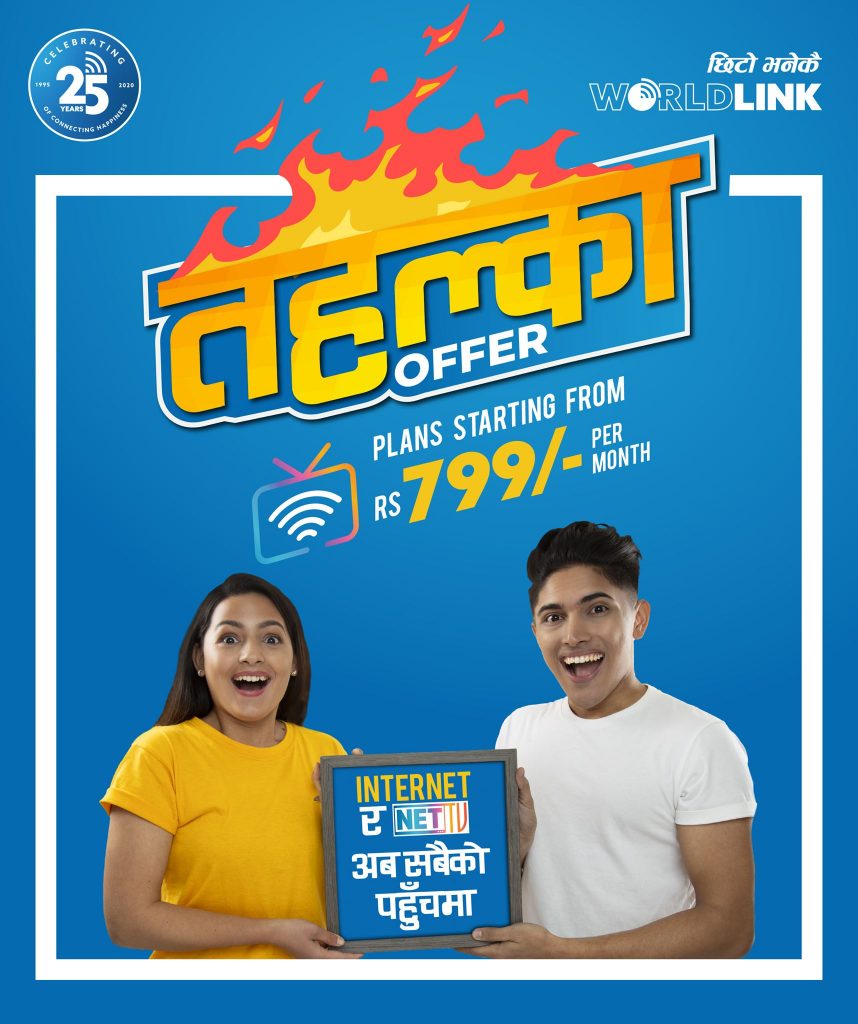 Here is the breakdown of the total amount you'll have to pay annually for the plan including tax and vat.
| | |
| --- | --- |
| WorldLink Tahalka Offer Package (Internet + NetTV) | Price |
| Annual Subscription Charge | Rs. 9,588 |
| Router Rental Charge | Rs. 500 |
| Installation Charge | FREE |
| Drop Wire Charge | Rs. 500 |
| Refundable Deposit | Rs. 500 |
| NetTV Activation Charge | Rs. 500 |
| Refundable Deposit (NetTV) | Rs. 500 |
| Total | Rs. 12,088 |
Verdict
The Offer is quite appealing for the customers at first sight. the 10 Mbps unlimited internet along with free NetTV having 200+ channels is basically very cheap regarding the current competition but there are some limitations in the plan. Firstly the amount increases significantly after-tax, vat, and service charges. As you have seen on the table. secondly, only 3 devices will be able to connect in this plan as it is intended for smaller families.