 Nagarik App has recently made an update in its system regarding vehicle tax payment, information. Now the users can update the information of their vehicles for tax purpose.
This feature was updated on 5th of July, 2021. As you can see, it has added the feature where users can update their vehicle information and tax details. With some performance enhancements and some issues fix, Nagarik app has added this feature so that you won't need to carry your vehicle documents like driving license and blue book.

For now, this service is available for Province No. 3 and Bagmati Zone only. This feature will be further expanded for other provinces with time. Here is how you will see the change in the Dashboard.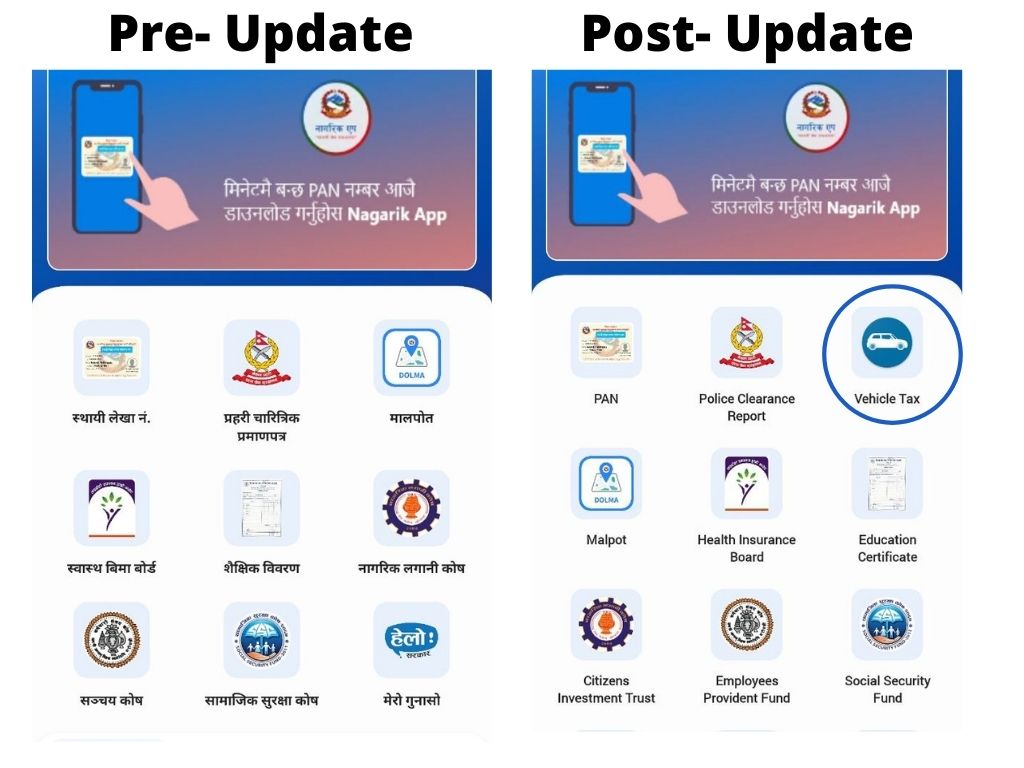 Also read: Nepal Government Issues Nagarik App Guidelines 2078: What Are the New Updates?
Which of the vehicle details can we update?
With this new feature, we can add the details of our vehicles so that one does not need to carry their vehicle documents each time they go to pay taxes or need to pay fines to the traffic. Simply, the system of Nagarik app forwards the entered details of our vehicles to the respective vehicles tax offices for authorization.
We can update the details like our vehicle type, lot number, symbol and vehicle number. After that, the system displays a virtual number plate and we can confirm it.
How to update vehicle details in Nagarik App?
To update the vehicle details, one should log in to the Nagarik App. Then on the dashboard, click on "Vehicle Tax" option. After that, the following screen appears and you need to add the details like province/zone, vehicle type, lot number, symbol and vehicle number.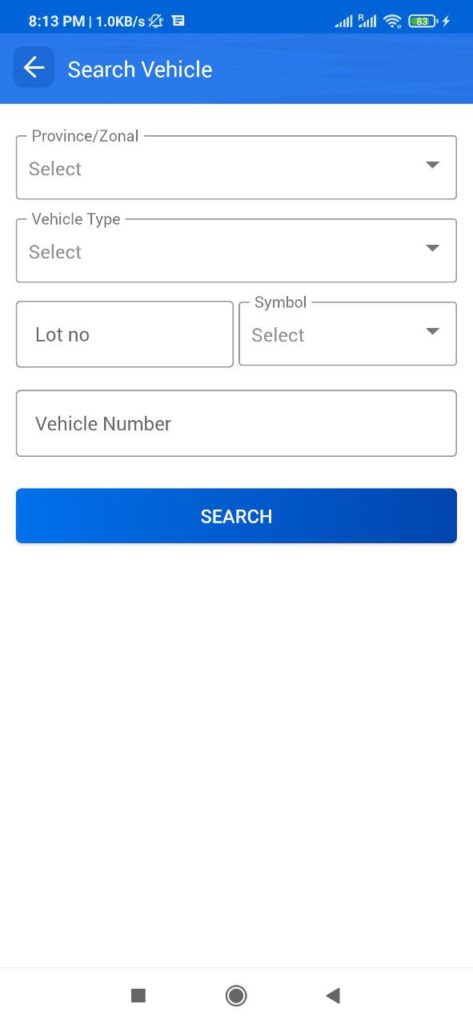 In the province/zone option, you can choose either the zone or province place where your was registered. At present, only the vehicles of Bagmati and Narayani zone along with province (No. 3) can update their details. With the success of this update, they will add other provinces/zones later.
In vehicle type, you can see the list in the image below. Among the types of vehicles, select your type.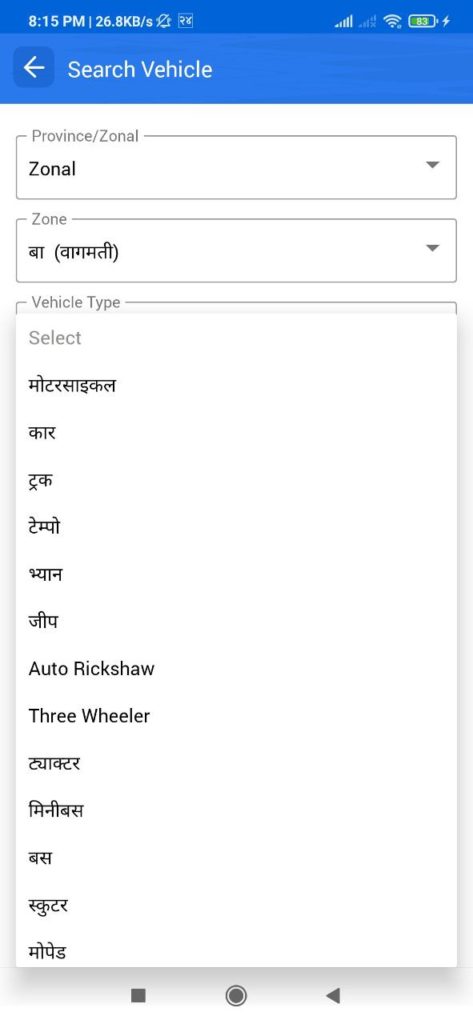 After that, you'll get to see the option to choose the registered office. At present, you'll get to see only the offices of the Department of Motor Vehicles of Province no. 3. You need to select the office code according to your number plate. As shown in the image below, if the number after province number is 01, it means your vehicle was registered in Transport Management Office in Ekantakuna, Lalitpur.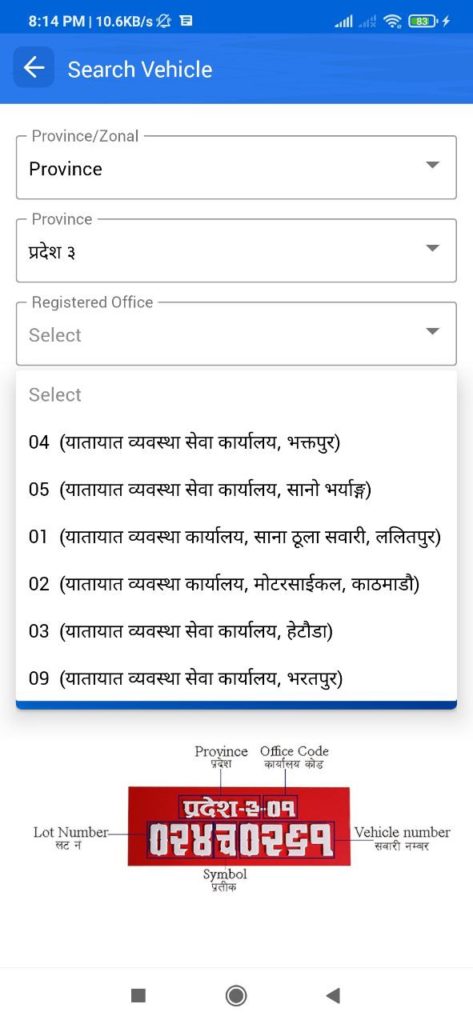 Then enter your vehicle's lot number, symbol and vehicle number.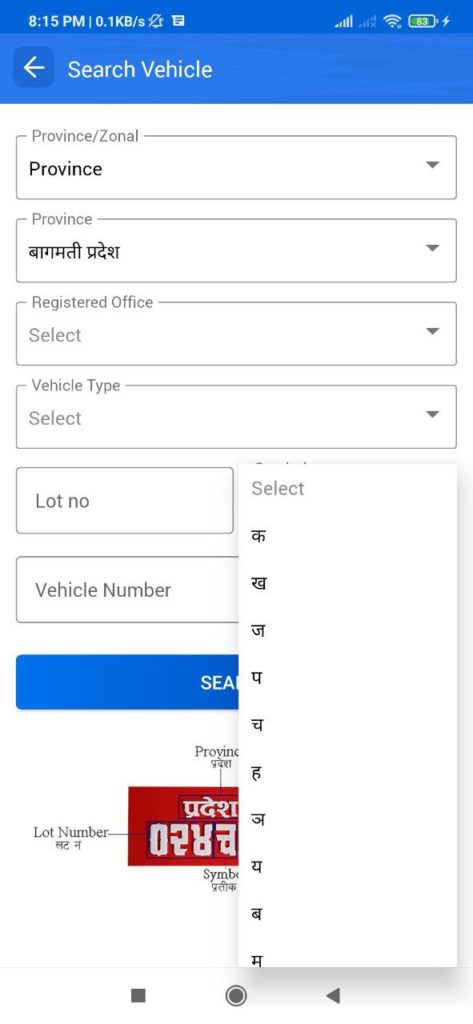 Once you enter all the details, click on search and it would authenticate your entered details. Then you can get details of whether your vehicle tax is cleared or not. Similarly, with the integrated system of Nagarik App, its API redirects the information to the concerned authorities/ ministries so that citizens do not need to carry the required documents each time.
Updating and upgrading with time
Asgar Ali, the person who opined this idea had informed during the launch of full mobile app version of Nagarik App that it would be upgraded and updated with additional features very soon. As a result, their aim of adding vehicle tax and other information updates has come true. Now, one can pay for their vehicle taxes showing the details in this app. Moreover, this app will integrate digital payment systems so that people can pay directly through it as well. This recent addition of vehicle tax feature would surely benefit the citizens and save their time, effort and money. We hope further developments in this app would be made such that the goal of including almost all the governmental services would be achieved very soon. As a game changer for the digital economy, Nagarik App could be a one stop solution for the beneficiaries.
To know in detail about Nagarik App, click here.