eSewa has updated its new feature where the users can link bank account in eSewa just once to load the amount in this wallet or make payments.
It means, the hassle of logging in to the bank account every time one has to load money in eSewa is not required from now on!
To date, there are 19 Banks and Financial Institutions (BFIs) ; (5 commercial banks, 2 development banks, and one finance company) providing this service via eSewa. Customers holding their accounts in these BFIs can enjoy this new service of eSewa.
What is "Link Bank Account" Service?
Since our digital wallets are linked to our banking system, loading the amount had been necessary for every time one had to load money or make payments through eSewa. And till date, every time one loads money in eSewa, one has to login to the bank's mobile banking system or internet banking to complete this task.
In Nepal, this service has been provided by payment service providers (PSPs) like cellpay, khalti and imepay.
In India, there are many digital wallets like paypal, paytm,phonepe which have provided bank linking services to their customers.
Unlike connectIPS, direct loading or payment through the bank account was not possible in eSewa. But now on, once you have linked your bank account here, you would be free from the hassle to login to your mobile banking everytime while loading your eSewa account.
Additional Benefits
Obviously, this service would make convenient for loading amount in eSewa
It would save your time and effort in loading money since you do not need to login to your mobile banking everytime
Payment of utilities or mobile top up and recharge would be directly from your bank account via eSewa without loading fund
You will never need to enter your mobile banking login requirements once you link your bank account. It's that simple!
Similarly, the charges while loading your wallet from bank account can be reduced by this service
How to Link Bank account in eSewa?
Login to eSewa and go to "Load Money" option
Tap on "Link Bank Account"
Select your bank
Login to your mobile banking
You will get an OTP to your mobile number. Enter that OTP and tap on "Pay"
Your bank account is linked then.
How to load money from your linked bank account?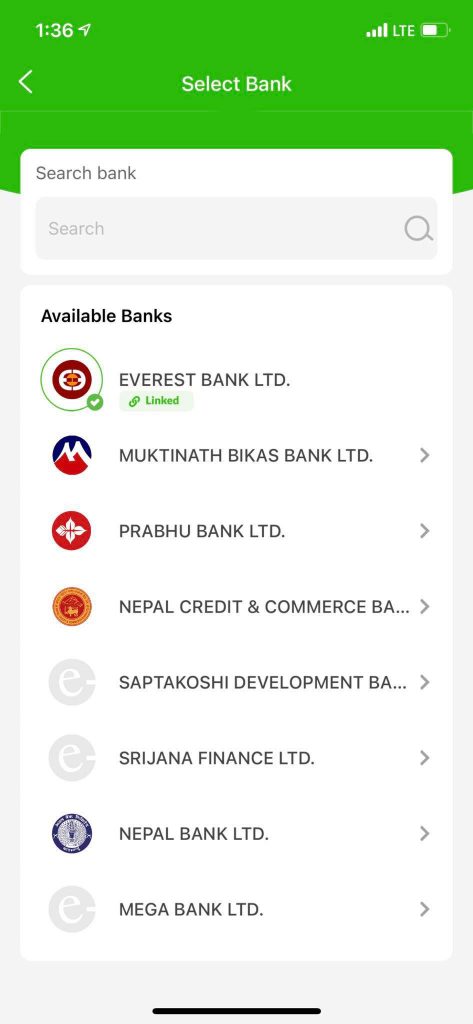 Login to eSewa and go to "Load Money" option
Go to your linked bank account and tap "Load"
Fill up the amount to load and purpose
Click on "Proceed"
Check for your details and then click on "Load Fund"
Insert your eSewa MPIN or use Fingerprint to proceed.
Then your money would be loaded to your eSewa account.
There are certain transaction limitations in using this service.
| | | |
| --- | --- | --- |
| Per Transaction | Rs 25,000 | |
| Per Day Transaction | Rs 100,000 or up to 10 times | |
| Per Month Transaction | Rs 500,000 or up to 100 times | |
Also Read: You Can Now Make Inland Revenue Tax Payment from eSewa: Here's How to Pay
Link Bank account in eSewa: Things to remember
Till now, there are only 19 BFIs providing this service through eSewa. Only customers of these banks and financial institutions can enjoy this service. Other BFIs are in the pipeline.
You must be a verified user of eSewa to use this service.
The mobile number registered in eSewa and your mobile banking system must be the same. Otherwise, you can use the other number as "Secondary ID) in eSewa.
eSewa has been adding many new features and services in its system to provide convenient and secure experience of digital payments to its customers. This service would indeed, make customers easier in making payments or loading funds. Being the first digital wallet in the country, eSewa has been gaining a large customer base and is ever growing with its ever-developing and ever-improving technology and service.