Nepal's leading business conglomerate, IME Group has now entered the e-commerce market in Nepal. IME Group had proposed to invest a significant amount of money in Sastodeal which is one of the top eCommerce sites in the country. This has become official as Sastodeal has agreed to take the seed investment from the group on the 22nd of April.

The IME Group is a business conglomerate and has made its investments in banking, remittance, trading, IT, communications, energy, tourism, automobiles, insurance, and infotainment. Hem Raj Dhakal, Cofounder and Managing Director of IME Group stated that the decision to invest was made considering the view of Sastodeal's brand identity, the company's remarkable business performance, overall growth, and its future prospects.
"IME Group have witnessed Sastodeal grow from a humble startup to become a household name in Nepal. We have made this decision to invest in the company because of their exceptional team, the brand, the company's historic performance, the overall industry growth, and the potential in the future. We also see that going forward, Sastodeal can bring great synergies to IME portfolio companies such as digital wallet, FMCG, remittance, automotive, logistics, banking, entertainment, hospitality, and others. The investment in Sastodeal also serves IME's motive to promote socio – entrepreneurship and support the growth of microenterprise as Sastodeal provides the platform for thousands of SMEs to grow their business from across the country. We look to actively participate in Sastodeal's growth as an investor and also a board member in the company." – Hem Raj Dhakal, IME Group, MD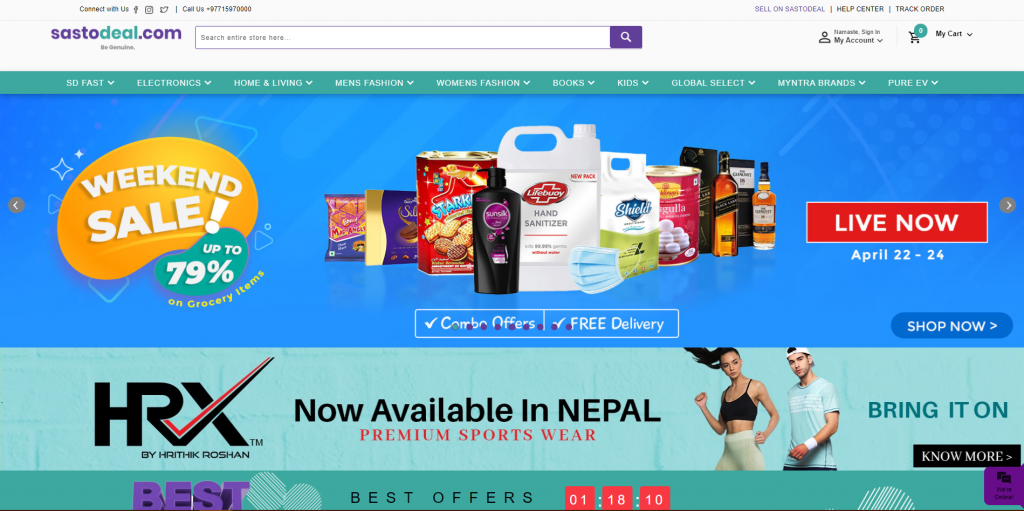 Similarly, Amun Thapa, Founder of Sastodeal said he was excited for this new venture with the IME group. He further stated that he wished to implement well-formulated plans for the growth of the company and the e-commerce industry as a whole.
"We are very excited to onboard IME Group and execute our growth plans together. IME Group has infrastructure and brand presence in all parts of the country; especially in Tier II & III markets. We have plans to leverage each other's infrastructure, technology, and portfolio to provide superior services to millions of our customers and thousands of businesses pan Nepal. We are very confident that this investment and synergy will have a lasting positive impact on the ecosystem and the nation. I believe IME's investment in Sastodeal will also encourage other businesses in Nepal and abroad to consider e-commerce as a lucrative investment opportunity." – Amun Thapa, Founder of Sastodeal
Strategically, Sastodeal had also partnered with Flipkart, a Walmart-owned India-based company last year. In the same way, various investors such as Dolma Impact Fund and ICTC have also backed the firm. This investment could only lead to the further growth and progress of the company in the Nepali e-commerce market. However, the investment amount from IME Group is kept undisclosed in an attempt to attract other big potential investors.