 Hult Prize at IOE and NxtGen, a non-profit organization of Pulchowk Campus is thrilled to bring yet another "Entrepreneurship Talk series". The level 3 of Entrepreneurship talk series: "Starting a Venture" will feature another exciting speaker Mr. Pratik Gauri and Ms. Preity Üpala as a celebrity guest.
Pratik Gauri is a serial Indian social entrepreneur, Investor, and Public Speaker. He has been featured in Greebiz Global 30 under 30, entrepreneur India, TEDx and serves as the India President of 5th Element Group- a global impact management consultancy. With his legacy defined as British Petroleum Scholar, WEF Global Shaper, Changemaker at Global Action on Poverty, and many more, Patrik is a determined visionary Entrepreneur who believes in businesses that can bring positive changes to the world and to the society.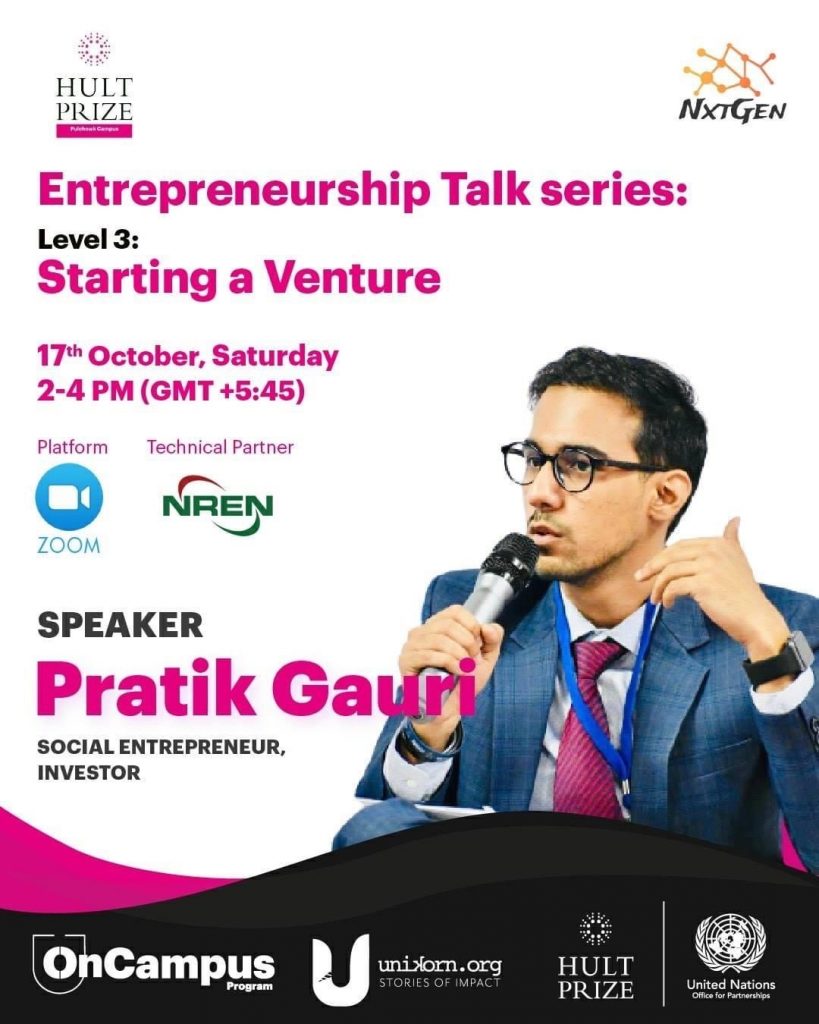 Pratik also boasts a massive social media following of over 200k dedicated followers and his works have been covered by popular magazines like World Economic Forum, Real Leaders Magazine, The Times Of India, and many more. He will be joining the live session straight from Delhi, India.
Entrepreneurship Talk Series: Level 3
As there is always a new celebrity guest in Hult at IOE 2021, this week Hult Prize at IOE has announced that Miss Preity Üpala, Miss India International 2012, Actress and Producer as our guest for this week Entrepreneurship Talk Series Level 4: Starting A Venture.
She is a former investment banker turned Hollywood Actor, a TV producer, and entrepreneur. She is Beverly based who has been crowned several beauty queen titles. Ms. Upala is truly international, having traveled extensively around the world to over 60 countries and lived in Dubai, Paris, India, Sydney, and Los Angeles. This has imbued her with a wide understanding of global cultures and values and she rightfully is a global brand ambassador for companies such as Oenoviva, Thea Resorts, Orion Spa, and Chloe & Isabelle Jewelry. Her quest for spiritual knowledge and evolution has led her to explore spirituality both within herself as well as in powerful vortexes around the world.
Also, Read || HULT PRIZE 2021 Coming in December, Focusing on Food
She will be here live in this event joining virtually to share her views, knowledge and experience regarding starting a venture which aims to motivate youths all around.
Registration Link?
All further updates and Zoom links will be provided via email to registered users only.