OPPO has joined hands with Himalaya TV HD to promote and celebrate the spirit of youth through their latest Singing reality TV show, 'OPPO The Voice of Nepal'. OPPO is collaborating with the show as the Title Sponsor. The Singing reality show will provide a stage for Nepali youths to showcase their singing talent and clinch the spotlight. Arriving at its third season, one of the pioneers and proven concept to the Nepali art industry as well as media, the reality TV show has already witnessed thousands of participants out of which many have enjoyed famed and popularity along with some who have managed to well register their name in the field of professional singing.
"As a brand, OPPO has always focused on youths and we believe in inspiring young people to express themselves creatively. Art, creative expression, and the entertainment industry are important facetsof youthful exuberance and we are delighted to be a key part of "OPPO The Voice of Nepal"," commented Mr. Pearson Shen, Brand Director, OPPO Nepal.
'OPPO The Voice of Nepal' will enable young talents to emerge and showcase their extraordinary singing capabilities in front of a huge number of viewers enabling them to reach the desired viewers. At the same time allowing the industry to explore and discover fresh talents. Organizers believe that the program will present opportunities to Nepali youth throughout the country to express and refine genuine talent to a larger audience and get a rare chance to enter the entertainment industry.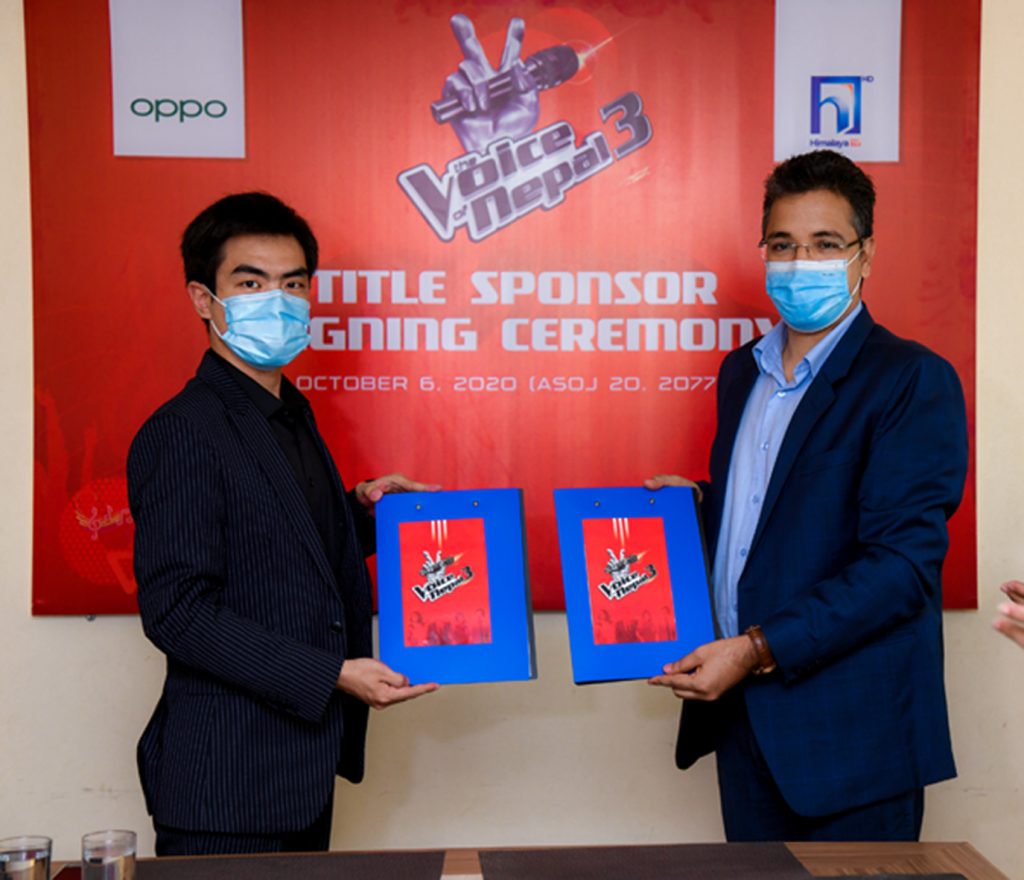 "The enthusiasm we've already witnessed from both potential contestants and the audience has been encouraging. OPPO is the ideal title partner for this type of event as it appeals to youth and embodies their desire to express joy and treasure each moment of their youth. OPPO's role and contribution to bring out the best of Nepali youth are commendable and with their input, I think now it's been possible to embark on a truly exciting journey ahead. I am positive that "The Voice of Nepal with OPPO, will be more than just a reality TV show and pave the way for many talented artists to emerge," commented Mr.Dharma Raj Bhusal, Chairman, Himalaya TV HD.
Also, Read || OPPO announces "Dashain Ra Tihar Ko Offer"
About OPPO
OPPO is one of the leading global smart device brands. Since launching its first smartphone – "Smiley Face" – in 2008, OPPO has been in relentless pursuit of the synergy of aesthetic satisfaction and innovative technology, Today, OPPO provides customers with a wide range of smart devices spearheaded by the Find and Reno Series, ColorOS operating system, as well as internet services such as OPPO Cloud and OPPO+. OPPO operates in more than 40 countries and regions, with 6 research institutes and 4 R&D centers worldwide and an international design center in London, OPPO's more than 40,000 employees are dedicated to creating a better life for customers around the world.