 As Potter-heads from 25 countries worldwide are already out and about exploring their world in an augmented reality game, the rest of the world is eventually joining them. After the announcement of release in India, the new AR game from Niantic, Harry Potter: Wizards Unite, got released in Nepal today.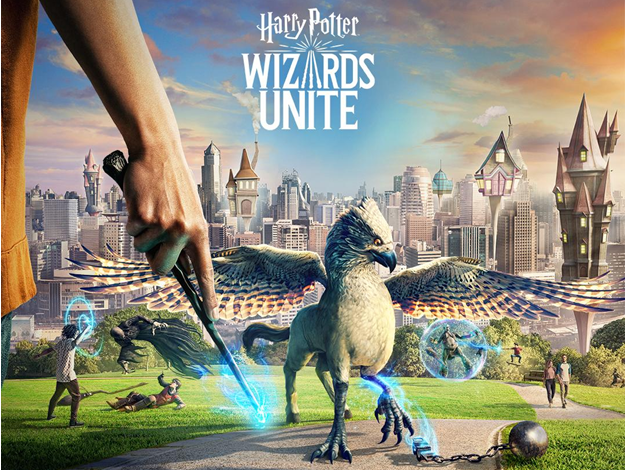 Initially released in 21st June, Harry Potter Wizards Unite is a free-to-play augmented reality game co-developed by Niantic and Portkey Games. Niantic's reputation precedes it, as it was the company after the critically acclaimed Ingress and Pokemon Go game. From these games, HARRY POTTER: WIZARDS UNITE seem to take game mechanics inspirations.
Portkey Games is an in-house game development label owned by Warner Bros Interactive. It is responsible for developing games that are based on JK Rowling's famous Harry Potter series books and movies. Portkey Games faced a massive debacle that was Harry Potter: Hogwarts Mystery for microtransactions on making players choose between a very long cooldown between their play sessions, or only being allowed to play further by adding in more energy via microtransactions. It led to a hefty investment exceeding that of $40+ if you wished to play the entire game without waiting. Following the backlash and uproar at the questionable microtransactions, Portkey seems to have listened with the revamped and entirely optional freemium approach, similar to that of Niantic's already existing model. On the question of whether this title will redeem Portkey to the public eyes, only time will tell. HPWU will be Niantic's 3rd released game, whilst 2nd for Portkey. With Ingress and Pokemon Go already having a good number of players in Nepal, this game is expected to give rise to AR gaming scene in Nepal.
What is This Game About?
Diving deep into what the game is actually about: it's a well-based notion of allowing the players to experience what it entails being a wizard, or a witch, in the HP universe. Spell incantations, fending off hostile foes, be it magical or mundane, and not hesitate to raise their wands against their own kind – with a cause, of course. HP boasts of an enormous amount of things to do in-game, be it cooperative massive raids battles, known as Wizard Fortresses. Although some Fortresses will be a piece of cake for the average player base, some will be incessantly tough, requiring up to 20 cooperating players to be taken down, which compels forming of communities to be able to properly enjoy the endgame of HARRY POTTER: WIZARDS UNITE. Adding friends is actually a breeze, thanks to each player having their own unique friend code, as well as a QR code which allows for seamless and spontaneous adding of friends, as you meet and make new ones.
Harry Potter: Wizards Unite Gameplay
Augmented reality in HARRY POTTER: WIZARDS UNITE is based on the famous S2 cells mapping, from Open Street Map, where all the real-life landmarks and points of interests (POIs) are derived from. The great thing about these POIs and landmark is that it's entirely player base driven. Veterans in the game are allowed, but also encouraged to add more landmarks/POIs, so the experience is better as a whole. The main objects of engagements will be Greenhouses, Inns, and Fortresses which will be paramount for every aspirant wizard or witch. Think of it this way: you gather your alchemy reagents to make potions from Greenhouses, recharge and imbue yourself with spell charge from Inns so that you can orchestrate epic battles in Fortresses. It is pretty intuitive if you've played either of the Niantic games.
Here are a few screenshots from the game:
In-game Shop
The game has its micro-transaction shop, with a quirky name; you guessed it – Diagon Alley. As the name suggests, it's a rather ruthless place, hostile and full of terrors, for the unwary. Micro-transactions in this game are entirely optional and are only needed for cosmetics, convenience in-game items, as well as portkeys, which help unlock portmanteaus. We recommend foregoing any microtransactions, for now, as tempting as it may seem – you can enjoy the game fully without spending a penny in HARRY POTTER: WIZARDS UNITE.
So should you be buying a new phone?
Based on Niantic's official page, below will be the requirements for HARRY POTTER: WIZARDS UNITE. Tech Savvy mobile users beware: you aren't able to play this game of jailbroken/rooted devices.
If you're planning on getting a new phone, you might want to check out recent mobile phones sale on Daraz.
Android
Android 5.0 or above
Minimum 2 GB Ram, free storage
Internet connection.
GPS and location services
Gyroscope and compass sensors
Access to Google Play services
Camera for AR
Rooted devices are not supported
Apple
iOS 10.0 or above
iPhone 5S or above or iPad
Internet connection
GPS and location services
Gyroscope and compass sensors
Jailbroken devices are not supported
Conclusion
Us muggles at TechSathi.com are absolutely stoked to brandish our virtual wands, screaming "Ridikulus" at the top of our lungs whilst trying it out on our phones. If you're looking for a nice hobby to pick up this monsoon, pack your bags with an umbrella, lunch, water and a power bank, because HPWU isn't just a game, it's an experience to be had. You can venture on a journey with your friends, encountering magical phenomena hidden in plain sight, thanks to the allure of augmented reality. Looking at the hype that has been built, we are also expecting exciting Harry Potter Wizards Unite Nepal community to grow in the future. What will be your favorite hangout for playing HPWU? Let us know down below!
Also, try this game out by downloading it from here.