eSewa brings forth many interesting cashbacks and multiple other offers for it's users. eSewa has announced for "55 Minutes Dhamaka" on 5th of Ashad 2079. 55 minutes dhamaka is an offer for whole 55 minutes valid from 5:00pm to 5:55pm of 5th Ashad. This offer is arranged to be utilized in such a way that you as an eSewa user can get a cashback of Rs. 55 for making a transaction of Rs. 500 by the means of link bank account. This very offer is not made to be employed only by few of its user. In actual, all its six million users can take advantage of this cashback offer.
What is eSewa?
eSewa is a Nepali payment service provider utilizing which users can make online and offline payment to merchants. It was launched in 25th of January, 2010 and it is indeed Nepal's first payment service provider. From making payments to merchants, payment of utility bills to transfer and receive money, eSewa can do it all. It is one of the most used and popular payment service providers of Nepal having over six million users and over five million downloads of their app.
Thresholds for utilization of Cashback Of Rs 55 or "55 minutes dhamaka"
This offer is limited within the time frame of 55 minutes from 5:00pm to 5:55pm only on 5th of Ashad (that is tomorrow) .
To take advantage the user must be verified and linked bank account should be used for the transaction.
You don't need to have Android app of eSewa for taking advantage. This offer is also available in web and iOS app online.
You can get cashback only when you make a transaction of Rs. 500 or more. No cashback is offered for transaction below Rs. 500.
A user can only get cashback once within those 55 minutes. This means you will only be offered cashback for the first time.
If your activities are suspicious, eSewa can review and cancel the offer for you.

For more detailed Term and condition you can refer this link.
How to do payment via linked bank account ?
To become valid for the offer you should done the transaction via linked bank account , We repeat " linked bank account " not from esewa wallet. Here is the step how to do payment via linked Bank account.
1) Choost the payment you want to do , For example Topup
2) Then enter desired information or required information

3) Tick on payment option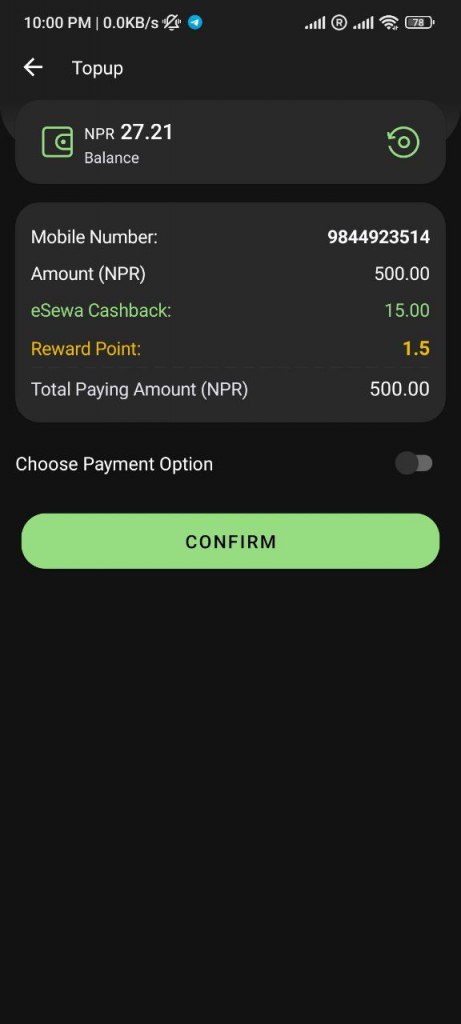 4 Choose linked bank account and proceed the payment .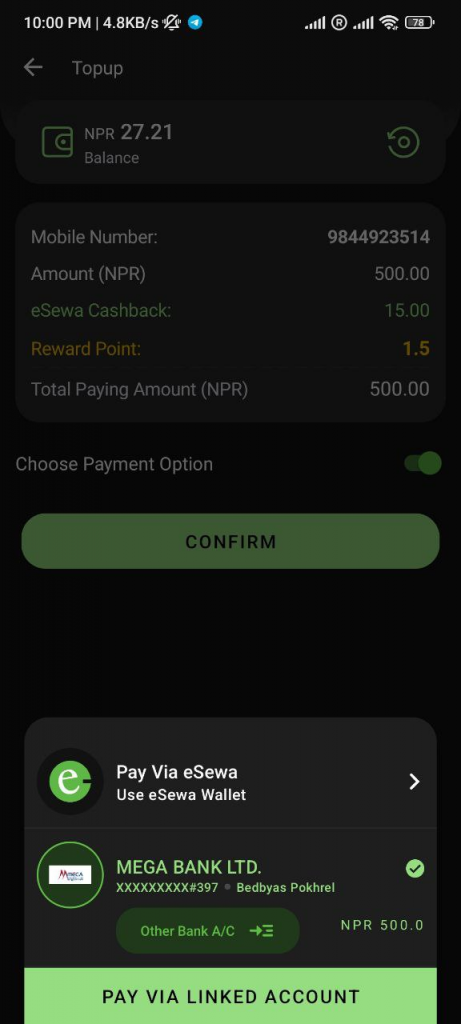 Note: The option maynot be visible if you entry less than 500 in amount.
How to sign up in eSewa and verify your account?
Click on login / register and then on register for free.
Fill up the form presented on the screen and remember to fill the credentials as per your citizenship.
A verification code will be sent to the mobile no. You entered. Fill the code in verification code and also enter the mobile number.
Create the 4-digit M-pin.
For verification, fill up the KYC form as per your citizenship and attach documents like photo, citizenship/ license/ passport/ voter's Id. Then Click on submit and confirm after reviewing the data u entered.
Sign up, get verified now link bank account and take advantage of "55 minutes dhamaka " !!!
Enjoy promo codes from Here