Civil Service in Own Palm – COSP (हत्केलामै निजामती सेवा) is the first Android App for Civil Servants of Nepal Government. This app is facilitated and maintained by Department of Civil Personnel Records (निजामती किताब खाना) , Harihawbhawan, Lalitpur, Nepal.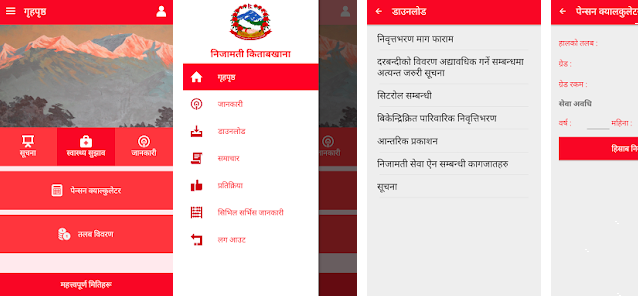 This app aims to provide information of 83 thousand Civil Servants of Nepal from mobile. Previously users could see and update their Personal Details online through pis.gov.np and now they can view and update their details from mobile using the app.
Highlights of COSP:
Civil Service Information
Pension Calculator
News, Notice & Information
Salary Information
User Profile
Important Dates , Holidays and Events
Getting Started:
You can download this app from Google Play Store. For this open Google Play Store app from your phone, search DoCPR-COSP and then click install.
Logging in :
You can log in with the same username and password used to login into pis.gov.np provided by Department of Civil Personnel Records (निजामती किताब खाना).
Using App:
Member's Area: Once signed in, registered users can see their profile which incorporates data about their personal,  service and educational details, training, awards and property details submitted to Nepal Government as shown in the figure.
Pension Calculator: Pension Calculator  helps to predict your pension amount. The signed in users can also view their salary details of every year.
Important Dates and Events: The application also demonstrates important events, notices, news and information related to DoCPR.
Conclusion:
This application is only for the Civil Servants of Nepal Government. Since it is the first beta version of the app, it comes with bugs like data sync error, etc. So, we can expect next version of the app soon and DoCPR might be working with that. Besides this, the UI of the app is good.
If you want DoCPR to make this app better then you can send your suggestions on info@pis.gov.np.