Hamro Doctor claims to be the first health news portal in Nepal. Their services are available on both mobile and web platform aimed in developing a database of doctors, hospitals, clinics, ambulance, and blood donors profile.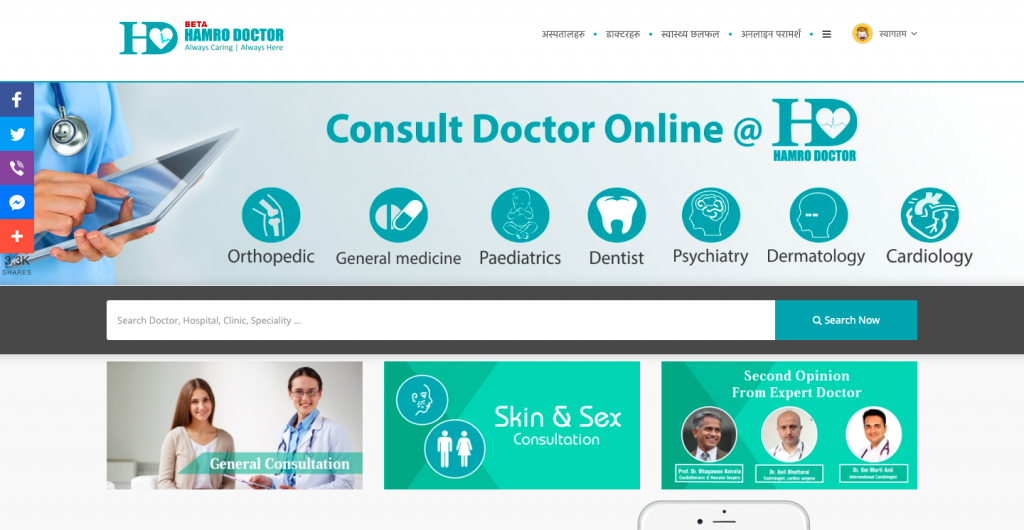 Hamro Doctor is for the people interested in health news. It is for people like you and I. People who would want to look up hospitals, doctors, etc before making an informed decision. This app which is available both as mobile and a web application, lets you make your next informed health-related decision
You can not only look up hospital and doctors and skim through a list of blood donors with various blood groups but you can also look up information on diseases, medicines and get the medical related news around. The power it puts on your hand is unfathomable. This app is going to revolutionize the way a Nepali consumer seeks medical help but only if we choose to.
The burden is on us. The burden is on our shoulders on whether or not are we going to take this piece of technology and incorporate it in our daily lives to make our lives easier. To make Nepali life collectively easier.
Features:
Everyday Health Tips
Collection of Clinics and Hospitals
List of Doctors
Information on Diseases
Health-related Articles/News
Blood Donors
Index of Ambulances
Medicine Tracking
Videos
Expert Advice
Advanced and Easy search
Our Thoughts
The team of Hamro Doctor seems to have worked really hard on this project. It's not daily you get to see such an amazing service oriented product from a Nepali team catered to Nepali audience. I myself have been trapped into going about to see a doctor just by the word of mouth and being immensely dissatisfied with their service. I think this app will fill that void anytime soon.
We often see people on the Internet and comedians mocking services like WebMD. What they fail to realize is that these services aren't meant as a substitute for actual medical help and are only meant for educational purposes and making daily lives everyday people easier.