Finding a good Nepali movie online can be tough. Especially, on these boring days, when you want some refreshing Nepali movie or series. As there are not many apps or websites that provide an online watching feature, the Cinemaghar app is here to change the course. You can subscribe to the Gold subscription of the app to enjoy watching the latest Nepali movies and series easily.
Cinemaghar App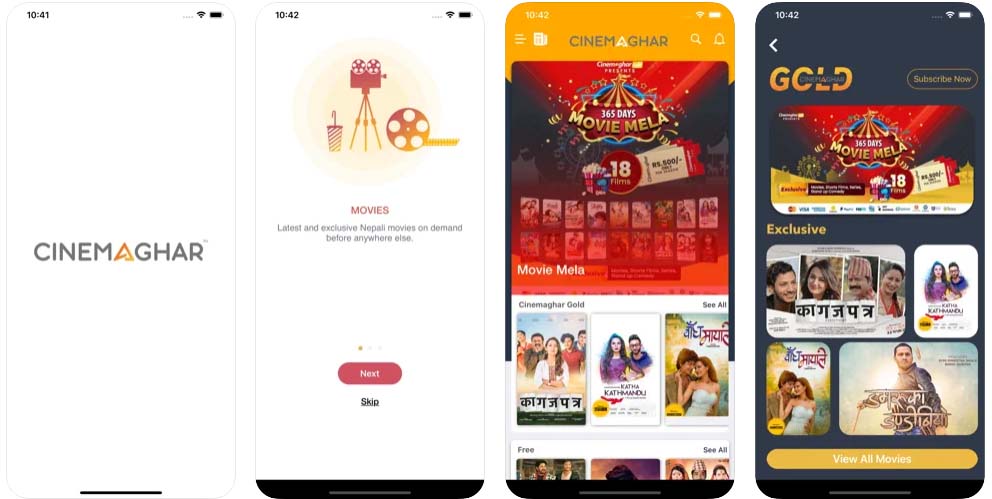 Cinemaghar is a Nepali app developed by 361 Degree Media. It is available on Android as well as iOS. Released in 2015, the app currently has 1 lakh+ download on Google Play Store. You can subscribe to a Gold subscription for NPR. 500/year, which is a lot cheaper option than physical theaters and cinema halls. Payment options include major e-payment systems like e-Sewa, Khalti, etc. The sole purpose of the app is to make Nepali films and series easier to access and watch. You can also get the latest news related to the film industry through the news section of the app.
Why Cinemaghar App?
As you all know, finding foreign movies is relatively easier with popular apps like Netflix, Amazon Prime Video and many more. But, if you look at genuine apps that provide same for Nepali movies and series, they are less in numbers. That's where Cinemaghar shines it's way through.
Since cinema halls are not allowed to continue their services as for now, digitization in cinema industry is a must. Even after theaters get green signal from government, going in the crowd may not be so helpful for your health. It is always convenient and lot less stressful experience to enjoy favorite movie at the comfort of your own home.
This means, Nepali cinema gets better exposure in Nepal as well as foreign countries. It will also encourage app-exclusive contents like web-series in Nepal like we've seen with foreign apps. That will ultimately help Nepal in many primary sectors like cinema industry and economy.
Challenges
As the gold subscription is new, there is not much of movies and series to enjoy. Cinemaghar contains only limited and hand-picked movies. The app is in it's early stages in terms of content management, so we can hope more and more of content to be covered by the app in future.
Majority of people still prefer to go to theaters and cinema halls to enjoy movies, rather than sitting at home alone watching Nepali movies. That could change if apps like Cinemaghar becomes cheaper and more reliable in terms of quality of the videos and content.