 As the festive season is going on, most of you might be planning to return home on air flights. Since the threat of Covid-19 is not over yet, traveling through the bus without precautions might be risky. In addition to that, getting a bus ticket is a hard nut to crack in Kathmandu. You need to book the tickets days before the date of departure here, which is rather hectic. In this case, why not book online flight tickets instead? On top of that, why not book it online in digital wallets? Well, a lot of digital wallets provide online air ticketing facilities with a lucrative cashback. If you are planning to travel on air from Kathmandu, this article is definitely for you!
For destinations like Pokhara, Nepalgunj, and Simara, we have listed the prices for the shortest travel choices among the three major airlines. The tickets of Budhha Airlines, Yeti Airlines, and Guna Airlines are available in all of the four digital wallets namely, CellPay, eSewa, Khalti, and IMEPay.
Here, we have chosen three major one-way destinations from Kathmandu:
Pokhara (KTM-PKR)
Nepalgunj (KTM-KEP)
Simara (KTM-SIF)
All these comparisons are made for a single one-way flight tickets online for the same time in respective destinations.
If you would like to take the shortest route among the air ticket options, you'll find various options on digital wallets. It takes 25 minutes on average to reach Pokhara from Kathmandu. Similarly, it takes about 50 minutes to reach Nepalgunj, and 20 minutes to reach Simara by plane.
For your comfort, we have sorted out the highest cashback options on airline ticketing through these four digital wallets. The reason behind choosing only these four digital wallets among others is that they are widely used for online ticket booking in Nepal. And as most of us book for the economy class seats, we have sorted out the same data for your convenience.
Know about the Cashback on CellPay
CellPay is an emerging PSP in Nepal that introduced the first wallet load and bank link option on the same system. It allows real-time payments directly from your bank account or through the wallet. You can make payments to mobile top-up, merchant payments, utility payments, domestic remittances, and air flight tickets. Moreover, it has CellPay Kart that offers various products at reasonable prices.
In comparison to various destinations, CellPay has the highest cashback in flight booking for Kathmandu to Nepalgunj on Guna Airlines. You can get a cashback of up to Rs 900.09 on your online flight booking for this destination via Guna Airlines in CellPay. Similarly, if you are booking a flight ticket in CellPay for KTM-PKR, you'll get the cheapest price at Guna Airlines. However, the cost from the same airlines from Kathmandu to Nepalgunj is the highest. Budhha and Yeti Airlines cost the same for these three destinations respectively. On the other hand, all of the three airlines company charge the same amount for Simara, i.e. Rs 3,000. Again, Guna Airlines provides the highest cashback on CellPay if you book your flight to Simara from Kathmandu.
The users can go to CellPay, click on flights and then fill up the travel details and book among the available options.
You can see the actual costs of the flights and their respective cash backs on CellPay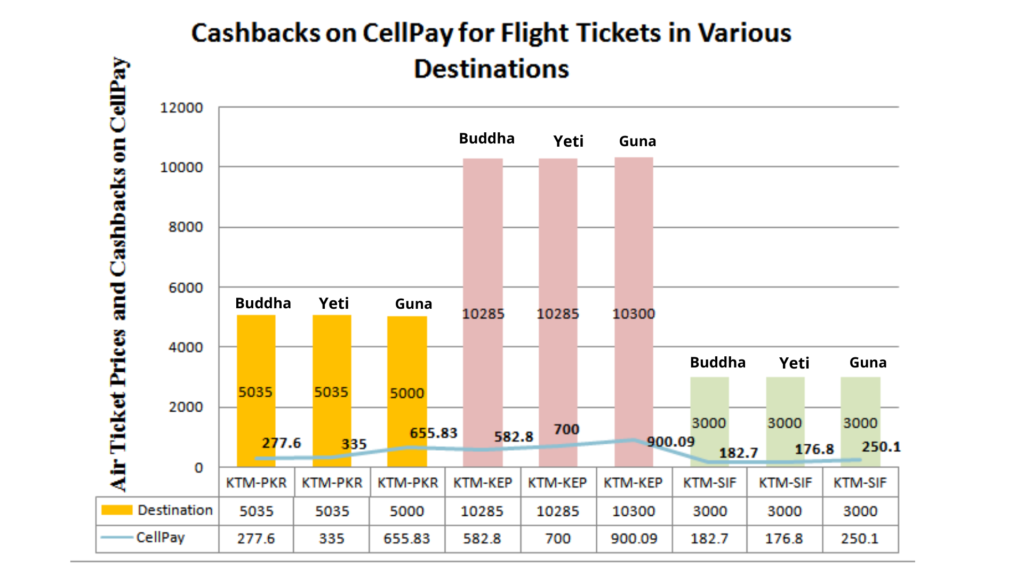 How about eSewa?
eSewa is the first online payment gateway in Nepal that started its operation in 2009. Since then, it has been upgrading and adding its services and payment options. eSewa allows the users to make online payments to merchants, financial institutions, government organizations, and utilities. Similarly, it also has bank link options that allow you to choose between making payments either through a wallet or a linked bank account.
eSewa offers both domestic and international flight ticketing options. It also has partnered with Budhha Airlines, Yeti Airlines, and Guna Airlines for flight booking. The users can go to eSewa, click on airlines on the home page. Then they can enter the travel details and search for suitable options.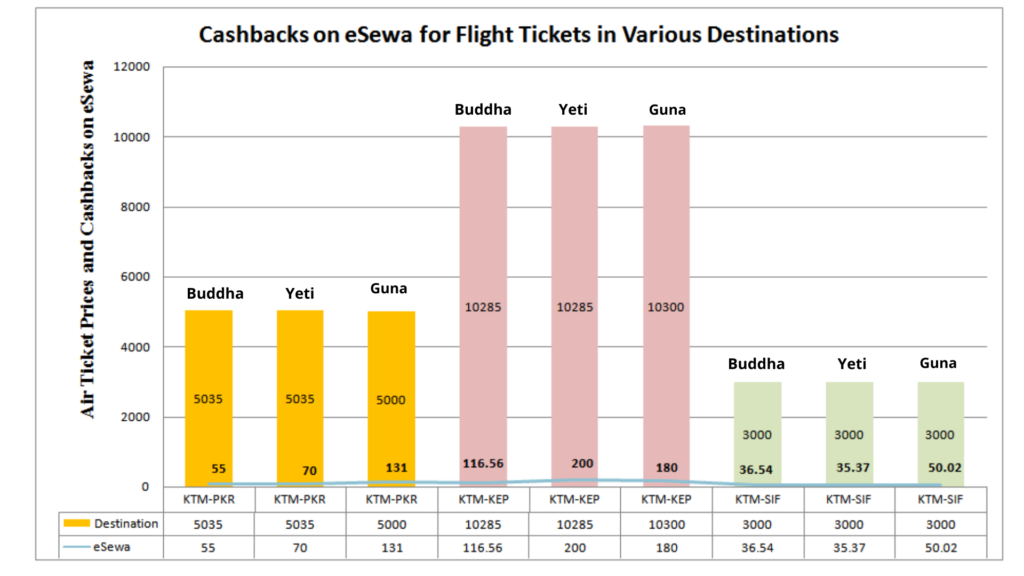 You can get a maximum cashback in eSewa with Guna Airlines while ticketing for Pokhara. It allows you to get up to Rs 131 as cashback in eSewa. Similarly, you will get the highest cashback in Yeti airlines while ticketing for Nepalgunj via eSewa. Likewise, the highest cashback you'll get while ticketing for Simara is Rs 50.02 which is available in Guna Airlines.
Khalti also has attractive cashback offers
Khalti is another popular digital wallet of Nepal that started its operation in 2017. It offers mobile top-ups, merchant payments, bank transfers, utility payments, and event bookings. Khalti has partnered with various organizations and companies for event ticketing and online booking. In addition to that, it has been running various digital financial awareness programs in Nepal.
The wallet provides cashback on recharge, utility payments, flight bookings, and others. You can see the cash backs on the home screen of the Khalti app.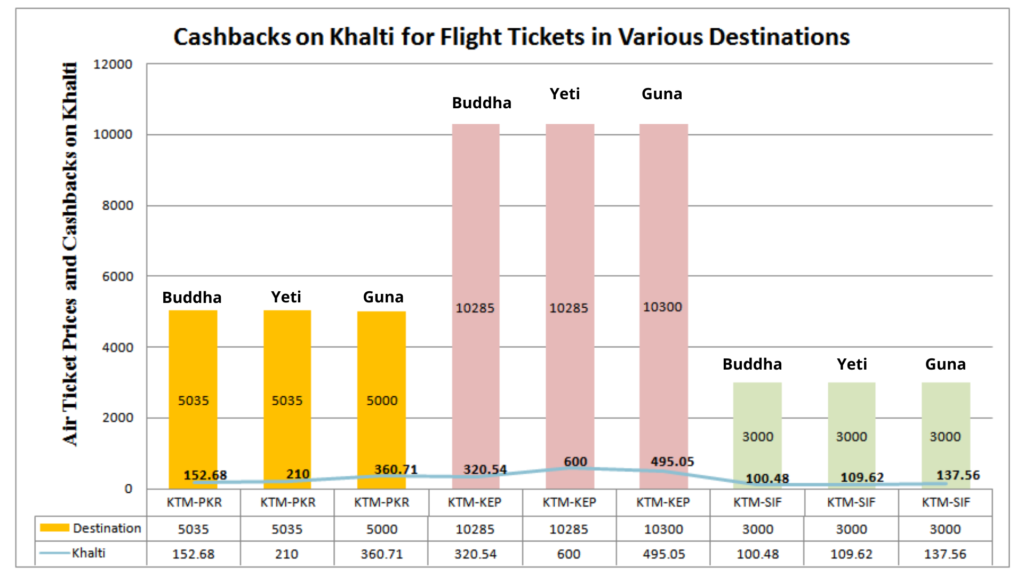 One can get cashback up to Rs 600 while booking air tickets online via Khalti. You can get this amount of cashback while ticketing for Nepalgunj from Yeti Airlines in Khalti. Similarly, you will get the highest cashback while ticketing for Pokhara or Simara through Guna Airlines in Khalti.
Let's know what IMEPay has to offer
IMEPay is the first PSP in Nepal to get licensed by Nepal Rastra Bank. Similarly, it accepts all the major QR code payment options in Nepal. IMEPay also has its own QR code payment system. Apart from that, it offers major digital wallet functions to its customers. Moreover, it is the first digital wallet to provide a virtual card in Nepal. The virtual card allows users to make card-based payments without physical contact on payment terminals.
Along with that, IMEPay also offers domestic air ticket booking. For that, you need to go to IMEPay and click on the "Airlines" option. Then you need to enter your travel details and choose the best option. You will get a cashback of up to 5% on booking air tickets here.
Out of the actual price on a flight ticket to Pokhara, you will get a maximum cashback up to Rs 393 in IMEPay. Similarly, the highest cashback is again, available in Guna Airlines for both Nepalgunj and Simara destinations. Since it takes the shortest time to reach Simara from Kathmandu, you will get lower prices as compared to the other two destinations.
Also read: NRB Releases Unified Directives 2078 with Updated Transaction Limits for PSOs, PSPs
Go digital and book your flight tickets online!
So now you have got the information of the prices and cashback on booking flight tickets online, you can decide for yourself o choose the best option. However, this cashback may differ during the time of Dashain, following the marketing campaign of these PSPs. Even if that happens, you can easily book a flight with the comfort of your device. You can instantly make a booking online without any hassle.
These digital wallets provide you the freedom to choose between the packages that give you more cashback on your travel. As all the prices are displayed on their app or website, you can compare the prices of tickets among various airline companies and also choose the tickets as per the seats you prefer. After a long setback in operations during the Covid-19 pandemic, domestic flights are again rising with their services. And as the festive season is approaching, most of the people from outside the valley book air tickets to home. We hope this article has helped you out in knowing major airline ticket pricing and cashback in Nepal.