 Nepal Rastra Bank has recently released the Unified Directives for Payment Systems- 2078 on Tuesday (14th of September, 2021). On this 63-page document, NRB has updated the rules and guidelines for the payment systems including PSPs, PSOs, and mobile banking systems. The Payment Systems Department has published this document on NRB's website.
The unified directives include rules and guidelines regarding various payment services under the following heads:
Electronic Cards
PSPs using telecommunications services for digital payments on domestic currency
QR code operators, settlement banks
Transaction limit for electronic cards, mobile banking and internet banking systems
Transaction and charge limits for digital wallets
Unified Directives- 2078: provisions for payment systems
#NRB licensed BFIs and companies can issue QR-based debit/credit and prepaid cards
The banks and financial institutions as well as other PSPs can issue the cards with QR codes after meeting up the requirements. Similarly, it depicts that the ATM cards issued by the banks must support either chip or PIN usage. However, Near Field Communication Technology (NFC) Contactless cards do not require a PIN.
All "A" class, "B" class and "C" class BFIs can issue electronic payment cards like debit/credit cards and prepaid cards
BFIs other than Class "A", "B" and "C" cannot issue credit cards
Payment System Providers (PSPs) other than BFIs can issue only the prepaid cards
BFIs can not issue more than one debit/credit card to a natural person
#NRB Licensed PSPs and PSOs can provide QR Code for sole proprietary merchants on the basis of their PAN or valid identification documents
According to the directives, any sole proprietor with a PAN can get a QR code out of the savings account in their respective banks. Those not having a PAN and with a daily transaction of Rs 5000 can become a QR code merchant by submitting valid documents to the bank.
#For system security, non-banking PSPs and PSOs must audit their system after one year of operation
Similarly, the PSPs should develop their software for Android, iOS, and web platform. In addition to that, they must inform the users of each system update.
Know about the transaction limits for electronic cards, mobile banking and internet banking
NRB has updated the transaction limit for prepaid cards and debit cards. Users can tranasact up to Rs 10,000 per transaction, Rs 20,000 per day and Rs 200,000 per month through prepaid cards. Similarly, they can transact up to Rs 25,000 per transaction, Rs 100,000 per day and Rs 400,000 per month using a debit card.
BFIs can issue the prepaid cards with a maximum balance of Rs 100,000 while the digital wallets can issue it for up to Rs 25,000
Similarly, BFIs and NRB licensed PSPs can issue NFC based contactless cards with a maximum limit of Rs 5000 per transaction
Similalrly, the daily transaction limit for mobile banking (including QR code) is Rs 200,000 and that for internet banking facility is Rs 2,000,000.
#The monthly wallet to wallet transfer limit is up to Rs 5 lakhs
NRB has also updated the limits for funds transfer among the banks and wallets. You can transfer up to Rs 50,000 at a time from your bank account to digital wallets. Similarly, you can transfer up to Rs 1 million (Rs 10 lakhs) in a month between digital wallets and bank account. Moreover, the monthly wallet-to-wallet transfer limit is up to Rs 5 lakhs. It is maintained at Rs 25,000 per transaction and Rs 100,000 per day.
NRB has set a rule that the users can not maintain an overnight balance of more than Rs 50,000 in their mobile wallets. The amount exceeding this sum would be deposited to their respective bank accounts.
#Banks can charge their mobile banking customers for a maximum up to Rs 30 on interbank fund transfer
The maximum charge for interbank fund transfer through mobile banking service is maintained at Rs 30 by NRB. Banks can charge Rs 10 for funds transfer up to Rs 50,000 and Rs 20 for Rs 50,001 to Rs 100,000. Likewise, they can charge Rs 30 on interbank fund transfer amount more than Rs 100,000.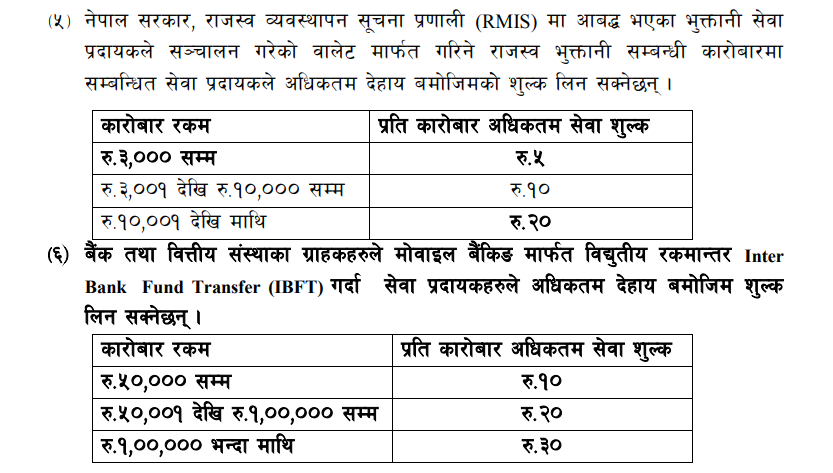 Likewise, those payment systems providing online tax payment services can charge Rs 5 on the tax payment up to Rs 3,000. In addition to that, the maximum charge on online tax payment is Rs 20.
Also read: Namaste Pay: The Most Awaited Digital Wallet Is Now Live And Available To Download
However, many of the banks are charging more than the set limit on interbank fund transfer services. Some of them are charging up to Rs 75 on interbank transfer on higher slabs. NRB, being the regulatory body of BFIs and payment systems, taking its responsibility to ensure safer, reliable, and interoperable digital payment systems. Moreover, with the launch of wallets like NamastePay which provides both offline and online wallet facilities, Nepal's digital payment ecosystem is getting developed with time. Similarly, the number of PSPs and PSOs, QR merchants, internet and mobile banking users are increasing day by day. Currently, there are 27 non-banking PSPs and 10 PSOs. In addition to that, most commercial banks provide mobile banking facilities.