 After a long period, the launch of Namaste Pay is finally over now. The first-ever digital wallet of Nepal that supports both online and offline payments- NamastePay has started its service on September 14, 2021.
Nepal Digital Payments Company Limited (NDPC) has introduced Namaste Pay as the first government-owned digital wallet in Nepal. NDPC is a joint venture of Nepal Telecommunications Authority and Rastriya Banijya Bank with an authorized capital of Rs 1 billion.
Besides that, Namaste Pay is the first mobile money that is available for both offline and online usage. One can transfer funds even without the Internet. It is based on the USSD system for offline transactions while one can use the app for online payments and transactions.
You can register yourself through the USSD service on your mobile. The offline service would run on both kinds the devices among feature phones and smartphones. However, for online digital wallet features, you have to use smartphones. The USSD code can be used to transfer the funds from your Namaste Pay account offline. You need to load your wallet through the banks or through Namaste Pay agents which will be maintained soon.
How to register your mobile number for Namaste Pay services?
To use the NamastePay service, first, you need to register yourself through USSD on your mobile phone. This can be done without the Internet. Moreover, it supports both feature phones and smartphones. Follow these simple steps to register:
Dial *500# on your mobile through the NTC number
Then enter your name, date of birth in AD format, gender and identification details as prescribed.
Then confirm your details and proceed.
You'll get a four-digit login code to your mobile number.
Dial *500# once again and you can change the PIN-code on your own.
Through the USSD service, you can transfer the fund to another Namaste Pay account or number and even request money.
Remember, this code would be your login password for the NamastePay app. The app uses your mobile number for your identification which removes the hassle of remembering your bank account number for offline payments.
On the other hand, the app works as a full-on digital wallet that offers services from top-up to utility payments and funds transfer. The transaction limit for the app is similar to that of other digital wallets.
The app is available in beta version till now. You can download it on Google Playstore. NDPC will also release the app for iOS within some weeks.
How to register on Namaste Pay Digital Wallet app?
After you get the login PIN, you can change it and make your own four-digit login PIN.
Then, you should open the NamastePay app and log in with your mobile number and PIN.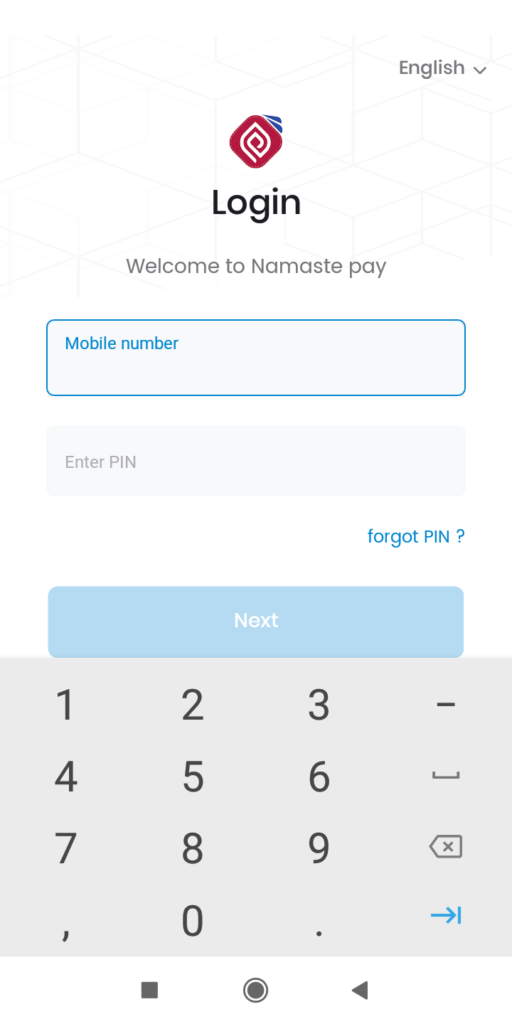 An OTP would be sent to your phone number and you should enter that OTP to proceed.
Then, you can set security questions for additional security or simply skip that. And finally, the homepage opens.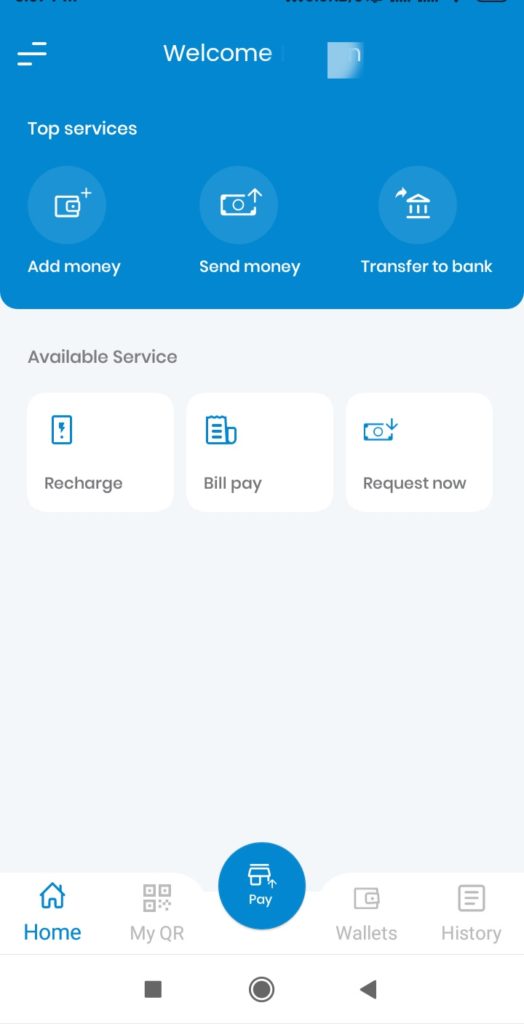 Namaste Pay Digital Wallet: Available Services
In this initial phase, features like a mobile top-up recharge for NT, wallet load function, bank link facility, electricity and water bills payment, and QR code payment to merchants are available. The users can link their bank accounts among the 9 member banks, including Nepal Bank Limited and Rastriya Banijya Bank. These features will work fully after the release of the full version of the app and website.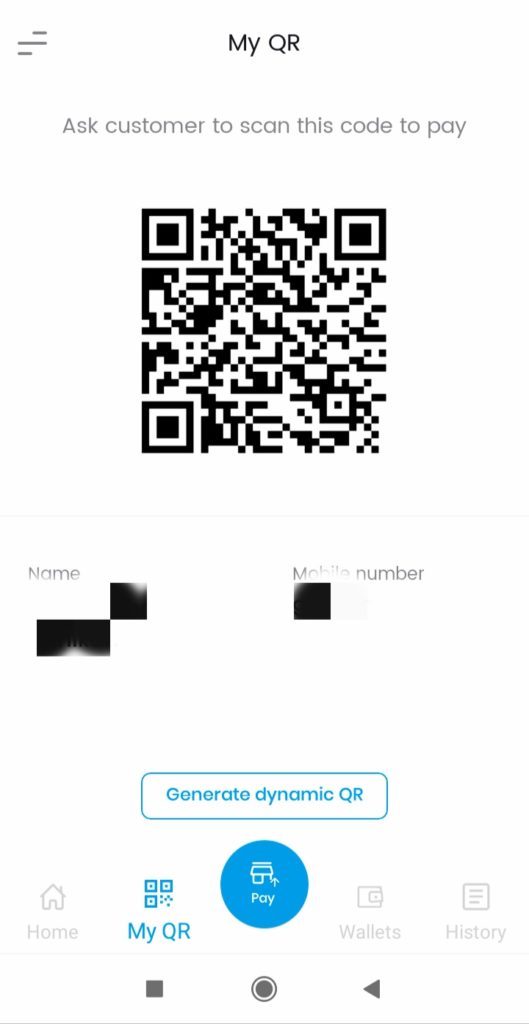 Similarly, one can make payments through the linked bank accounts. The list of the linked banks is yet to arrive. The USSD code for bank link would be available for feature phones while smartphone users can simply tap on the app for linking the banks.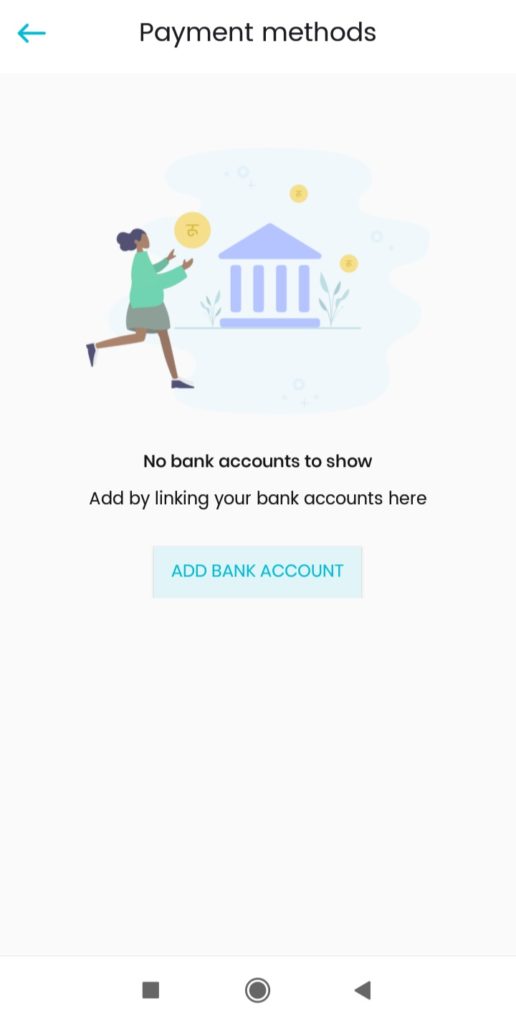 Know about the transaction limits
NamastePay charges fees out of your mobile balance for offline transactions while it charges your wallet fund for online transactions through the app. The transaction fees and charges are yet to come. However, as per the information provided by NTA, you can transfer funds up to Rs 5,000 without having a KYC account. This applies to both USSD based transactions and wallet payments.
After you get a KYC account from NamastePay, you can transfer up to Rs 25,000 per day. Similarly, you can transfer up to Rs 10,000 per transaction. The monthly transaction limit for NamastePay is Rs 100,000. You need to use the wallet for making online payments while you can use the USSD code for making offline payments.
Also read: Namaste Pay: The Most Awaited Digital Wallet Is Now Live And Available To Download
What are the future plans?
This is the initial phase of NamastePay where limited features are available at present. Hence, many users are finding difficulty in registration and transactions. As of now, you can make a top-up recharge for the NT numbers only. According to NTA, soon the users will be able to recharge on other SIMs like Ncell and Smart SIM. Similarly, other important features would appear soon in NamastePay. According to them, they are adding other banks as well in the system. Most importantly, Namaste Pay would enable more people to enjoy digital wallet facilities. The feature phone users also can transfer funds or load wallets through a keyboard. Hence, it could expand the market coverage of digital wallets.
However, about 95% of the mobile sets used in Nepal are Android phones. In this case, using a USSD code could be more hectic over going through the attractive UI of the digital wallets. NTA has indicated that the main objective of this product is to manage a safe and reliable digital payment system over pure commercial benefit. Apart from being the first government-owned digital wallet, this is the first-ever Nepalese digital wallet with both online and offline features. We hope it would certainly attain its objectives, thereby contributing to the digital economy.
How was your experience while registering through Namaste Pay? What are your expectations from the Namaste Pay app? And what would you suggest for NamastePay to gain a wider acceptance? Feel free to drop your reviews and responses regarding this new fintech product.