 Khalti gets first CEO; Khadka envisions for growth of digital payment in Nepal and aims to make Khalti a household name for digital payments
Is age just a number? For Binay Khadka, the answer is definitely 'Yes'. At just 27 years, Khadka has been appointed as the CEO of Khalti, one of the leading digital wallets in Nepal.
In 2014, the appointment of Subhash Ghimire as the editor of Republica daily was a much-talked-about event in the media industry of Nepal. In his late 20s, Ghimire was the youngest editor of a national daily newspaper. Similarly, Khadka's appointment as the CEO of Khalti has also been a much-talked-about event on social media, and given a message that 'age is just a number'.
Khadka completed the study of Chartered Accountancy from the Institute of Chartered Accountants of Nepal in 2017. A brilliant student, Khadka was the Nepal topper of CA final exam, with three Gold medals. After completing his CA degree, he joined NIC Asia Bank as a 'Financial Analyst'. Later, he joined eSewa, the first and leading digital wallet of Nepal in the position of 'Head of Banks and Corporate Relations'. After working at eSewa for almost a year, he joined NIC Asia Bank in 2019, this time as the 'Head of Digital Marketing Department'.
Expressing joy over Khadka's appointment, Amit Agrawal, the Co-founder and Director of Khalti wrote on social media, "Khalti has been a young, trendy & innovative brand. We have crossed 230 people in size with the average age being 26. We are confident that with a new leader in Khalti, it will take new heights. We have given our heart and soul to Khalti and will continue to work with the same enthusiasm day & night to positively impact the lives of millions of Nepalese living in and outside Nepal."
Currently, we are going through an interesting phase. Smartphones are in almost everyone's hands. And almost everyone uses social media like Facebook, Instagram, and video streaming and entertainment apps like YouTube and Tiktok. Broadband internet and 4G internet have reached villages too. Video calls and video streaming apps are common today in villages too, that would have been surprising just a few years ago. People are getting tech-savvy. Digital literacy is growing.
Furthermore, 2021 was a tumultuous year for digital payment companies. Schools started running online classes, where students used to attend classes from home using smartphones and laptops. 'Work From Home' culture began. Likewise, mobile payments and online money transfers also boomed during the COVID-19 induced lockdown.
Also Read: Khalti Wins United Nation's Fintech Innovation Fund
In 2019, the government announced 'Digital Nepal Framework' to prepare a roadmap on how to utilize digital technologies for the economic growth of the country. This year, the government launched Nagarik app with an aim of enabling its citizens to access most government services digitally. Currently, people can make revenue payments to the government online. Traffic fine payment also has gone online. There have been tremendous efforts from the government to foster digitization.
Digital payment companies can capitalize this smartphone, social media, and technology boom for further growth of digital payments and transactions across the country.
After getting the first CEO, we can anticipate the aggressive growth of Khalti and further innovation in the fintech arena.
In a conversation with TechSathi, Khadka said he will focus on interoperability and collaborations with other payment service providers and PSOs, and provide a wider range of payment facilities to users and make transactions easier. Currently, in lack of interoperability, users have to install multiple apps on their phone and maintain balance in multiple wallets.
Khadka, a person passionate about technology and innovation in the payment industry, also mentioned he will focus on innovations that can be brought into the digital payment industry that will ultimately make the transactions and payment process easier for all Nepalis.
Currently, the digital payment industry in Nepal has been seen as a cash-burning industry. Khadka aims to focus on revenue generation and self-sustainability. He also envisions making the company future-ready, incorporating various innovations, along with scaling up the company and making it ready to turn it into a public company.
Khalti is one of the fastest-growing digital wallets in Nepal, with a customer base spanning over 2 million. The company has so far partnered with 60+ banks for fund load, 10 remittance partners, enabled digital payments at 3000+ merchants, and established a network of 30,000+ Khalti Pasals across the country.
We are sure, your appointment as the CEO of one of the leading digital wallets in Nepal at such a young age will give a strong message to youths out there. We hope you will prove that age is just a number. We wish Binay Khada all the best for a successful tenure at Khalti.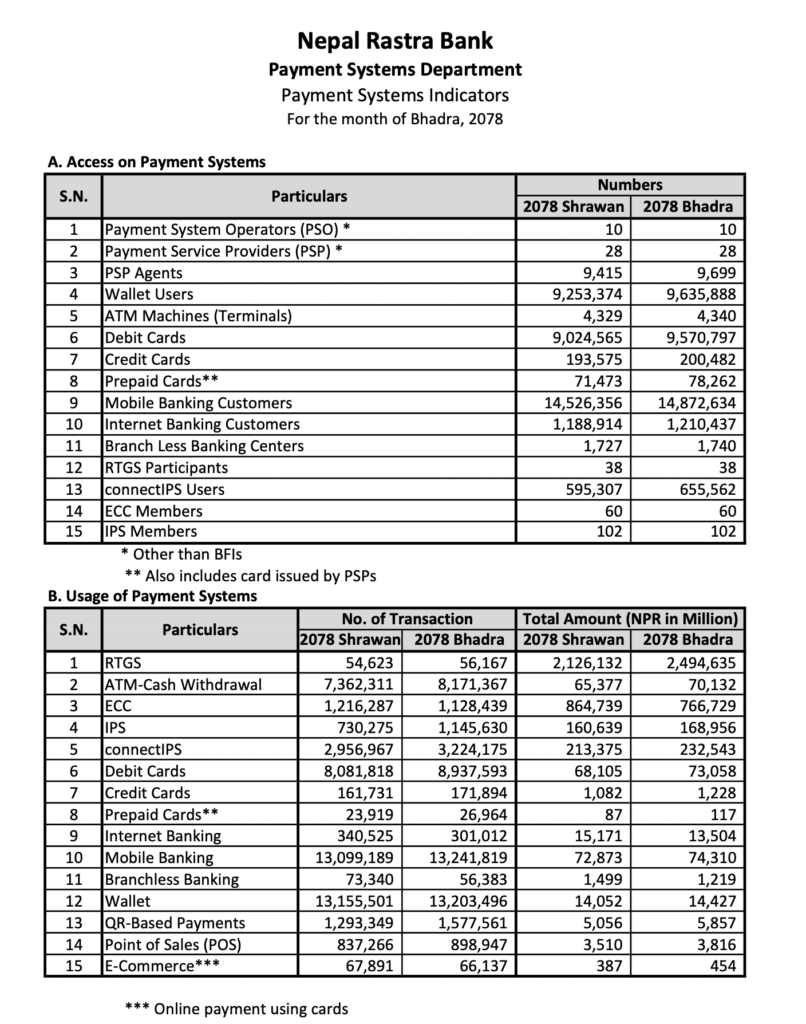 Source: Nepal Rastra Bank
Also Read: Debit Card VS Credit Card: How to Make the Most Out of Them?