NIC Asia, a "Class A" commercial bank, was established on 21st July 1998. Currently, it is one of the largest private-sector commercial banks in the country regarding its capital base, balance-sheet size, number of branches, ATM network, and customer base. NIC Asia has proven itself to be one of the most successful banks in Nepal. These days, almost all banks are getting digitized to facilitate the transactions of their customers by using their devices from anywhere. With this pandemic situation, digitization has become more important than ever. NIC Asia is persistently working towards becoming the "Digital First Bank". They are aiming to channelize 90% of their total transactions digitally in the upcoming years. Here we talk about the major digital services provided by NIC Asia bank.

Digital Banking Services provided by NIC Asia Bank:
Mobile Banking: NIC ASIA MOBANK
Internet Banking
Online Applications
Viber Banking, Chatbot, Missed Call Banking and Many More
Mobile Banking: NIC ASIA MOBANK
Banking and Financial institutions are getting more inclined towards providing their services through mobile apps. With almost everyone, having access to smartphones and the internet, BFI is becoming a tech-inclined industry. Everything in today's world is at your fingertips and transactions get completed within clicks. Mobile banking offers many advantages like convenience, fast, ease of access, security, and many more.
Balance Enquiry and Statement
Self-registration
Fund Transfer
Utility Payments
Topup
Merchant Payment and QR Payment
Many banks have started offering Mobile Banking services as it has become a necessity today. NIC Asia is also offering its Mobile banking services which include all the major services like balance inquiry and statement, self-registration, fund transfer, utility payments, top-up, merchant payment, and QR payment and iServe. Through iServe, you can start mobile banking, apply for a checkbook, get a bank statement or balance certificate.
Also Read: Recharge using NIC Asia MoBank and get 1 GB Data free
NIC Asia Mobile Banking App: NIC ASIA MOBANK is available here.
Internet Banking: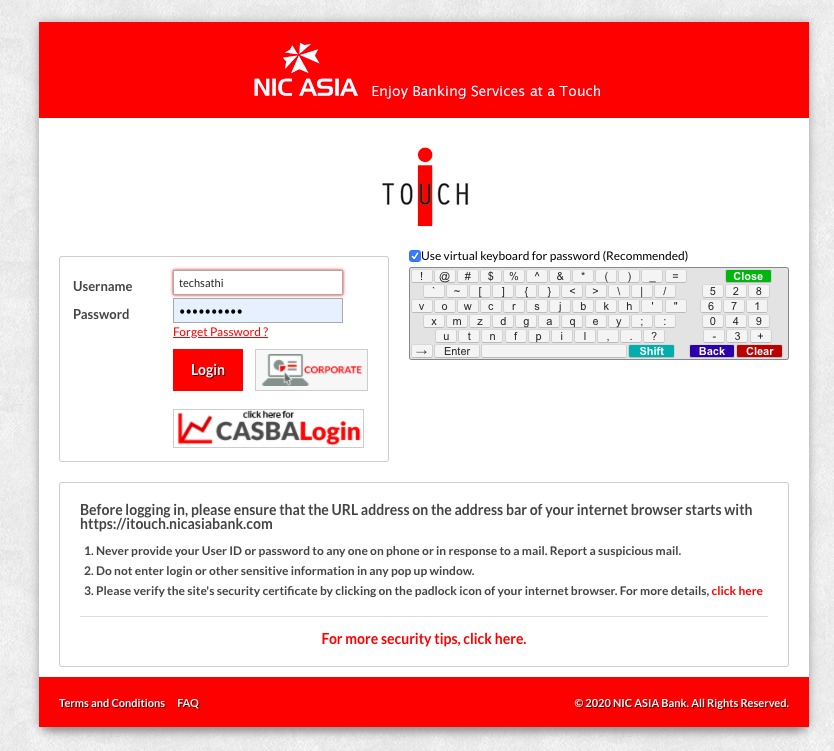 Online banking or internet banking enables customers to conduct transactional or non-transactional actions through the bank's website or an online application. NIC ASIA internet banking, which is also known as "I- Touch", provides you a wide range of financial and non-financial services at just a touch. It is one of the fastest, most convenient ways to access your NIC ASIA Bank accounts, view balances, transfer funds, and pay your bills online. Using your unique Username, Password and OTP (One Time Password), you can perform banking transactions online, whenever and wherever you want, from a secure PC with Internet access.
Balance Enquiry
Fund Transfer
Utility Payments/ Credit Card Payment
Top UP
iServe
The Internet Banking facility of NIC Asia is available for individual as well as non-individual (organizational) customers.
The services provided by NIC Asia under this facility are Balance inquiry, fund transfer, Utility/Credit card payments, top-up, and iServe.
You can access to NIC Asia internet banking services from here.
Bank's Website Services:
NIC Asia has been providing account-related services through the bank's website itself. Now you can perform the major services like online account opening, benefit mapping calculator, Online Fixed deposit, Credit Card Eligibility Testing, and Credit Card Online Application. Now, you don't have to go to the bank to open an account or to fill in an application to get your credit card. They have made it ever so easy for their customers to perform these activities online. If you have a joint account, then you cannot open an online fixed deposit. The benefit mapping facility simply allows you to calculate the benefit you are receiving. To calculate that, you just need to go to the website and fill out some details.
Benefit Mapping Calculator
Online Fixed deposit
Credit Card Eligibility Testing
Credit Card Online Application
Loan eligibility Testing
Online Loan Application
Online Bank Guarantee Eligibility
iServe
eKYC
Branch and ATM Navigation
Merchant Offers & Discounts
FeedBack Channel for any issues through Form
Dispute and Claim Lodgment
Product Navigation
Additional services that you can through the website services are Loan eligibility Testing, Online Loan Application, Online Bank Guarantee Eligibility, iServe, eKYC, Branch and ATM Navigation, Merchant Offers & Discounts. You can apply to get a loan, as well as check your creditworthiness without having to visit the bank.
If you have any resentment or dissatisfaction then you can issue your complaint on Dispute and Claim Lodgment.
You can access to this services from here.
Other Digital Services
Viber Banking
Missed Call Banking
IVR Service
ChatBot
iServe for any kind of Support
NIC Asia has also been offering other digital services that include Viber banking, missed call banking, IVR service, Chatbot, and iServe. You can get in touch with the bank and get services through Viber messaging service. Missed Call Banking is a free service from the Bank where you can get your account balance details, mini statement, and more just by giving a Missed Call or sending an SMS with predefined keywords to predefined mobile numbers from your registered mobile number. Interactive Voice Response is an automated telephony system that interacts with users and provides services.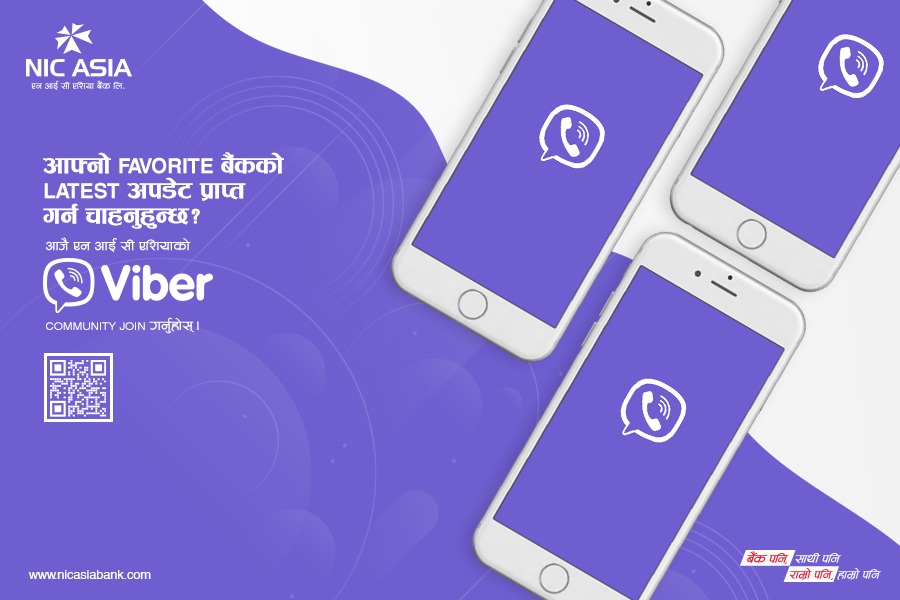 With these digital services, NIC Asia bank is currently leading the digital marketplace in the banking sector. The work is done towards becoming the "Digital First Bank" has been really commendable. The bank services have really been made easy for the customers with all these services. We hope to see more exciting services from the bank in the near future.
---
Follow us on our Facebook, Instagram, Twitter, and Youtube accounts and Viber community for our regular updates.