Are you technopreneurs? If yes, we have got the right event for you. Pokhara research center in collaboration with Urja lab is bringing "technopreneurs startup meet" on the occasion of global entrepreneurship week 2021. The meet has been organized with the intention to inspire, connect and engage. The event will be held on the 13th November 2021, Saturday.
About Global Entreprenurship Week
Global Entrepreneurship Week (GEW) is an international initiative that introduces entrepreneurship to young people on six continents. GEW emerged in 2008 as a result of Enterprise Week UK and Entrepreneurship Week USA 2007. Since its creation, more than 10 million people from roughly 170 countries have participated in entrepreneurship-related events, activities, and competitions during GEW. This is an annual event that sees the participation of hundreds of entrepreneurs, investors, policymakers, researchers, educators, and entrepreneurs.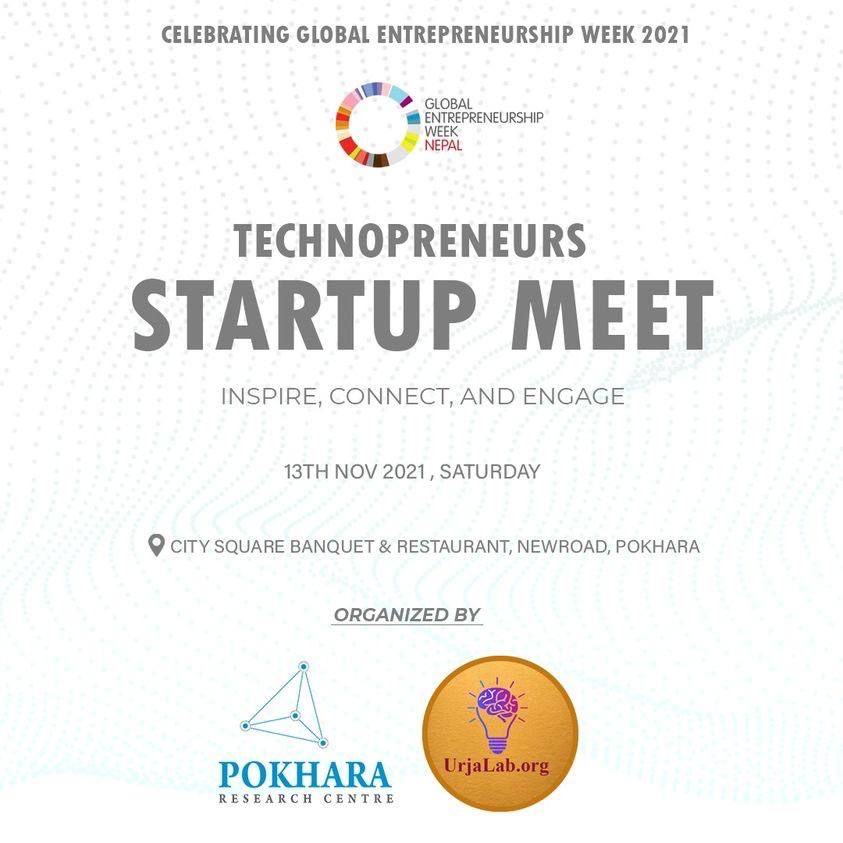 This technopreneurs startup meet will be happening at City square banquet and restaurant in Newroad, Pokhara. Join this interesting event and get to know all the hustle and entrepreneurial journey stories of the people making difference in people's lives with the help of technology.
Technopreneurs startup will comprise of sharing the entrepreneurial experiences, hurdles, and solutions throughout the journey, meeting like-minded people, creating networks, collaborating, and mostly learning from each other. The organizers welcome all the technopreneurs to their meet. If you are interested in this event, you can contact the organizers: Pokhara research centre and Urja Labs on their respective pages for more information.