 NMB Bank has launched an AI-driven video KYC service in Nepal for the first time in the banking industry.
From now on, the customers of NMB Bank can open a bank account in just 5 minutes by simply attending a video call. They can open a new bank account online from anywhere inside or outside the country through just a video call. This system is supported by AI where all the documents that the customer shows to the screen during a video call are verified directly.
It means, now you do not need to be present to the bank to open a bank account. You can do it on your own staying anywhere. Moreover, you can verify your KYC in a few minutes and get eligible for banking transactions from NMB Bank.
Video KYC for bank account opening; how does it work?
According to the press release, NMB Bank has launched this service to ease the customers and bring them under digital banking services. The AI-driven technology is secure and is independent. It means you do not need to interact with the banking staffs or physically present yourself to the bank.

You need to show your documents on the screen and the AI supported system scans your documents to verify. Even through the video, the AI detects motion to verify your face recognition.
NMB Bank is trying to disrupt the digital banking experience of the customers thorough new fintech services. Customers can now opt for the banking acitivities at a comfort of staying homes, without even visiting the bank. This upgrade is more advance than existing mobile and internet banking which would surely replace the manual tasks by digital systems. As the press release reveals,
"It would promote transparent, errorfree and paperless banking services which complies with the value of the bank. As a member of Global Alliance for Value Based Banking, NMB Bank is promised to promote environment friendly banking services through these types of initations."
How to use NMB Bank Video KYC Service?
If you are opening a new account at NMB Bank Limited, you can go through the link https://vcc.nmb.com.np/ to start your video based account opening service.
Then, you need to accept the terms and conditions there and click next.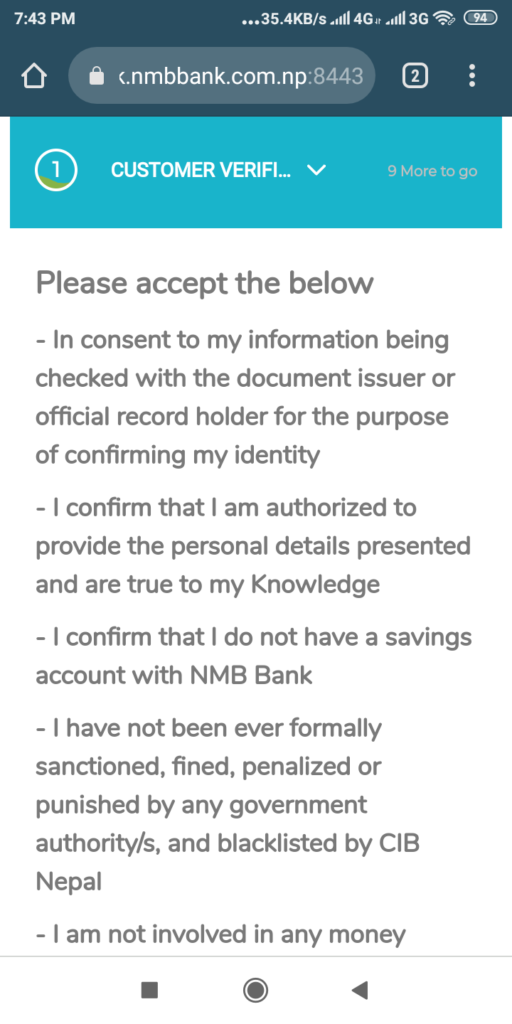 The system asks to access your location, camera and media files.
After you allow them, you need to enter the country name, code, mobile number and email to proceed. You can open your account from any country in the world.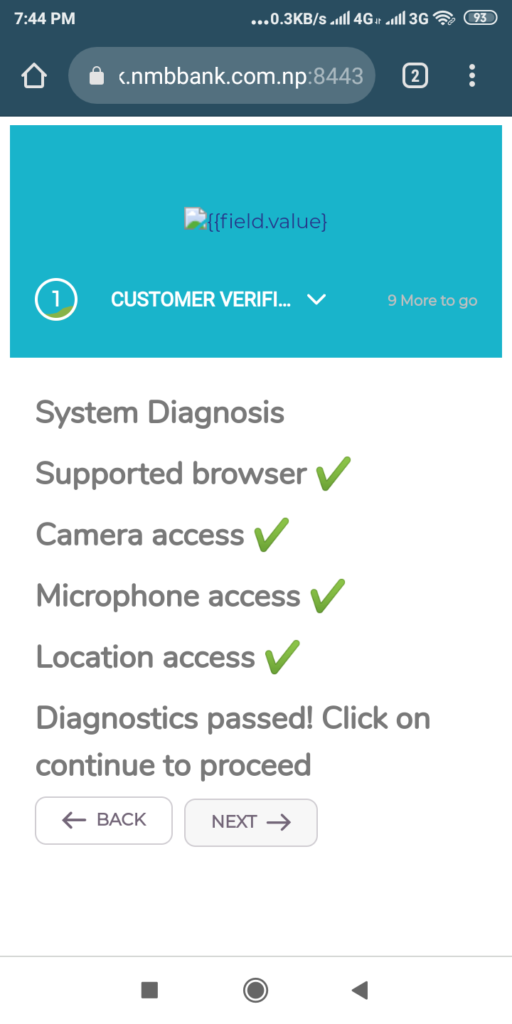 Then you need to verify the OTP sent to your mobile number or email.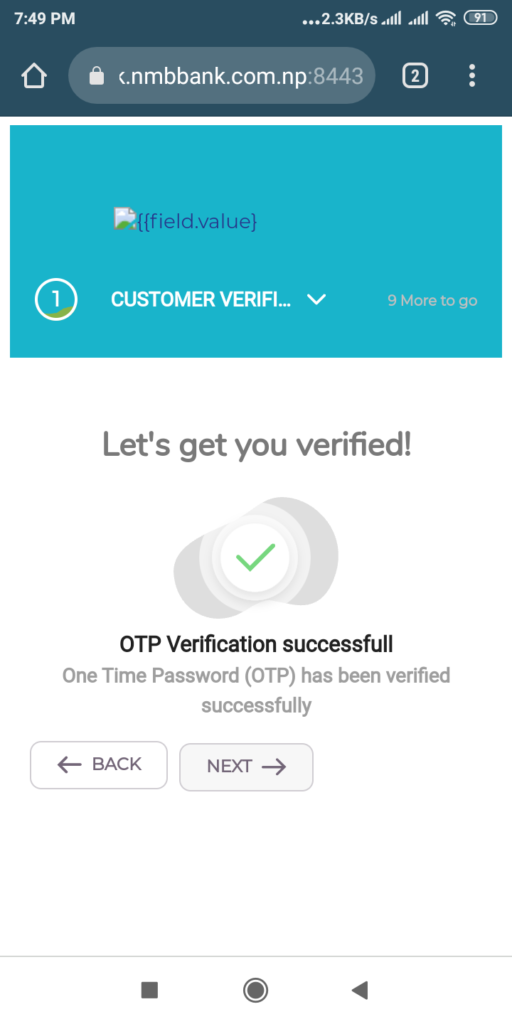 After you get verified from the OTP sent on your mobile number, you will go to "Personal Details" section. There are other 9 sections that you need to verify. Then, you need to show the documents on the screen and the AI interacts with you to verify your documents, facial recognition and signature.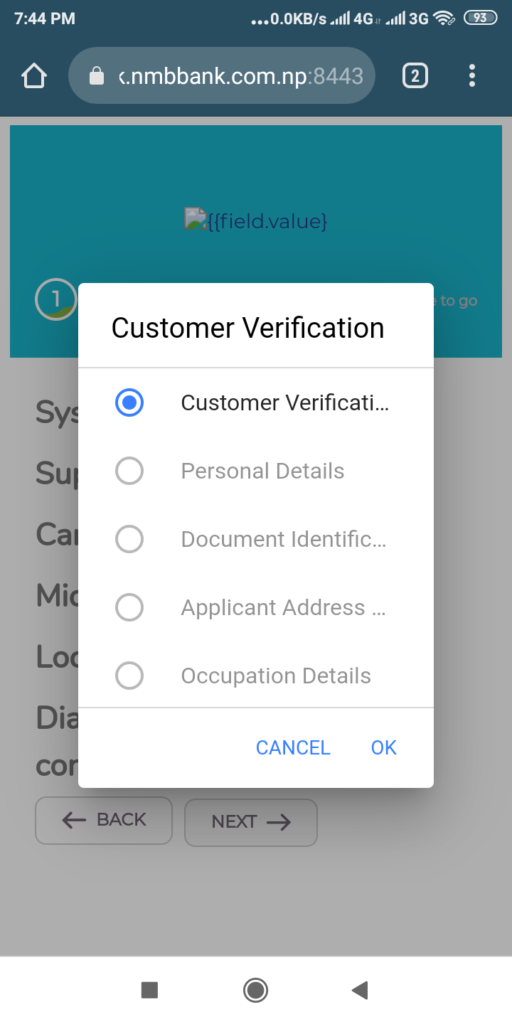 Then in 5 minutes, you will have a bank account with NMB bank from wherever you are. There are 6 types of objectives for opening bank accounts available in this service:
Savings
Investment
Loan Repayment
Payroll
Remittance
Transactional
The documents you'll require in this process are similar to that you'll need while normally opening a bank account.
Additional services
Through this, you can open the bank account from anywhere in the world. However, this is open for customers identified as Nepalese citizens for now. The bank aims to curb the informal inflow of remittances through formal channel like these. Hence, this account opening service would allow the people living abroad to open remittance account and send money Nepal directly through the bank.
Similarly, the customers can maintain any amount of deposits to the bank. However, the withdraw amount is restricted to Rs 500,000 per month as per the directives of NRB.
Video KYC; a new concept in Digital Banking
NMB bank is the first bank to let customers open their account through a video call in real time. However, similar technology was introduced by Machhapuchre Bank while launching its first digital wallet "Remitap".
The key difference between these two is that, the customer needed to upload a video showing their documents and face while verifying their KYC with Remitap. On the other hand, NMB Bank allows the customers to make a video call with the system in real time and get their KYC verified instantly.
Also read: Machhapuchhre Bank Launches Remitap, Nepal's First Digital Wallet by Commercial Bank
So, NMB Bank becomes the first bank to introduce AI-driven KYC verification service to open a bank account. This will allow the customers to open a bank account and start using banking services without even visiting the bank. This service is for the first time in Nepalese banking sector. In our neighbour country India, it was Kotak Mahindra Bank to introduce such service there in 2020.
And in 2021, Nepal is getting this fintech service in an initiation by NMB Bank. With this, NMB Bank aims to promote digital banking through cutting edge secured technology and contribute in the digital transformation.