 Machhapuchhre Bank Limited has launched the first ever digital wallet in the commercial banking sector of Nepal, which is branded as Remitap. As the name suggests, this digital wallet has been introduced to bring secure, user friendly and convenient experience to its customers for domestic and international remittance payments and other common digital payments.
On the occasion of inauguration of this app on February 11 2021, Mr Birendra Prasad Mahato, Chairperson of Machhapuchchhre Bank, stated that the bank has aimed at including digital transactions by more and more Nepalese with its robust technology. Established in 2000 AD, Machhapuchhre Bank has more than two decades of its presence in the commercial banking sector of Nepal, getting ahead in delivering up to date services to its customers by developing its systems and service modules. In this process, it has collaborated with its technological partner in India, AMV Tel Private Limited for developing this particular app. Remitap is sophisticated with block chain technology within it so as to provide easy-to-use experience along with security of data. Mr Anil Sharma, Managing Director of AMV Tel Private Limited stated that sending remittance from various parts of the world like Europe, Middle East, African Region, Southeast Asian countries and India would be way easier through this app. Similarly, its robust technology helps one to tap and pay to the merchants very easily.
Besides that, Remitap has these unique features which are apparently introduced for the first time in the history of digital wallet industry in Nepal:
Easy send or receive domestic or international remittance through the app
The main purpose of this app is to provide convenient remittance services. This wallet is taking digital remittance global since Nepalese from any nook and corner of the world can access this app for receiving or paying money.
Remicard- a multipurpose digital currency card which can be used anywhere and anytime
It is a virtual card which you can gift to other friends as well. Machhapuchhre Bank is letting its first 1000 Remitap customers redeem Rs 100 through Remicard. One can scan and pay using Remicard's QR code.
Options to choose languages in the app
Unlike other digital wallets, this wallet has been upgraded with the options to choose different available languages as per the convenience of the users.
Video KYC updating system
This is the unique feature in updating KYC, perhaps for the first time in Nepal. One should hold their identity document and record a short video and upload that to verify their account.
Switching from individual user to merchant user
One can switch their profile from individual to merchant easily through the same app.
Other services carry the similar features as other digital wallets like utility payments, payment to merchants and mobile top up.
How to register in Remitap?
One can register themselves in Remitap without any banking account in Machhapuchhre Bank. For this, you can follow these simple steps:
Download Remitap on your device. It is available for both Android and IOS.
Click on "Sign Up" to register
Insert your mobile number and tap on continue
Fill up the OTP sent to your mobile number and verify
Then, fill up your personal details like full name, email and create password
Verify your password
Log in by your mobile number and password
Then fill up the KYC form
As per the instructions, record your video and upload to verify your KYC
The bank would verify your KYC instantly and then you can use the app further
About Remicard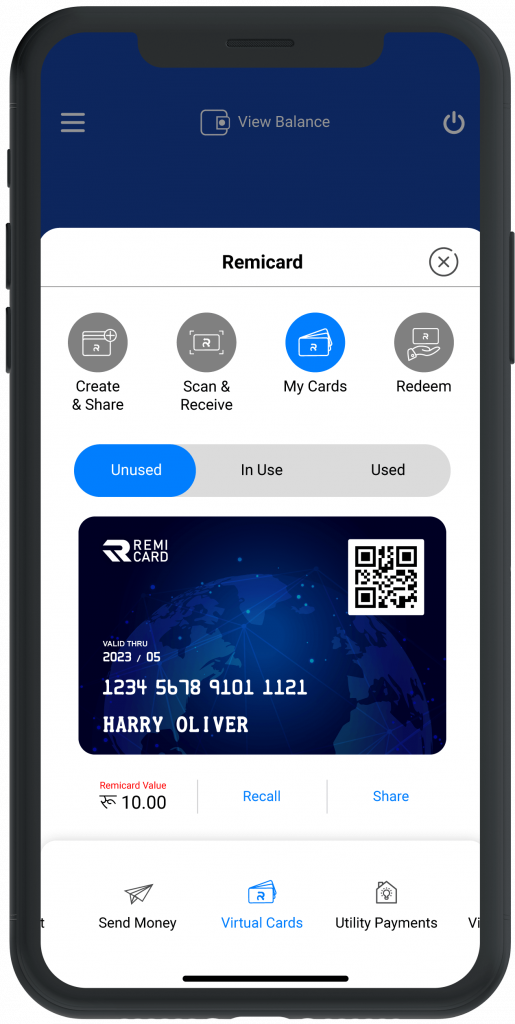 Remicard is the virtual card designed for the first time in Nepal. It is a new concept in Nepal which is similar to ordinary cards we are using now but what makes it different is that the card is in virtual form. One can use it to transfer amounts via remittance or to pay for utilities and merchants. Moreover, one can prepare a Remicard for their friends and gift it to them. This card has a scan and pay option where you can make payments or transfer money using the QR code generated in the Remicard. It comes with a unique Remicard number.
Conclusion
Machhapuchhre Bank has been introducing many newer technologies and technological collaborations in Nepalese banking industry. Whether in introducing WeChatpay for the first time in Nepal; or setting up a sophisticated call centre based on Omnichannel; or bringing the AI driven chatbot system- Maya in Nepal for the first time, the bank has been going towards its goal of providing digital freedom to the people of Nepal. With the launching of Remitap, it has another brick on the wall of innovation in the commercial banking spectrum of Nepal. The unique features of Remitap look so promising that it is believed to make a huge impact on remittance and digital payments in Nepalese financial system. Techsathi congratulates the whole team who have put their efforts in bringing this technology to Nepal and wishes all the best for the success of this new product of Machhapuchhre Bank. We hope that Remitap will be a milestone in the digital wallet industry in the country.