Now the customers of Bhatbhateni Supermarket have got an easy method of payment on the purchase of goods there. On the 28th of October 2021, this renowned supermarket in collaboration with Prabhu Bank has joined the FonePay network by adding QR code-based payment services.
From now on, you can pay directly through a QR code by scanning it from a display board placed in the payment points or POS terminals.
On Thursday, Governor Maha Prasad Adhikari inaugurated this service in BBSM. He had initiated QR payments personally in a vegetable market in Naxal on December 5, 2020.
A huge relief for Bhatbhateni Customers!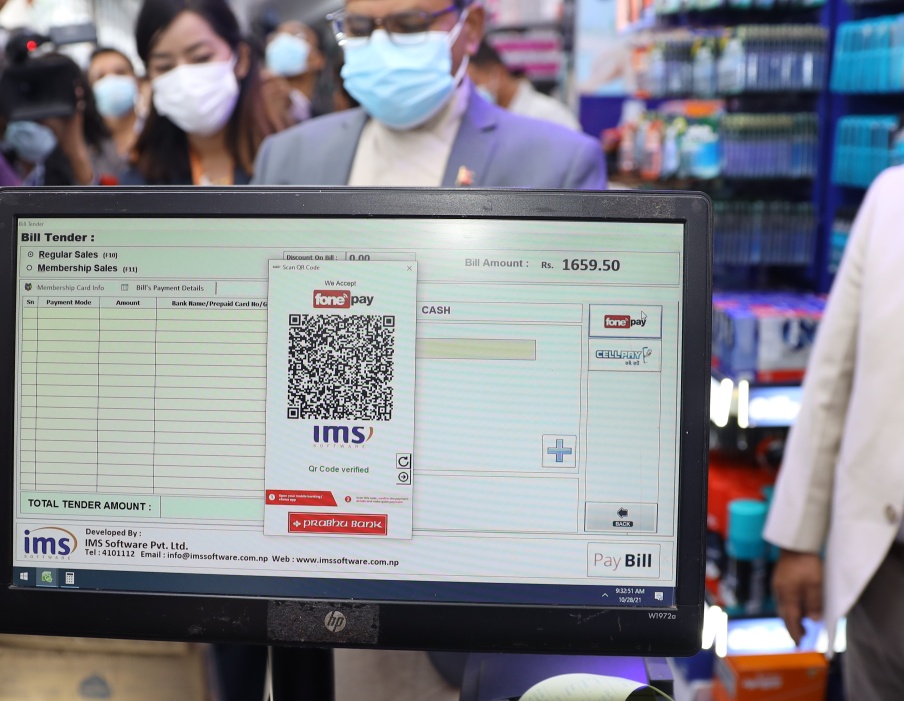 With the hype in the use of QR payments in Nepal, Bhatbhateni Supermarket has also joined this spree to ease its customers for payments. Before that, they would pay either in cash or through cards. Bhatbhateni Supermarket has partnered with Standard Chartered Bank Nepal for providing a card-based payment facility. The customers of SCB can get a Bhatbhateni Lav Card that gives them a special discount on purchases through BBSM.
However, it benefitted only the customers or Standard Chartered Bank. A lot of BBSM customers were unable to make quick digital payments like QR code payments there. Since QR code-based payments are faster easy to use, the users can save their time and effort in making payments.
This service has been made easy by FonePay. Fonepay is the first QR code service provider in Nepal. It introduced QR-based payments in 2012. Now, with 50+ banking networks and a 14 million customer base, FonePay is the largest network providing mobile banking facilities as well in the country. Just check your mobile banking app, you may find the name Fonepay when you log in there.
In this initial phase, this Bhatbhateni Supermarket is providing FonePay's QR code payment service to the customers in partnership with Prabhu bank. It means, the customers of Prabhu Bank can simply scan the QR code through their mobile banking app and make digital payments.
The use of QR codes is increasing widely. Here's the reason why
First, they are easy and instant to use. All you need to do is just open your mobile scanner or app to scan the QR code. Then when your device scans it, you can enter the amount or select among the options to make payment and complete the process with a single click.
The QR payment service of Fonepay has contributed a lot to facilitate digital payments. QR codes can store huge data in simple code graphics. The beneficiary can just scan which automatically enters the stored documents. It reduces our effort in memorizing the contents or details while making payments. Often there are chances of errors if the details are not fulfilled carefully and one can lose their money to the wrong account too.
Also, it can reduce the hassle of making cash payments too. Most of the time, Bhatbhateni Supermarket provides discounts on products. And when that discount is provided, the selling price comes many times in decimal digits. In that case, what we often do is pay in the round figures. A large chunk of money is leaked unknowingly and we remain unaware of that.
Also read: QR Payment (Scan and Pay): Future of Digital/ Contactless Payment in Nepal?
The future of QR Code? Well, there's no doubt it will go huge.
QR code payments have increased tremendously within a year in Nepal. All thanks to Covid-19 crisis that the lockdown and physical distance restrictions compelled people to adapt digital payment methods like this. Many restaurants have already installed QR code based menu. In addition to that, even the local vendors and small business owners are opening merchant accounts with QR code operators like FonePay, IMEPay, Smart Qr and PrabhuPay.
From the policy level too, QR code based payments are encouraged time and again. The governor has also tried his best in his leadership by approving QR Code Guidelines and Framework 2021. The QR code payments have surged by 233% between 2077 and 2078. Such growth is anticipated to go further in the coming years. With QR codes, digital economy would soon prevail in Nepal.
Also read: Are you not getting refunds on public vehicle fares? Digital Payments might be able to help