With the increment in both internet accessibility and internet users around the country, the path towards digital economy apparently seems obvious that in some years Nepal would have maximum transactions carried over digital platforms. Starting from card based payment services to the introduction of digital wallets, we are a step ahead in terms of digital payment with a contactless payment service called QR Code payment. This service is now provided by many of the banks and financial institutions, digital wallets, PSPs and PSOs in Nepal so as to provide ease in financial transactions to big or small corporates, SMEs and MSMEs, vendors and the general public . Customers can use their phone to scan the Quick Response (QR) code provided to them and can make contactless payments. Not only on making payments, QR code has an array of applications in the digital world.

What really is a QR code?
A QR code (Quick Response code) is a type of a matrix barcode that dates back to 1994, first designed for the automotive industry in Japan. It consists of black squares arranged on white background, which stores the information that can be read by the input devices like a scanner and camera. It works like a link which often contains data that could be linked to a website or application. It has a greater storage facility and can be used for various purposes such as:
Displaying multimedia contents
Website login
Smart attendance tracking
Joining a Wi-Fi network
Product tracing
QR code payment
Restaurant ordering
Video gaming
Augmented Reality
Mobile operating systems
Why make payment via QR code?
Using QR code in payment is not just a fancy thing to do, rather it has various merits that could even save your life! You got it right. QR codes based menus are being popular in the town where one has to just scan the QR code presented on the table and select the menu option to make order of their dish. This is a more safe and secure mode of making orders in the restaurants where physical menus that have been passed over many hands (which might be infected too) can be simply replaced by contactless QR code based menus which can even be updated easily.
Moreover, QR codes are faster as the name suggests, but this depends upon the available internet speed.
QR Payment (Scan and Pay) Services in Nepal
In Nepal, the use of QR code has been mostly found revolving around the fintech sector. After the outbreak of COVID-19 pandemic, the use of contactless payment services like QR code payment (Scan and Pay) has got wider acceptance.
It was first introduced to Nepal by F1 Soft International through Fonepay in 2012. However, it was really difficult to implement due to lag in technological knowhow and internet facilities. Despite those hindrances, they made it possible and other companies too, joined in this digital campaign. Fonepay is a payment service operator (PSO) company which integrates the payment services of majority of banks and financial institutions (BFIs) in its QR code payment system.
Today, there are abundant QR code payment service operators (PSPs) and payment service providers (PSOs) like Fonepay, IMEPay, Khalti, PrabhuPay, QPay, UnionPay, SmartQR etc. Through them, one can simply scan the QR code presented before them through their camera or scanner in their smartphone and they would be directed to the services they were headed for.
The most common uses of QR code payment services in Nepalese market are:
Payment to merchants through digital wallets
Payment to local vendors
Payment in purchase of goods and services
Withdrawing money from the banks
Smart menu ordering in restaurants
Linking further information of events and programs in the banners
This type of hype in the QR code usage has been only seen after the covid- pandemic which has made people more concerned towards hygiene. This is even considered as a moral obligation by some industries like restaurants and eateries where these types of contactless QR codes can replace the physical menus which normally are considered to be transmission agents of the diseases.
The wider acceptance of QR codes among the local vendors in the cities has grabbed the attention of the government as well. As stated in Fonepay Digital Nepal Conclave-2020, NRB Governor Maha Prasad Adhikari has represented on the behalf of the Central Bank that the government has also given its keen attention towards development of convenient and safe digital payment services. This was clearly seen when the Governor himself initiated QR Payment at a local vegetable store at Naxal, Kathmandu on December 5 2020.
In addition to that, the Payment System Department of Nepal Rastra Bank has prepared a draft of QR Code Guidelines, Framework and Specifications on 27 January 2021 to promote QR based payments in the economy.
For further details about the draft, please click on the link below:
Today, there are more and more BFIs and merchants that have initiated in providing QR code payment services to their customers. Similarly, another name that comes while talking about QR codes payment is Smart QR. It is a service developed by Smartchoice Technologies Pvt. Ltd. It is the first QR Switching Platform that connects IME Pay, PrabhuPay, QPay and Banks in the interoperable network to facilitate digital payments and mobile payments. Smart QR Network is set up as a digital payment processor that seamlessly connects consumers, banks, wallet users and merchants in an interoperable digital payment ecosystem. Unlike others, Smart QR has its own mobile application where one can generate their own QR code.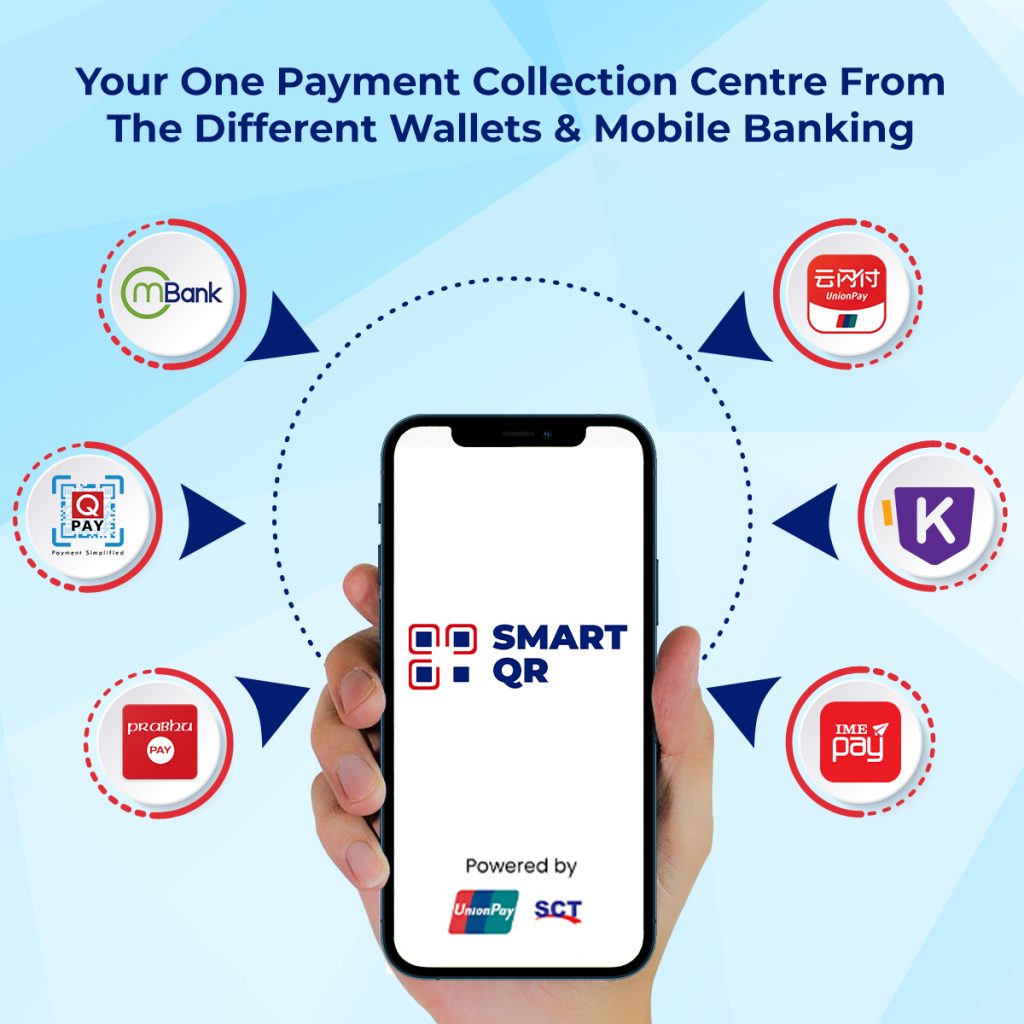 Similarly, many commercial banks are also following the suit. For instance, Prabhu Bank Limited has started Prabhu Pay for the vendors in Kalimati Fruits and Vegetables markets. Similarly, Nabil Bank Limited has initiated its own QR payment services which are used by the vendors in Kuleshwor Fruits Market. Even in the outskirts of Kathmandu valley, QR code is emerging as a preferred mode of payment. Similarly, many food delivery services like Foodmandu have also started accepting payments via QR codes. Not only that, even Tempo drivers are accepting QR payments from their riders, which is a clear example of digital adaptation in the country.
Challenges of QR Code Payment (Scan and Pay) Usage in Nepal
Despite the life saving advantages of QR payments (Scan and Pay), Nepal is still under the grasp of some challenges to fully implement this digital movement. The challenges are mostly seen in infrastructural and behavioural aspects. It is a commendable achievement that Nepalese internet users have increased by 3.2% from January 2019 to January 2020. As per the data provided by DataReportal, internet penetration in Nepal stood at 35% in January 2020 and the number is ever growing. However, this is still not enough to visualise a complete digital transformation in the economy. Nepal is still facing the following major challenges in the implementation of QR code payment services all over the country:
QR codes payment are city-centered as of now
Majority of population is still unknown about this service
The internet facility (WiFi) is not easily available outdoors to make a prompt payment
Most of the QR code services are not interoperable.So, if a customer wants to use a phone to pay at multiple retailers – acquired by multiple providers– he or she would need to download and manage separate apps
Conclusion
In a nutshell, QR code payment could bring a revolution in the digital payment spectrum of Nepal, where we are still a cash based economy to some extent. The support of the central bank in establishing the culture of digital payments could flourish the use of more and more digital payment services even at the grassroot level. In this transitory phase towards a digital economy, spreading awareness of QR codes through mass promotional activities could be one possible solution to increase its usage. On top of that, development of network infrastructures and strengthening the internet access capacity in the country could be an added support which would bring us in the position parallel to our neighboring peers. The main obstacle in this is non-interoperability among the payment service providers which could be solved by the integration of BFIs, merchants, PSPs and PSOs for development of one-stop solutions of making payments for their customers.
How often do you use QR Payment services? Do you find the "Scan and Pay" option more convenient than other modes of payments? Please drop down your comments.