 Past few months, lockdown and ban waves have existed simultaneously in India. Along with several other Chinese apps, TikTok was also banned in the country. So, profound global leading companies started working to develop replacers for TikTok. Racing for the same game, Instagram launched Reels where users can record and post short videos like that in TikTok. Then another big chapter was unmasked when YouTube unleashed YouTube Shorts.
YouTube Shorts:
YouTube Shorts is a tool to make and post short videos on YouTube. It enables users to make videos of 15 sec or less. Users can record videos at different spots and at different times and merge the clips easily. They can set a timer and begin the countdown to record video. Further, they can control the speed of their videos as their desire. Along with it, they can also add music from YouTube's song library and make the short videos interesting.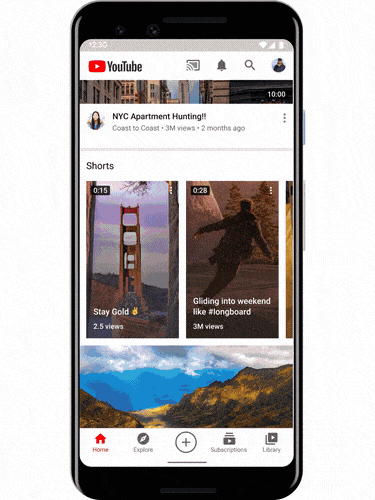 Furthermore, Shorts is the latest creational tool launched to fill the void of TikTok in India. Later on, it'll be accessible to people throughout the world. As Indians are getting to experience it first, YouTube is looking forward to receiving loyal feedbacks from Indian users. This will enable the company to make improvements if required.
Also Read || India Bans 59 Chinese Apps
Similarities with TikTok:
YouTube Shorts and TikTok include some similar features. Like TikTok, this feature also has a speed controller, timer and countdown, and multi-segment camera. This implies that people can alter the speed of their video, set timer to record videos and they can even merge segments of different video clips. Additionally, they can also add music to their videos. So, YouTube Shorts is convenient to use just like TikTok.
In a recent blog, YouTube expressed their happiness and excitement in being able to launch YouTube Shorts and serve Indian users. They said this feature is for creators and artists who want to create quick catchy short videos using their handsets/mobiles and nothing else. Moreover, they promised to release a slew of new creational tools and features in order to improve and develop Shorts. They say, this is the early version of Shorts and the end result is hopefully going to be more pleasing. Later on, they'll expand Shorts to serve more countries and it will be available worldwide.
Merits of using YouTube Shorts:
Using YouTube Shorts seems to be very beneficial. For YouTubers, it's a great relief to be able to post short videos and connect with their followers on daily basis. They can even share a preview of their work with their followers and fans. This will ultimately uplift their activity and favor progress in work.
Note:
YouTube Shorts is not an app itself. It is a highlighted tool within YouTube. This feature is available only for Android users. Therefore, iOS users will have to wait patiently until the company makes it accessible for all.