NMB Bank is introducing its VISA Corporate Credit Card for the first time in Nepal . This card makes  business payments effortless while offering  the flexibility and information to effectively conduct company's business expenses. 
NMB VISA Corporate Credit Card
NMB Bank previously has introduced many other revolutionary  solutions in their banking practice which has made them stand out to their  customers and banking association.Corporate cards like this have been used in other countries, but something this compelling is being introduced for the first time in Nepal .This addition  itself is a big victory to the Nepali banking community . VISA Corporate credit card is a simple and secure  way to manage employees travel,entertainment and mortgage expenses.This would avoid employee's depending on their personal credit card or cash . This gives a better sight into company's expenditure  by acting as a fundamental unit of the company's authorized cash management approach.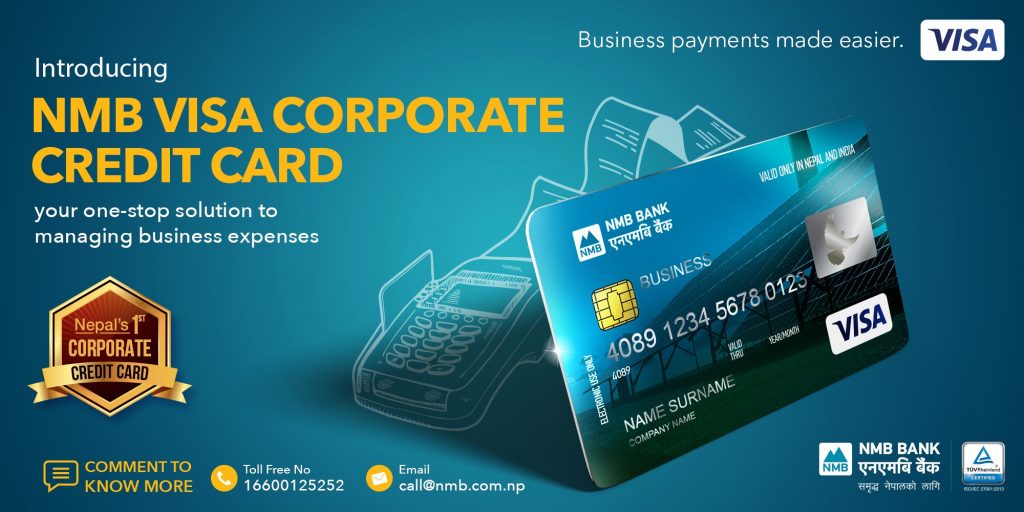 These cards will help Nepali companies in numerous form,it will help them to eliminate expense frauds :it brings an end to employees presenting fake receipts, fabricating the actual amount spent on expenses ,reduces travel and entertainment expenditures,offers profile on all transactions,monitor employee's spending, assists analysing purchases from dealers ,protects from theft,misuse,helps in expense management and ensures security.
These cards will be issued directly by the credit card company in the corporate's name after all they are solely based on the name of the business, the credit card company in this instance is NMB Bank.This initiation by NMB Bank will absolutely be beneficial for startup businesses in our country , it will help with the economic conflict many startup companies encounter.This also turns out favorable for all sizes of business enterprises,it will assist with their cash flow management issues .
VISA Corporate credit cards are also  equipped with spending limits. The spending limits  can actually be tailored according to the corporate's business habit .Theoretically these cards don't have any payment limits ,despite that  certain payment limits can be set in these cards which can be modified later.  
Also Read: NMB Bank Introduces Swift GPI in Nepal, The Digital Transformation of Cross-Border Payments
This wave of innovation introduced by NMB Bank  has finally hit Nepali banking fraternity for better. This will upgrade different companies' expenditures and modernizing NMB Bank's financial network. What do you think about this initiation? And will you issue your employee's with such cards?