Ahrefs is setting itself up for entering into having its own Yep search engine which will mainly revolve around ensuring the privacy of the users. What does this mean? Ahrefs is one of the most popular and most sought-after SEO tools making companies. You can get every tool that is required for you to make your website get more traffic and rank high on the search engine. This has different tools such as site audits, link building, rank tracking, and finding the most efficient keywords for your content and website. In this article, we will discuss the new yep search engine by ahrefs.
What is Yep Search Engine?
Before understanding the concept of Yep search engine, we need to have an idea of what does a search engine mean? Search Engine is a program that allows users on a web browser to search for the contents by looking through the database based on user queries on the internet. Some of the popular search engines are Google, Yahoo, Bing, DuckDuckgo, Ecosia, and Ask.com.
Yep search engine does the similar work done by various other search engines but it hopes to provide privacy to its users and content creators. There are a lot of search engines available in the market and no one has ever been able to match the level of Google. Google search engine has around 92 percent of the market share in the search engine market which is followed by Bing which is around 3 percent.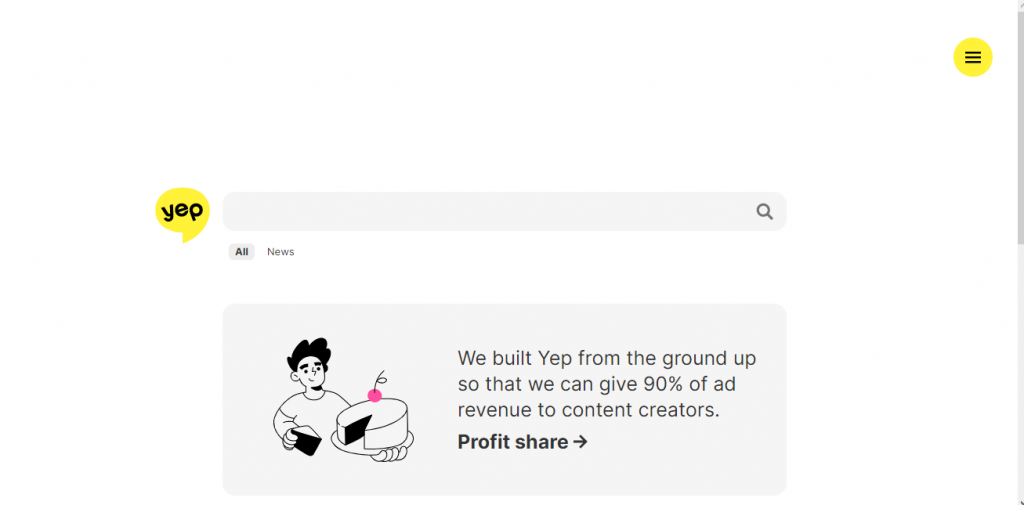 Will a Yep search engine will be able to provide competition to Google? Ahrefs has reportedly invested around USD 60 million to develop its new Yep search engine. Being known for its SEO tools, Ahrefs has great knowledge of how websites are crawled and the importance of privacy.
What's new with Yep Search Engine?
The Yep search engine is the upcoming search engine that is developed by Ahrefs. It is hoping to give tough competition to the globally popular and most used search engine Google. But how does Ahrefs hope to survive in the ocean that is controlled by a big shark-like Google?
90/10 Profit Sharing Model:
According to the statement from the Yep website," Let's say that the biggest search engine in the world makes $100B a year. Now, imagine if they gave $90B to content creators and publishers. Wikipedia would probably earn a few billion dollars a year from its content. They'd be able to stop asking for donations and start paying the people who polish their articles a decent salary."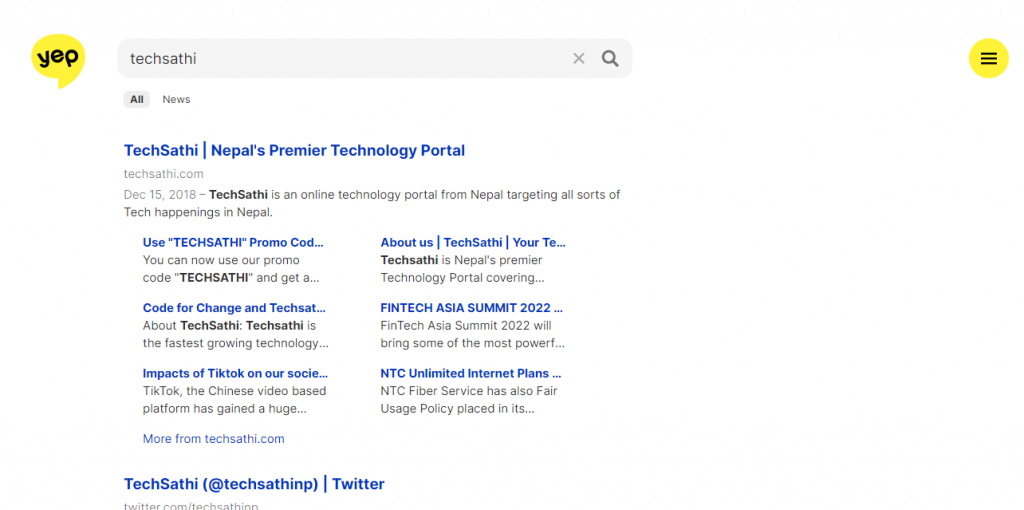 The Yep business strategy will emphasize high-quality content so they are coming with a profit-sharing model of 90/10. This model will reward professionals, independent media, and enthusiastic people for their contributions while fostering high-quality content to populate any particular webpage of search engine results. This will highly motivate the content creators to publish high-quality content.
Founder and CEO of Ahrefs Dmitry Gerasimenko states "Creators who make search results possible deserve to receive payments for their work. We saw how YouTube's profit-sharing model made the whole video-making industry thrive. Splitting advertising profits 90/10 with content authors, we want to give a push towards treating talent fairly in the search industry,". This does give high hope for the content creators but how will be this applicable still need to be observed.
Read about: Popular Mero Karobar rebrands itself to "Karobar" App: Digital Khata for your Business
Privacy:
Yep will not store, collect or share any of your personal information with anyone meaning that you will fully take care of data and privacy. Since it will not have any third-party search indexing, your search query on the yep search engine will be secure from any third-party services. By default yep will not use cookies but if you want to use cookies then you can change your settings.
To improve the algorithm of yep, it will not use your personal information such as search history, IP address, or User-Agent strings instead it will use the non-personal, aggregated search information to optimize search algorithms, misspelling corrections, and query recommendations, as well as aggregated statistical analysis.
According to the statement from Yep, "In other words, we do save certain data on searches, but never in a personally identifiable way. For example, we will track how many times a word is searched for or what is the position of the link getting the most clicks. But we won't create your profile for targeted advertising." You can use the Yep search engine by clicking here or typing "yep.com" on your web browser.
For now crawling of the website will be done using Ahrefsbot but in near future it will be replace by Yepbot and the search index of the Yep will be updated every 15 to 30 minutes. With so many search engine available in the internet no one has been able to come close to the market share of Google but will Yep search engine break this hurdle, it will be interesting to see.