Women in Big-Data Nepal is allegedly going to host a panel discussion 'Belt your Data' for data enthusiasts. It aims to share knowledge and facts on data breach cases focusing on the context of Nepal. More to that, it also promotes data literacy and awareness.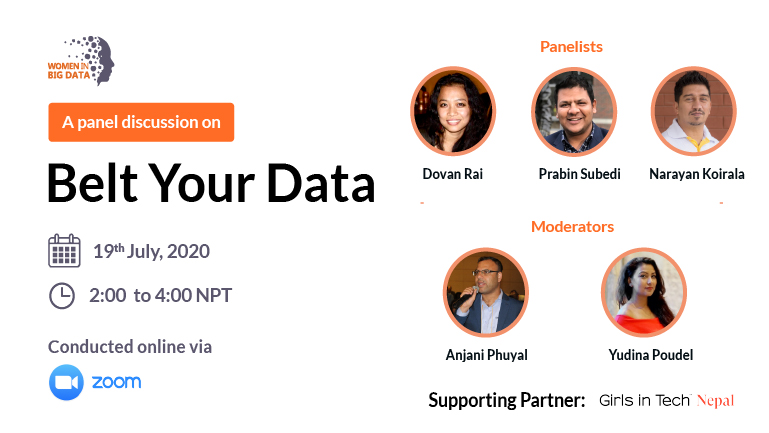 Women in Big Data is an organization established in 2015 in the USA. It aims to encourage and attract more female talent to the big data and analytics field. While also aiming to strengthen women diversity in the big data field. Following its agenda, Women in Big Data-Nepal is all set to organize a Virtual Panel Discussion on the topic 'Belt Your Data' on 19 July, Sunday.
With the aims of sharing knowledge and facts on data breach cases in the context of Nepal this panel will be host 500 interested audiences. Moreover, this virtual panel will be conducted on Zoom platform with over 500 interested audiences.
We know, data breaches incidents that expose confidential or protected information is rapidly increasing in Nepal in recent times. This is a very sensitive topic and needs to be addressed. So, this panel discussion will try to disseminate its participants with an awareness of data breach and ways to prevent it.
This event will be hosted by the three amazing panellists:
Dovan Rai – a Data scientist & Education Coordinator,
Narayan Koirala – Managing Director of Eminence Ways Pvt. Ltd.,
Prabin Subedi – a Lawyer specialized in Information Communication Technology Law.
Moreover, it is going to be a very interactive session where the audience can put forward any topic related concerns to the panellists. They will also have an opportunity to have a one-to-one discussion on the topic. Interpreting the few recent data breach cases of Nepal, this event aims to boost its attendees with all the necessary precautions and laws one should know regarding the data and its use.
Also read: App of the Month: "Thegana Services"
'Belt Your Data' event is going to be a great opportunity for the audience to collect ideas on the domain 'Data Breach' from the experts since data has become the most crucial part of our life and needs to maintain better privacy in this 21st century.
All interested participants, regardless of gender, can register for participation.
To participate please fill this form.
Co-powered by Girls in Tech – Nepal.
'Belt Your Data' Event Details:
Date: 19 July 2020, Sunday
Time: 2 PM to 4 PM
Event hosted virtually on: ZOOM