Entrepreneurship is a hot topic in the modern world and especially in a country like Nepal, which is in its developing phase, we can see a lot of aspiring entrepreneurs. If you go to any management colleges in Kathmandu, you will hear more than 50 percent of the students saying that they want to be an entrepreneur. But then the question is if they have the right information regarding entrepreneurship? Are they known to the challenges and opportunities? Are they being provided with the resources required? Do they have the direction to fulfill their passion?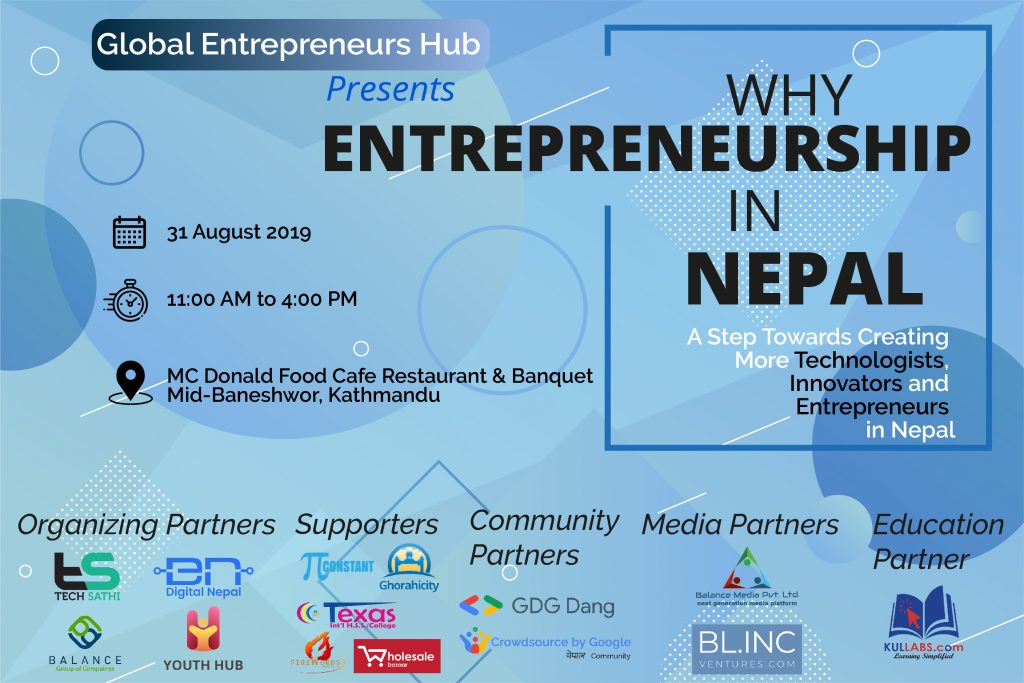 Well, that is why we have come up with an event called "Why Entrepreneurship in Nepal?" which will help provide you with all the information you need regarding what it is like to be an entrepreneur and what are the possibilities and challenges to be faced from people who have done it themselves. There's a pool of the finest industry experts who will be speaking in the event so if you aspire to be an entrepreneur or even if you are interested in business this is an event you cannot afford to miss out on.
Why attend this event?
"Why Entrepreneurship In Nepal?" is a step towards creating more Technologists, Innovators, and Entrepreneurs in Nepal. Nepal is in a phase where the market is slowly but surely growing and it is the right time to bring in new innovations to the country. There's a gold mine of opportunities in our country as it isn't even close to where the big nations like the USA, UK, China, etc have reached in terms of technology and innovations. Therefore, it gives people the opportunity of bringing in innovations and coming up with ideas that can be a game-changer in the Nepali market.
If you have the right idea with the right direction and zeal then this is the right time period for you to make it big. We've seen many innovations come up in Nepal in recent times which have changed the way our day to day lives. From Foodmario to Tootle, from Foodmandu to Daraz they have all exploited the opportunities in the market and made it big.
Your idea could be the next big thing so "Why Entrepreneurship In Nepal?" gives you a platform where you can better understand the market, entrepreneurship and moreover it's not only limited to that, you can network with people to better understand and explore the world of business. It is said that network is equal to net worth and this caters you with just the right occasion to build connections with like-minded people.
Event Details
Come along this Saturday 31st August 2019 at McDonald Food Café Restaurant and Banquet at Mid-Baneshwor, Kathmandu for a fruitful session of networking and exploring from 11 am to 4 pm. You surely won't be disappointed as well as you will have no regrets later on because of missing out.
If you aren't excited already here's the list of speakers who will highlight this event:
NAROTTAM ARYAL: Executive Director at King's College, Kathmandu Nepal
SIXIT BHATTA: Co-Founder/CEO at Tootle
BINAY DEVKOTA : CEO at Clock b Business Innovations
ROHIT TIWARI: Co-Founder and CEO at Foodmario
THRYZA DOW: CEO at Blinc Ventures